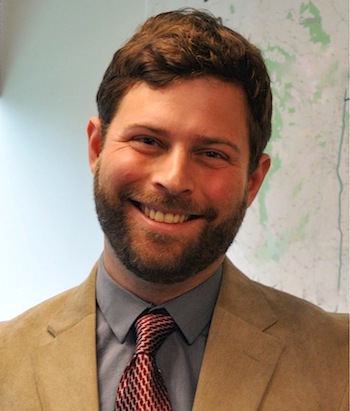 by Elijah Reichlin-Melnick
Earlier this month, I was proud to be sworn in for my second term as Village Trustee. I'm incredibly grateful to everyone who voted for me in last year's Democratic primary and general election. This year, I am looking forward to continuing to work with my colleagues on the Village Board to improve village infrastructure, work on quality of life issues, and keep our budget in good shape and under the tax cap. Even as I embark on a campaign for State Senate, I remain committed to my responsibility to work for the needs of our wonderful village. Please continue to reach out to me with your questions and concerns about Nyack.
We've got a number of projects underway in the village. Construction has finally begun on the new footbridge that will connect Memorial Park to the Marina parking lot. If all goes as planned, the bridge will be open by this summer, and will immediately make it much easier to park within a convenient walk of Memorial Park. With funding from a NY State grant, the village has been able to pay a tree service to remove a number of dead or damaged street trees. New trees will be planted to replace these trees soon. And the much-anticipated conversion of village streetlights to energy-efficient LED bulbs will be occurring within the next few months.
Over the past month, I've attended several events that epitomize the community spirit that makes Nyack such a great place to live. On January 4, I joined Mayor Hammond and other members of our community at the Nyack Hunger Coalition's annual Resolution Run. The event brought out residents of all ages who ran and walked four miles to raise funds to support the NHC in supporting the 10 local organizations that address hunger and homelessness in the Nyacks. Events like this highlight the best of Nyack: A community willing to come together to help others in need. There are plenty of ways to support the good work of the NHC's organizations–visit their website to find out how to help! On Martin Luther King, Jr. Day, I attended the Nyack NAACP's annual interfaith service to honor the legacy of Dr. King. His fight for equality and justice continues to this day, and though we've come a long way since the dark days of Jim Crow, we have yet to achieve the fully integrated and just society that Dr. King fought for.
A few other notes:
To express our commitment to encouraging historic preservation, the Village Board adopted a resolution at our first meeting in January waiving the application fee for any application by a property owner to secure local historic landmark designation for their property. The request came from the John Green House Preservation Coalition but applies to any property owner who wants to get their property listed as a local historic landmark.
There are still two openings on the village's Architectural Review Board–one regular member, and one alternate. Any village resident interested in applying should send a resume to the Mayor at dhammond@nyack-ny.gov.
Looking ahead, these are some events coming up in February:
I wish everyone a peaceful start to this new decade.