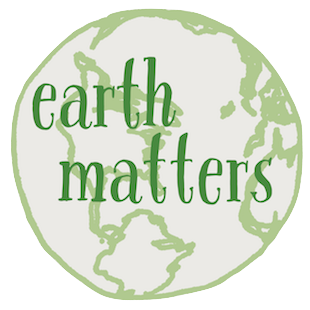 Earth Matters focuses on conservation, sustainability, recycling and healthy living. This weekly series is brought to you by Maria Luisa Boutique, and Summer Arts & Play Program at Blue Rock School. 
If Earth Matters to you, sign up for our mailing list and get the next installment delivered right to your inbox
by Glenn Sungela
So long soft styrofoam. Hello Polystyrene?
In his State of the State for 2020 Governor Cuomo proposed a ban on styrofoam, and that's good news. Eliminating expanded or soft polystyrene – the material we generally call styrofoam – is good because:
Expanded polystyrene is classified as a possible carcinogen by the US Department of Health and Human Services.
Per the US Environmental Protection Agency the manufacturing of expanded polystyrene is the fifth largest creator of hazardous waste in the US.
There is no practical method to recycle expanded polystyrene and incinerating it releases toxic fumes.
Alternative beverage and food service containers and packaging materials are available which are recyclable, biodegradable, and/or compostable.
The proposed ban would be effective January 1, 2022, and will be in the next state budget cycle for the state legislature to consider and approve, as it did with last year's proposed ban on single-use plastic bags.
What has Governor Cuomo proposed?
The proposal is similar to local laws enacted by several New York communities such as the Village of Piermont; Suffolk County, Long Island; and New York City. Common themes include
Ban expanded polystyrene foam containers used for prepared foods and beverages served by most food service establishments.
Exemptions include packaging for uncooked or raw meat, fish, and eggs.
Ban the sale of polystyrene loose fill packaging commonly called 'packing peanuts'.
Tiered fines for violators range from $250 to $2,000.
What do we know about alternative containers?
Some alternative containers are recyclable while others are not recyclable or compostable and still take decades to biodegrade. Switching to products just as bad or worse will not lead to a cleaner and healthier environment, and other types of single-use plastics continue to harm humans, animals, and our natural resources.
Take-out beverage containers
Alternative to expandable polystyrene cups are plain paper ones that can be recycled and composted. The plastic lids – usually black or white – and cardboard sleeves are recyclable, too. However, per the Rockland County Solid Waste Management Authority's Recycle Coach App paper cups that have grease, food residue, or a wax coating can not be recycled. When it comes to take-out beverages the best thing you can do is bring your own reusable hot or cold beverage container.
Take-out food containers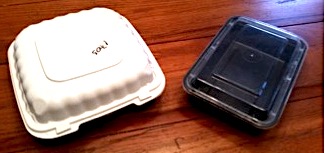 Here things get a little more complicated. Many establishments use rigid polystyrene. These products are usually clear and have the number 6 inside the universal recycling symbol. While not 'as bad' as expandable polystyrene these products also take decades to biodegrade.
Other types of food containers are made of polypropylene. They are identified by the number 5 in the recycling symbol. While they also take decades to biodegrade, they are often reusable and certain types are microwavable and capable of freezing.
Who's already stopped using expanded polystyrene (or never did)?
Several local food establishments, such as Prohibition River and the Old World Food Market in Nyack and Foodtown in Valley Cottage are already using take-out food containers made of cardboard and other paper products. Because some cardboard food containers are wax coated they are not recyclable and are not recommended for composting.
Prohibition River's paper-based take out containers are compostable.
What about other single use plastic items like bags and straws?
New York's ban on single use plastic bags goes into effect March 1, 2020, just a few weeks from now. If you do not have a reusable bag you can get one from many retail stores for free or a nominal fee. Reusable bags come in various shapes and sizes to meet your different needs.
As for plastic straws, some local establishments have already made that switch, too.
Prohibition River in Nyack serves paper straws only.

D'Vine Pie in the Village of Piermont started with paper straws when they opened their doors last year.
The Nyack Diner (formerly Hogan's Diner on Rt 59) switched from plastic to paper straws last month.
D'Vine Pie is the only establishment in the area with reusable take-out pizza pie containers instead of cardboard boxes.
Harry's Burritos in Nyack has gradually cut back on automatically serving straws with beverages starting with complimentary glasses of water. Observed co-manager Darren Stach, "the first things kids tell us when they sit down is 'no straws!"
If you really need a straw then, like beverage containers, reusable straws are the best way to go. Ello is one of several companies who sell reusable straws. Theirs even comes with a cleaning brush.
What's next?
As more information on Governor Cuomo's proposal comes forward, the Plastics Committee for the Nyack Sustainability Committee is researching what's next for expanded polystryene and other single-use plastics. "We're looking at all aspects of single-use plastic foodware use," said Joel Newton, chairperson of the Plastics Committee. "We will be researching and advocating for ways to move away from these items and toward more sustainable products in collaboration with individuals, food services, legislators and interested organizations. We're glad to see that many restaurants in town are making these moves voluntarily, mirroring a growing trend throughout the country and abroad."
If you know of other local establishments who have switched from single-use plastics to more sustainable products let us know and we will add them here. And if you would like to help on this important topic Joel can be reached at joelnewton1@icloud.com.
See also:
Photo Credits: Glenn Sungela
Glenn Sungela is a member of the Nyack Sustainability Committee's Plastics Working Group, the Rockland Sierra Club, and a partner in the Lower Hudson Partnership for Regional Invasive Species Management (LHPRISM).

Earth Matters, a weekly feature that focuses on conservation, sustainability, recycling and healthy living, is sponsored by Maria Luisa Boutique, and Summer Arts & Play Program at Blue Rock School. Read Earth Matters every Wednesday on Nyack News And Views, or sign up for the Earth Matters mailing list.