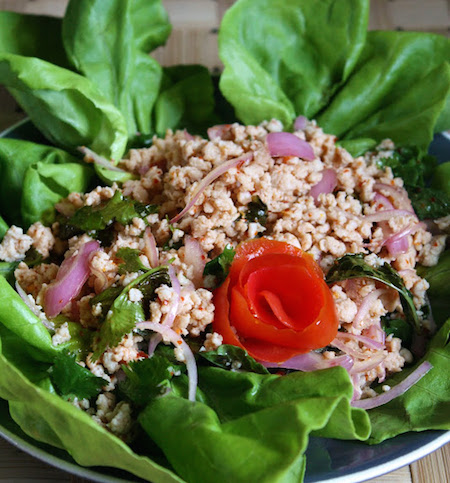 by Ben McCarthy
A few years ago, I took a three week trip to Thailand. Before I left, I knew almost nothing about Thai food. Sure, I'd had phat thai and green curry before, but that was it. In fact, to be quite honest, the Thai food I'd eaten in America never really interested me. It seemed like a mediocre cuisine at best. It took me all of two days in Bangkok to realize how wrong I was. I blame a great deal of this on the Thai food that is readily available in America. Overly sweetened dishes that in most cases have little to do with actual Thai food.
This recipe is for a Thai dish called laab, or laap, spelled incorrectly on most american Thai menus as "larb." Essentially, it is a salad made from minced meat, shallots, scallions, mint, chili, lime juice, fish sauce, and toasted rice powder (Khao Koor; more on this in a bit).
The dish itself originates from northern and northeastern Thailand. The version I've described above has northeastern Thai origins, hailing from Isaan, a region of Thailand that borders Laos and Cambodia and is known for its fiery and funky flavors. It is a sin to eat laap without sticky rice, the staple of any Isaan style meal. But if you don't want to buy a sticky rice steamer, then you can serve this with Thai jasmine rice and/or hunks of your favorite veggies; cabbage, cucumber, and lettuce all work well. I'll warn you, though: once you taste laap with sticky rice, you'll never be able to go back.
Ingredients:
-2 lbs of boneless and skinless chicken thighs (I like chicken thighs when I make laap) but you can use pork, beef, duck, fish or even tofu.
-2 tbs scallions
-2 tbs shallots (if you cannot find shallots that look fresh substitute red onion)
-1/4th of a cup chopped mint
-1 Birds Eye Thai Chili (dried red chili flakes can be substituted)
-3 tbs lime Juice
-2-3 tbs fish sauce
-2 tbs toasted rice powder (Khao Koor, available at www.importfood.com).
-1 tbs cilantro (optional)
The key to this recipe is preparing things before you start to cook, slice the shallots and scallions.
Place in small separate prep bowls
Chop the mint and cilantro and place in separate prep bowls
Juice two to three limes and set juice aside.
Chop one (for mildly spicy) birds eye chili and set aside.
After your fresh ingredients are prepped and ready to go, chop your protein of choice. I usually make laap with chicken so thats what this recipe is for. Make sure you chop the chicken (or whatever protein you decide to use) before you cook it. The dish will simply not be the same if you cook it first and then chop it.
Chop the chicken until it almost looks like it has been ground. Heat a pan and cook the chicken until it begins to brown, remove from pan and add to a large bowl, mix in shallots, scallions, mint and chili, cilantro (if desired). Then add fish sauce and lime juice. Again, this is not approximate, based on the dish you will have to adjust flavors and ingredients. If it tastes too salty add more lime juice, if it tastes too sour add more fish sauce. Add toasted rice powder (Khao Koor) after fish sauce and lime juice has been added, stir well and serve with sticky rice and raw vegetables.
NOTE: Do not serve this dish until you like the way it tastes, Thai food is most popularly eaten and cooked in street stalls and open air restaurants, flavors are often adjusted based on personal preference and set measurements are rarely followed. Don't be afraid to play with the amount of scallions, shallots, mint, cilantro, fish sauce, lime juice or chili. You will know when it tastes right which is why you need to taste, taste, taste before you serve your laap.
This meal may seem labor intensive but it is relatively quick, easy and cheap. Its a great dish to serve when you have friends over and is delicious with cold Chang or Singha beer. If you're curious about cooking real Thai food then laap is a great place to start. It's a simple, flavorful dish that will allow you to learn the complex flavours of Thai food without spending hours of time in the kitchen.
Ben McCarthy is a junior at Hunter College studying pre-med and creative writing. He is also the lead guitarist in the alternative rock band Regret the Hour. He loves to cook and try new food and grew up cooking with his mother.
Photo Credit: SheSimmers.com