Christmas is right around the corner, so it's time to get your gifts wrapped: visit NyackGift.com for unique ideas. Watch It Happened One Christmas Eve or have a Celtic Christmas with Cherish the Ladies. And don't miss the Nyack Holistic Fair for some you-time and shopping.
This Fri-Sun list of what to do and where to do it is brought to you by Rockland Center for the Arts. Find unique gifts at the Affordable Art & Pottery Bazaar through December 21 and take a stroll through the Catherine Konner Sculpture Park to view the Natural Progressions and RoCA Nest 2019 exhibits.
Friday
Skate at Bear Mountain Ice Rink. Adults $5, children under four are free. General skating hours: Fri 8-9:30p, Sat 10a-9:30p, Sun 10a-7:30p, Bear Mountain Ice Rink, Bear Mountain State Park, Palisades Interstate Parkway.
Rockland Contra Dances is an evening of acoustic folk music, easy-to-learn dances, with a relaxing atmosphere. No experience or partner needed. Enjoy a free workshop for newcomers where you'll learn everything you need for a night of dancing and socializing. 7:30p, Green Meadow Waldorf School Gym, Chestnut Ridge Rd, Chestnut Ridge.
Levity Live presents Gilbert Gottfried. If he made you laugh in Beverly Hills Cop II, don't miss his live comedy show. Fri 7:30 and 9:45p, Sat 7 and 9:30p, and Sun 7p, 4210 Palisades Center Dr A-401, West Nyack.
Saturday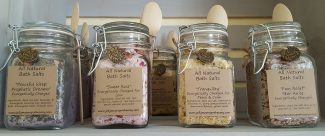 Whether you are looking for last minute gifts or a moment to relax and refresh, the Nyack Holistic Fair has you covered. Explore a unique selection of jewelry, natural skin care, CBD oil, crystals, handmade gifts, and more. Have sessions with mediums, tarot card readers, and healers. Admission to the fair is free. Sessions are $30/15 minutes. 10a-6p, Westgate Inn, 26 Route 59, Nyack.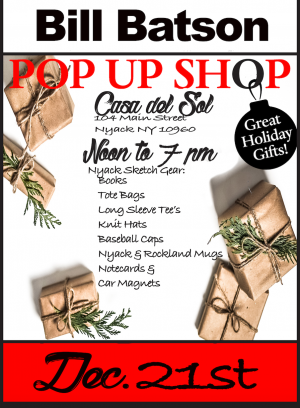 Try giving a little bit of Nyack for the holidays. Visit NyackGift.com to shop for Nyack Sketch Log inspired mugs, hats, long sleeve-tees, bags, books, note cards, magnets, and a limited number of Nyack Gift sets with chocolate from Nyack Sweets and loose tea from Teagevity. Local purchases made by Sunday, December 22 at midnight will be delivered on Monday, December 23!
Bill will also be hosting a one day Nyack Sketch Log Pop Up Store at Casa del Sol, 104 Main St from 12-7p.
Have a Beary Merry Holiday. Make tasty holiday snacks for the black bears and watch the bears when they come out to unwrap their gift boxes. Meet at the Bear Den at 10:30a, Trailside Museums & Zoo at Bear Mountain State Park, 55 Hessian Dr, Bear Mountain.
There is still time to get that special gift. Stop by the Affordable Art & Pottery Bazaar to find unique items like art and pottery, functional ceramics, 2- and 3-D art, and holiday cards and ornaments. 11a-4p, Rockland Center for the Arts, 27 S Greenbush Rd, West Nyack.
Join this special crafting event, and create magical candle light forms to light up the night while supporting Strawtown Studio. At Lighting Up Solstice! you will get mirrors, candles, and reflective craft materials to construct a light sculpture of your own inspiration. This event is timed for a day into night time interval, on the very eve of Solstice, so you will light your candles together and experience the surprise and warm glow of your creations as the solstice night settles in. 2-4:30p, Dining Hall at Marydell Center, 640 N Midland Ave, Nyack.
Have a Celtic Christmas with Cherish the Ladies. Enjoy classic carols such as "O Come All Ye Faithful" and "Silent Night" in arrangements that highlight the group's unique Celtic instrumentation, beautiful harmonies, and spectacular step dancing. 3 and 8p, Tarrytown Music Hall, 13 Main St, Tarrytown.
Spread joy and cheer at the 19th annual Christmas Caroling, presented by the Palisades Community Center. Team up with other carolers, sing, and walk through the streets to bring musical cheer to Jawanio and the Esplanade. After that, head back to the PCC for a Pizza Party. Bring a flashlight and meet at 5p at 11 Horne Tooke Rd for caroling.
Sunday
Need some last minute decoration ideas? Take a Holiday Classic Lyndhurst Mansion Tour. Explore the over-the-top display of rarely seen children's toys, holiday dishes, silver, jewels, and clothes that once belonged to the Duchess of Talleyrand. The mansion is open 'til 5p, 635 S Broadway, Tarrytown.
Westchester Broadway Theatre presents It Happened One Christmas Eve, which tells the story of an infant left on the doorstep of an old brownstone rooming-house in Brooklyn on Christmas Eve, and the magic she brings to the lives of those who find her: an Irish cook, an English spinster, a Brooklyn showgirl who dreams of stardom, a proud Boston poetess and two Romanian brothers. Their lives are changed forever. Sun 11:45a and 5:15p, and Mon 6:15p, 1 Broadway Plaza, Elmsford.
Enjoy a performance of The Nutcracker by the New York Theatre Ballet. This show is created for a younger audience, but adults will have as much fun. 3 and 6p, Tarrytown Music Hall, 13 Main St, Tarrytown.
Celebrate the first night of Chanukah and the festival of lights at a Community Menorah Lighting. 4p, Gazebo at Veteran's Park, Main and Cedar St, Nyack.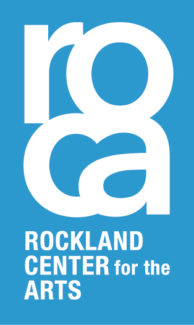 The Nyack Weekender is your Fri-Sun list of what to do and where to do it. This weekly series is brought to you by Rockland Center for the Arts.
To get the Nyack Weekender delivered to your mailbox auto-magically every Friday morning, add your name to our mail list. Visit our online sign-up sheet to subscribe.