The holiday season is in full swing! Take in the Holiday Lights of Nyack, sing carols at the Messiah Sing, and find out what Happened One Christmas Eve at Westchester Broadway Theatre. Also, it is the First Friday of the month, so there are new art exhibits. And don't miss the last performances of Elmwood Playhouse's Our Town.
This Fri-Sun list of what to do and where to do it is brought to you by Rockland Center for the Arts. The Affordable Art & Pottery Bazaar opens on Sunday with a special one day Jewelry Trunk Show and continues through December 21. On Tuesday, get into a festive mood with The Holiday Sounds of Josh Rouse. And during the day, take a stroll through the Catherine Konner Sculpture Park to view the Natural Progressions and RoCA Nest 2019 exhibits.
Friday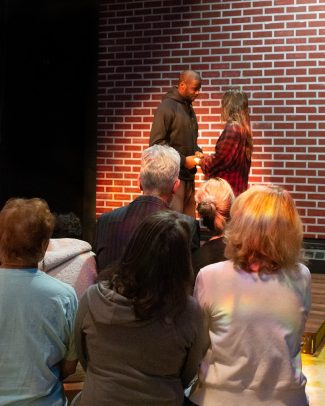 Don't miss the last few performances of Our Town at Elmwood Playhouse for a fresh take on the classic play about life and love in a small New England town, written by Thornton Wilder and directed by Lisa Spielman. Whether the community is Grover's Corners or the Twitterverse, the challenge is the same: how to connect with each other and find your place in the world. Tickets are $27 and available online. Fri 8p, Sat 2 and 8p, 10 Park St, Nyack.
On this First Friday of December:

The Nyack Art Collective has live music performed by Conor MacFinn from 8-10p, Casa del Sol, 104 Main St, Nyack.

Resident Artist Kaitlyn Rindler is the First Friday Artist of the Month. She shares her process and inspirations in capturing Nyack scenes through photography. A reception will be held from 6-7p, followed by an artist talk from 7-8p at the Edward Hopper House, 82 N Broadway, Nyack.
Join the Rockland Audubon Society for an educational Nature Program presented by Tevaland Sanctuary Farm. The program features live animals, including chickens, bunnies, guinea pigs, and hamsters. Meet at 7p for refreshments and conversation with fellow birders and nature enthusiasts at Congers Lake Memorial Park Community Center, 6 Gilchrest Rd, Congers.
Saturday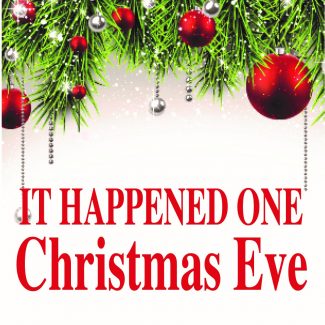 Westchester Broadway Theatre presents It Happened One Christmas Eve, which tells the story of an infant left on the doorstep of an old brownstone rooming-house in Brooklyn on Christmas Eve, and the magic she brings to the lives of those who find her: an Irish cook, an English spinster, a Brooklyn showgirl who dreams of stardom, a proud Boston poetess and two Romanian brothers. Their lives are changed forever. Tickets are available online. Show runs through Dec 23. Fri 11:15a and 6:15p, Sat 6:15p, Sun 11:45a and 5:15p, Wed 11:15a, Thurs 11:15a and 6:15p, 1 Broadway Plaza, Elmsford.
The Palisades Winter Farmers' Market returns for its 12th season. Find locally grown and just harvested veggies and a variety of prepared foods and crafts from the Hudson Valley in time for holiday gift giving. 9a-2p, Palisades Community Center, 675 Oak Tree Rd, Palisades.
The Edward Hopper House Museum presents its newest exhibit Human in Nature: The Art & Wit of Rodney Smith featuring 20 black & white and color photographs which illustrate Smith's enduring love affair with nature. Sat and Sun 12-5p, 82 N Broadway, Nyack. Exhibit is on display through March 8, 2020.
Enjoy a nostalgic view of Nyack as seen in a selection of postcards and trade cards dating back as far as the 1870s. The Historical Society of the Nyacks' new exhibition Greetings From Nyack: A Vintage Postcard Exhibition showcases vintage postcard images of Nyack, as well as trade cards from long-gone businesses in the area many of which have winter and holiday themes. Some show the streetscapes of Nyack's
downtown while others have a maritime focus. Many depict Nyack in a whimsical way or feature places that are but a distant memory. A companion exhibition is in the Nyack Library Carnegie-Farian room. 1-4p, 50 Piermont Ave, Nyack. The exhibit runs through February 29, 2020.
Join the Rockland County Choral Society for their winter concert, There's No Place Like Home, as they celebrate the 80th anniversary of the Wizard of Oz. Enjoy musical selections from the classic movie, as well as the musicals, The Wiz and Wicked. There will be guest vocalists, instrumentalists and three choral ensembles from Tappan Zee High School and South Orangetown Middle School. 3p, First Reformed Church, 18 S Broadway, Nyack.
It's the most wonderful time of the year. Start it off at the Holiday Lights of Nyack. Enjoy refreshments, music, and holiday atmosphere while you wait for the tree lighting and Santa to arrive on his special sleigh. 4-6p, Veterans Park Gazebo, Main and Cedar St, Nyack.
Sunday
Need a gift for someone who has everything? Head to the annual Nyack Indoor Street Fair for handmade art, jewelry, clothing, and sweets. There will be great entertainment all day to put you in a holiday mood. 10a-5p, West Gate Inn, 26 Route 59, Nyack.
Do you like fashion? Do you like to draw? Join Beginners Fashion Illustration and learn how to approach drawing for fashion. Find out how to situate a fashion figure on a page, how to map out the fashion proportions on paper, and how to draw gestures, poses, and attitude. 12:30p, Maria Luisa Boutique, 77 S Broadway, Nyack.
Need a guide to find and cook wild plants? Edible Plants of Nyack by Paul Tappenden will help you. Stop by O'D's Tavern for a book signing and a sneak-peek of Paul's latest oil paintings, Impressions of Nyack. 2-4p, 66 Main St, Nyack.
Stop by the Affordable Art & Pottery Bazaar to find unique gifts. Items include art and pottery, functional ceramics, 2- and 3-D art, and holiday cards and ornaments. This year, there will also be a Jewelry Trunk Show of artists from all over the Hudson Valley. Find your unique handcrafted piece and support an artist at the same time. 1-5p, Rockland Center for the Arts, 27 S Greenbush Rd, West Nyack. The bazaar runs through December 21.
The Sparkill Concert Series continues with a solo piano recital by Vassily Primakov. Enjoy a program of waltzes and short pieces by his beloved composers Chopin and Rachmaninoff. A unique addition to the concert will be selections from the holiday favorite, Tchaikovsky's "The Nutcracker." 3-5p, Union Arts Center, 2 Union St, Sparkill.
Lubricate your vocal cords and get ready for a time honored tradition: the 50th annual Messiah Sing. Professional soloists will perform Handel's Messiah and the public is invited to sing along to the choruses. For the right holiday spirit, there will also be caroling, festive cookies, and cider. Bring your own score and join in or just listen. 4p, Grace Episcopal Church, 130 First Ave, Nyack.
 Join the Nyack Pop-Up Chorus for its monthly sing featuring the music of the Electric Light Orchestra. 6p, Casa del Sol, 104 Main St, Nyack.
And another Nyack tradition happens the same night: the 24th annual Music and Readings in a Holiday Spirit. Some of the performers include the Nyack Community Chorus, Drucilla Pluhowski, and Bryon Sommers. Don't miss this amazing lineup of neighbors performing for neighbors. 7-9p, Nyack Center, 58 Depew Ave, Nyack.
Next Week
Tuesday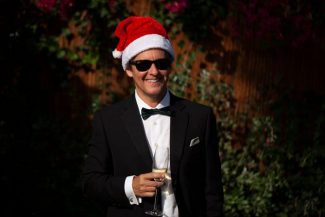 Singer/songwriter Josh Rouse promises you an evening with fan favorites as well as songs from his new album The Holiday Sounds of Josh Rouse. Josh's style fuses elements of vintage folk, rock, and pop with modern insight and observation. 7:30p, Rockland Center for the Arts, 27 S Greenbush Rd, West Nyack.
Wednesday
Rivertown Film presents Toni Morrison: The Pieces I Am. Made before Toni died, the film includes extensive interviews with her. The film leads viewers through an exploration of race, America, history, and what it means to be human. There will be a post-screening discussion moderated by Bill Batson with Dr. Craig Stutman, Joshua Leach, and Dr. Tracyann Williams, chair and members (respectively) of the Toni Morrison Society's Bench By the Road Project. 8p, Nyack Center, 58 Depew Ave, Nyack.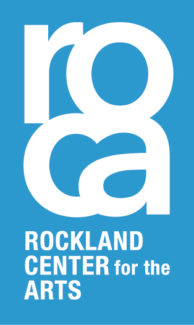 The Nyack Weekender is your Fri-Sun list of what to do and where to do it. This weekly series is brought to you by Rockland Center for the Arts.
To get the Nyack Weekender delivered to your mailbox auto-magically every Friday morning, add your name to our mail list. Visit our online sign-up sheet to subscribe.