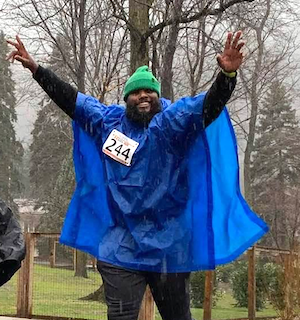 by Ken Sharp
In 2016, the Nyack Hunger Coalition held its first "Resolution Run." Over 120 participants took to the cold January streets that morning, running and walking to raise money for, and awareness of, the plight of the hungry in the Nyacks and beyond. That first year, the Hunger Coalition raised $10,000, which was distributed to 10 community programs working hard to stem the tide of hunger in our area.
Four years later, we're still running.
We have to be. Every year, the ten organizations that make up The Nyack Hunger Coalition are hit with new challenges. Rising numbers of residents suffer from "food insecurity," which is when a person is unable to obtain a sufficient amount of healthy food on a day-to-day basis. The majority of people served in our programs are food insecure–they don't know where their next meal is coming from. In Rockland, 43,800 people currently live below the poverty line (one in seven). That's a 25% increase from just two years ago.
And those numbers are only getting worse.
Despite government programs designed to aid in this ongoing crisis, almost half of the people receiving food do not qualify for federal nutrition programs, having to rely instead on charitable food assistance.
That's where we come in. Our fellow residents need our help to survive, and we need to step up and help them.
The Nyack Hunger Coalition's fourth annual Resolution Run will be held on Sat Jan 4, at 9a. It's a fun run, walk, stroll, and it's not a timed event, so everyone can go at their own pace. The flat, four mile route will begin on Jefferson Street near Grace Church and St. Ann's Church and go down Broadway to Hook Mountain and back. Everyone who registers will get an awesome winter hat and will be invited to enjoy music, hot beverages, and treats inside Grace Church after the event.
Kids and adults of all ages are welcome. Register online now through Jan 3rd; register in person on Jan 4 from 7:30-8:50a at Grace Church. The registration fee is $25 for adults and $15 for kids 18 years and under (registration fee will go up $5 on run day).
The funds raised from The Nyack Hunger Coalition Resolution Run will go to support;
People to People
The Nyack Center
Meals On Wheels
The Nyack Homeless Project
Soup Angels
Sunday Supper
Head Start
Ann's Food Cupboard
The Meal Program at Living Christ Church
Grace's Kitchen
For all of these great programs to survive and thrive, they need our help, our support, and our resolve. I grew up in Rockland. This is a county where neighbors help neighbors, where we lift each other up, where we go that extra mile (or four) to make life better for those who need assistance. I believe that same sense of community is alive and well in 2020. Come join us on January 4th and prove me right.
To register, donate, or to learn more, please visit NyackHunger.com.