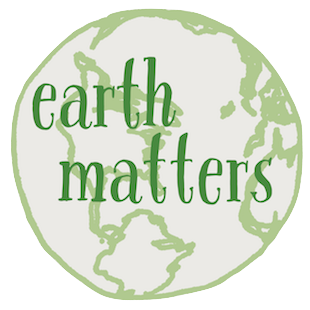 Earth Matters focuses on conservation, sustainability, recycling and healthy living. This weekly series is brought to you by Maria Luisa Boutique and Strawtown Studio.
If Earth Matters to you, sign up for our mailing list and get the next installment delivered bright to your inbox.
by Jordan Dale
The December 6 student climate strike at Nyack's Main Street gazebo in Veteran's Park drew more than 200 supporters throughout the county and from across the Hudson. Speakers challenged everyone to save our planet for the next generation.

The strike was part of a worldwide climate action inspired by Swedish teen activist Greta Thunberg. On November 29, strikes abroad drew over two million protesters. The US version, one week later because of Thanksgiving, attracted several hundred thousand more in over 260 cities across the country.
The Nyack High School students who staged last week's Climate Strike are part of Extinction Rebellion, an organization that draws attention to the real possibility that climate change could cause human extinction, and urges people to rebel against that outcome.  
"We are striking to put pressure on our supposed world leaders to take the actions necessary to curb our greenhouse gas emissions and halt a complete ecological collapse," said Nyack High School sophomore and strike co-organizer Emmy Udry. "We are striking to show them that the eyes of the youth are on them."

The students made three demands:  
Better representation of Rockland and Nyack citizens in local decision-making regarding the climate crisis, especially among the disadvantaged, who will be worst affected

Hire a full time Sustainability Coordinator for Rockland County

Immediate and effective global action by world leaders on climate, starting with COP25, which is the 25

th

annual Conference of the Parties currently taking place in Madrid.  
This Sustainability Coordinator position would work to reduce the county's carbon footprint, and would leverage state grant money that currently is not being used by Rockland. Speakers urged those in attendance to lobby County Exec Day and their county legislators to follow the lead of other localities and hire a Sustainability Coordinator.  
The event attracted the support of a dozen local officials, who attended or sent a representative. "It is fantastic to see our young people have belief and passion in a cause and express themselves in an organized, focused, and respectful way," said Rockland County Executive Ed Day. "As adults who will hand our world off to them, we need to heed the expressed urgency they conveyed in addressing threats to our environment." NYS Assemblywoman Ellen Jaffee,  Rockland County Legislators Harriet Cornell and Nancy Low-Hogan, Clarkstown Supervisor George Hoehmann and Ramapo Supervisor Michael Specht also attended the rally.
The Climate Strike got the attention of two congressional candidates who are hoping to succeed retiring Congresswoman Nita Lowey. Nyack resident Mondaire Jones told the students that his number one priority if elected will be passing the Green New Deal. NYS Assemblyman David Buchwald touted his 100% pro-environmental voting record during seven years in Albany. "The climate change crisis is real and a threat to all humanity. I am proud that New York State is now a leader in fighting back against climate change," said Buchwald.
One of the themes of the day was encouraging young people to "vote climate." Students were urged to defeat deniers and elect candidates committed to climate justice. A day was imagined when the youth climate vote will be so powerful that no candidate can afford to ignore it.
Two key Rockland climate initiatives were also highlighted. One is Climate Smart Communities, a NY State program that helps local governments reduce their carbon footprint and obtain grant money. The second is Community Choice Aggregation, in which towns band together to transition to renewable energy. Community Choice Aggregation is coming soon to Rockland, and when it does, more than a third of our residences and small businesses will have 100% renewable electricity.
Following the strike, County Executive Day announced that the county is evaluating the need for a Sustainability Coordinator and reviewing its ongoing participation in Climate Smart Communities, with an emphasis on next steps.
The strike was co-sponsored by Rockland Sierra Club, 350NJ-Rockland, and Rockland CAN. Sierra Club President Peggy Kurtz reflected on the event, "We are the last generation that can stop this crisis from being irreversible. We need to support the urgent demands of the young people. We urge everyone to come to future climate strikes and to join the local 350 and Sierra Club groups."
Student organizers were happy with the turnout from their peers, as well as elected officials. "I see an unstoppable youth movement that I am proud to be a part of," said Nyack HS freshman Talia Reiss. As the day ended, another co-organizer said, "I see adult allies, and above all, I see kind people of all races, genders, religions, and backgrounds who have put aside their differences to fight for the only home we've got."
Future climate strikes are expected in Rockland. Students and adult supporters who want to get involved can email the student organizers at XRYouthRockland@gmail.com. 
Earth Matters, a weekly feature that focuses on conservation, sustainability, recycling and healthy living, is sponsored by Maria Luisa Boutique, and Strawtown Studio. Read Earth Matters every Wednesday on Nyack News And Views, or sign up for the Earth Matters mailing list.