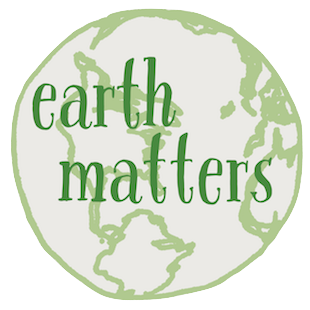 Earth Matters focuses on conservation, sustainability, recycling and healthy living. This weekly series is brought to you by Maria Luisa Boutique and Strawtown Studio.
If Earth Matters to you, sign up for our mailing list and get the next installment delivered bright to your inbox.
by Kyle A. Sitzman
Readers of Earth Matters likely don't need any more evidence that our planet is in a climate emergency. As world leaders continue to stall on climate justice, states, cities, and towns have taken it upon themselves to lead the way. For decades, small towns have rallied to do their part to combat this crisis behind a galvanizing slogan: Think Globally, Act Locally. Farm-to-table dining options, micro breweries and distilleries, and farmers' markets are all evidence of the success of this message.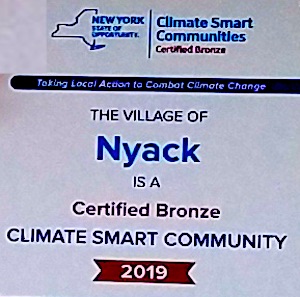 The Village of Nyack has embraced acting locally, and its role in creating a more sustainable future. Climate change planning is written into the Comprehensive Master Plan, Nyack has certified as a bronze level Climate Smart Community, and it's currently working on a Climate Action Plan.  These are some of the important contributions that a small village can make.  
These initiatives have an impact, but as it stands the village's largest source of greenhouse gas emissions is from on-road transportation, which accounts for almost half of all emissions. As a suburb of New York City, Rockland's economy is dependent upon commuting. Every day, over 100,000 vehicles travel over the Mario Cuomo Tappan Zee Bridge.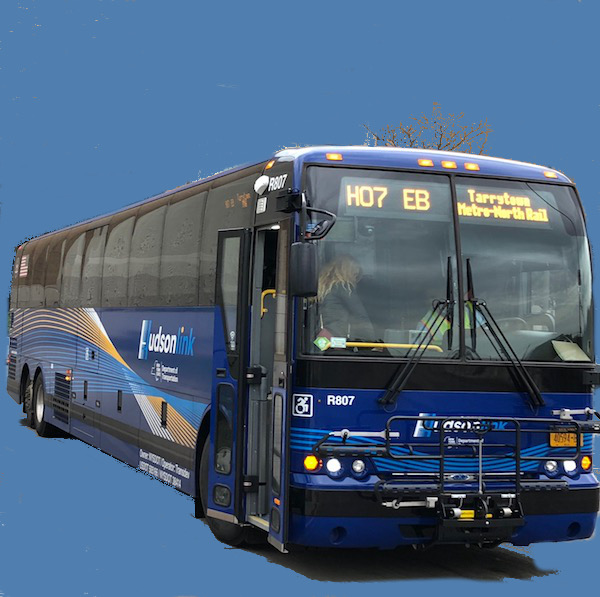 That's 100,000 sources of pollution; 100,000 vehicles contributing to traffic, spewing emissions as a collective congested machine. The good news is this leaves massive room for improvement, and Nyack has a tremendous asset with the potential to significantly reduce automobile emissions: Hudson Link Buses.
According to the Federal Transit Administration, "switching to riding public transportation is one of the most effective actions individuals can take to reduce their carbon footprint."  Buses produce an average 33% less greenhouse gas emissions per passenger mile traveled than a single occupied vehicle. That figure assumes the average occupancy of a bus, which is only 28%. It follows, then, that greenhouse gas emissions per passenger mile traveled decreases with an increase in bus ridership. Data on Hudson Link ridership is currently unavailable, but as someone who rides the bus to work, I'd guess that it's close to the national average in terms of ridership. Nyack can lower emissions with an increased ridership of the Hudson Link Bus.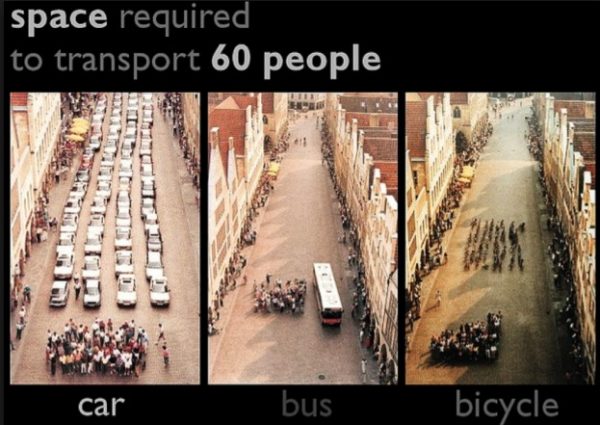 Not only does taking transit reduce the carbon footprint of the rider, it also has implications for the greater transportation system. Traffic congestion occurs when the amount of cars exceeds the carrying capacity of the road. Traffic congestion decreases the fuel efficiency of each vehicle, in turn increasing the emissions created per vehicle. Consider the amount of space required to transport 60 people by car, by bus or on bicycles: cars are the least efficient way to move people around. Reducing traffic congestion also reduce the number of cars on the road. Not only does this benefit global carbon budget, it also has air quality implications for our region.  
While the Hudson Link Bus System is not perfect, it is a great way to think globally and act locally. Next time you see the big, blue Hudson Link Bus, consider giving it a try.  
Kyle A. Sitzman is Nyack resident and an Urban Designer for the Westchester County Department of Planning.  He received a Master of Landscape Architecture degree from Cornell, and a Bachelor of Science in Geography: Urban and Regional Planning from SUNY Oneonta.  He rides Hudson Link to work.
See also:
HudsonLinkNyack.com, customized bus/train schedules for the H07 line to Tarrytown Metro North and Grand Central
Earth Matters, a weekly feature that focuses on conservation, sustainability, recycling and healthy living, is sponsored by Maria Luisa Boutique, and Strawtown Studio. Read Earth Matters every Wednesday on Nyack News And Views, or sign up for the Earth Matters mailing list.