by Amy Alinkofsky
Looking for a piece of unique art or pottery for a fabulous holiday gift for friends and family?
Just in time for holiday shopping, Rockland Center for the Arts (RoCA) is holding its annual Affordable Art & Pottery Bazaar featuring regional artisans and their wares. 
The Affordable Art & Pottery Bazaar opens on Sun, Dec 8 and continues through Sat, Dec 21 with beautiful handmade functional pottery, glass bowls, holiday cards, original 2-D & 3D art, jewelry, and ornaments. This holiday give something memorable that will last and increase in value with time.
And new this year, on Dec. 8 there will be a one day Jewelry Trunk Show of invited artists from the Hudson Valley. With an assortment of paper jewelry, glass beads, clay, and metal, there should be something for everyone at all price points. And from the organic silver pendants that remind us of honeycomb nests to hand hammered earrings, each of these artists brings a fresh and exciting take on jewelry. You can shop for a unique handcrafted piece of jewelry for a loved one and support an artist at the same time.
This very special opening and trunk show at Rockland Center for the Arts is on Sun, Dec 8 from 1-5p and is free to the public, 27 South Greenbush Rd, West Nyack, NY.
Holiday Sounds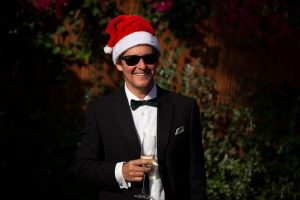 When you need a break from all that holiday shopping, on Tue Dec 10 at 7:30p RoCA presents an intimate concert with singer/songwriter Josh Rouse. This this very special evening will include fan favorites as well as songs from his new album The Holiday Sounds of Josh Rouse.
Hailed by NPR as "one of contemporary music's most engaging singer-songwriters," Rouse first emerged in 1998 with "Dressed Up Like Nebraska," a stunning debut that Billboard proclaimed to be a "dark horse gem." Over the last twenty years, Rouse has released 11 critically acclaimed albums, honing in on a warm, ruminative sound that fuses elements of vintage folk, rock, and pop with modern insight and observation. 
Rouse released his first holiday album on Nov 1, 2019, and will be performing songs from the album at this RoCA concert. It isn't your typical yuletide collection. Written over the course of the last ten years, the record is joyful and festive. But like the holiday season itself, it's also laced with an undercurrent of longing and melancholy. For every playful portrait of giddy lovers on New Year's Eve, there's a stranded traveler spending Christmas alone; for every St. Nick in a suit and sunglasses, there's a lonely ex-pat waiting by the mailbox for cards that never seem to come. 
The arrangements are eclectic and intoxicating, blending jazz sophistication with rootsy sincerity and sly crooner charm. Finding yourself far from home for the holidays is a frequent theme on the record. "I wanted to write something that folks hadn't heard before, something they could listen to year-round," says Rouse.
Tickets are $25 and may be purchased at www.rocklandartcenter.org or by calling 845-358-0877. RoCA is located at 27 South Greenbush Rd, West Nyack, NY 10994.
RoCA's regular hours are Monday – Friday 10am – 5pm, Saturday & Sunday 11am – 4pm.
RoCA's programs are made possible, in part, with funds from the New York State Council on the Arts, with the support of Governor Andrew Cuomo and the New York State Legislature. Funding is also made possible by the County of Rockland.  Additional funds are made possible by Rockland Tourism.