Prepare yourself and your family for Thanksgiving with some relaxing activities. Send the kids on a hike, meditate at the soundbath, and catch the last performance of An American In Paris at the Westchester Broadway Theatre. It's also time to get the holiday vibes going. Have your picture taken with Santa. Or, explore Russia and shop at the Holiday Boutique a la Russe.
This Fri-Sun list of what to do and where to do it is brought to you by Rockland Center for the Arts. Visit three inspiring exhibits or take a stroll through the Catherine Konner Sculpture Park to view the Natural Progressions and RoCA Nest 2019 exhibits.
Friday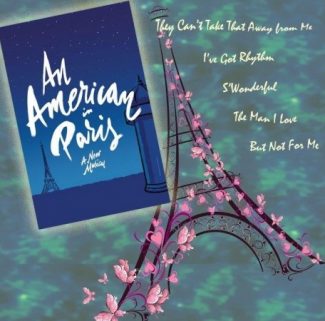 Westchester Broadway Theatre presents An American In Paris. A thrilling story of a young American soldier, a beautiful French girl, and an indomitable European city, each yearning for a new beginning in the aftermath of war. Hoping to start a new life, World War II veteran Jerry Mulligan chooses newly liberated Paris as the place to make a name for himself as a painter. But Jerry's life becomes complicated when he meets Lise, a young Parisian shop girl with her own secret and realizes he is not her only suitor. Tickets are available online. Show runs through Nov 24. Fri 11:15a and 6:15p, Sat 6:15p, and Sun 11:45a, 1 Broadway Plaza, Elmsford.
It's Photo Time with Santa. Stop by, tell Santa about your Christmas wishes, and get your picture taken. Daily through Dec 24, 12-8p (Sun 'til 6p), The Shops at Nanuet, 5101 Fashion Dr, Nanuet.
Skate at Bear Mountain Ice Rink. Adults $5, children under four are free. General skating hours: Fri 8-9:30p, Sat 10a-9:30p, Sun 10a-7:30p, Bear Mountain Ice Rink, Bear Mountain State Park, Palisades Interstate Parkway.
Saturday
Experience the vibrational tones of tuning forks, gongs, and singing bowls during the Sound Bath Meditation with Aromatherapy. Beautiful sounds will produce a relaxing, hypnotic effect on the brain, slowing down brain waves and inducing a deep meditative state. 11a-12p, The Open Spirit Nyack, 55 Burd St, Nyack.
Experience Russia and stop by the Holiday Boutique a la Russe. Fine gifts and craft vendors, ethnic cuisine, Russian dancers, live music, and church tours are waiting for you. Sat 11a-5:30p and Sun 11:30a-4:30p at the Holy Virgin Protection Russian Orthodox Church, 51 Prospect St, Nyack.
Catch a freely adapted staged reading of Canadian poet Gwendolyn MacEwen's The Trojan Women by Euripides by the Phoenix Theatre Ensemble. The women of defeated Troy–Queen Hecuba, Andromache, widow of mighty Hector, Helen of Troy who started it all, and the rebellious Cassandra who takes ownership of her sexuality–all face an unknown future. This is the first play of the Women & Patriarchy Series that asks: "How far have we come in 26 centuries?" There will be time for questions after the play, and don't miss the art exhibit on Women & Patriarchy by Lisa Levart. 2-3:30p, Nyack Library, 59 S Broadway, Nyack.
The Chirp Cafe Live Music Series presents Nyack-based animator, filmmaker, and performer Conor MacFinn. Enjoy music influenced by his heritage from Appalachia, Scotland, and Ireland. 9-11p, Art Cafe Nyack, 65 S Broadway, Nyack.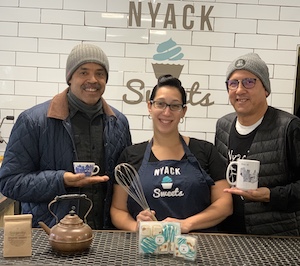 The Nyack Gift Set is back! This box of holiday cheer, created by three local artisans, includes a NEW Nyack Sketch Log mug from Bill Batson, 1.5 oz bag of loose Organic Assam tea from Preston Powell's Teagevity and chocolate covered Oreos and almond and orange cookies from Lisa Chang's Nyack Sweets. $10 discount for pre-orders by November 29 at NyackGift.com.
Sunday
Masterwork Conversations presents Soundwaves and Storms: A Portrait of Water. Enjoy a musical voyage through time, on rivers, lakes, and high seas, and explore the versatile ways creative minds have depicted water in sound. 1:30-3p, Valley Cottage Library, 110 Rt 303, Valley Cottage.
Stop by the Lagstein Gallery for ARTBLND2, the second annual group show of original art across a variety of mediums featuring the works of 16 artists. 2-5p, 85 S Broadway, Nyack.
Enjoy great music and fine local craft beer when Penguin Plunge and Growler and Gill team up for a Teachers, Cops and Firemen Guest Bartender Challenge to raise some much needed funds for two great kids. Jelien Ramos is a three year old girl who is being treated for B-Cell Acute Lymphoblastic Leukemias and Skylar Hurley is a two year old girl who suffers from the Rett Syndrome. All cash tips between 3-7p will go to the Penguin Plunge. 3-7p, Growler and Gill, 148 Rt 59, Nanuet.
Elmwood Playhouse presents Sundays at 7, a series of art events to showcase local and regional artists, theatrical presentations, and original works. This Sunday, the president will be in town: Who is James Polk? takes a humorous angle on Polk, a man attempting to defend his legacy to a modern audience who barely knows his name. Explore the many facets of this candidate, who unexpectedly went on to become one of the most hands-on executives ever to occupy the White House. 7p, 10 Park St, Nyack.
Next Week
Tuesday
Just in time. Skip the florist this year and learn how to Design Your Own Thanksgiving Centerpiece. Have fun while learning the basics of Floral Design. 5-7p, Salonnière Coffee Bar, 79 S Broadway, Nyack.
Thursday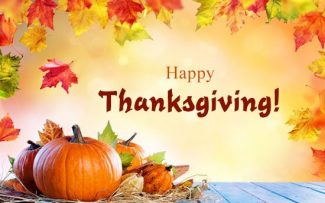 The Living Christ Church is hosting its 3rd annual Thanksgiving Day Dinner. Everybody is welcome. Seating for the meal is from 12-2p; the event is running until 5p. 151 S Broadway, Nyack. If you are interested in volunteering, please contact the church office at info@lccnyack.org.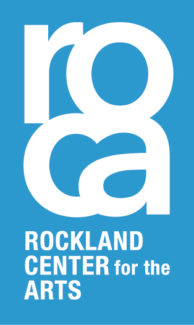 The Nyack Weekender is your Fri-Sun list of what to do and where to do it. This weekly series is brought to you by Rockland Center for the Arts.
To get the Nyack Weekender delivered to your mailbox auto-magically every Friday morning, add your name to our mail list. Visit our online sign-up sheet to subscribe.