This week in the villages: The Nyack Farmers' Market will help you get the best food for your Thanksgiving dinner as it moves its usual Thursday hours to Wednesday. Metro North tweaks its holiday schedule Wed-Sun; look for Hudson Link bus stop changes in Tarrytown and South Nyack. Park free in downtown Nyack from Thursday – Sunday. Don't forget to pick up a little something for foster children and those served by the Department of Social Services. Learn about the dangers of vaping at a forum on Tuesday.
Save the Date – Additional Community Choice Aggregation Public Outreach Meetings
The Villages of Nyack, South Nyack, and Upper Nyack are joining a "Community Choice Aggregation" (CCA) Program to lower costs and bring 100% renewable electricity to residents and small businesses. By pooling demand along with the Towns of Orangetown and Clarkstown, this new CCA program uses economies of scale to negotiate a supply contract on behalf of residents. Come and chat with the CCA program representatives to find out more about how the seamless move to cheaper, 100% renewable energy will benefit the villages and reduce our carbon footprint at the following informational meetings:
Thurs, Dec 5, 7-8:30p, South Nyack Firehouse, 90 Depot Pl, South Nyack
Sat, Dec 14, 10-11:30a, Nyack Village Hall, 9 N Broadway, Nyack
Sat, Dec 14, 1-2:30p, Old Stone Church, 437 N Broadway, Upper Nyack
See also: Earth Matters: Renewable Energy for the Nyacks
Village of Nyack
Thanksgiving Eve Farmers' Market
The Nyack Farmers' Market will be closed on Thanksgiving, Thurs Nov 28 so that you can still get your Thanksgiving shopping done. The Farmers' Market will be open from 8a-2p on Wed, Nov 27. Shop local and buy from favorite regional vendors featuring fresh, delicious produce, baked goods, sweet somethings, and other great items. Local artist and crafts people offer unique gifts, too.
Holiday Parking 
There will be NO charge for parking village-wide on Thanksgiving, Nov 28, Fri Nov 29, and Sat Nov 30, 2019. On Saturdays through December, parking will be free in the Municipal Lots on Artopee Way. Lots will be clearly identified as free parking. Parking on the streets will require a payment through the MuniMeter or FlowBird App. Parking is always free on Sundays. Happy Holiday Shopping!
Thanksgiving Meals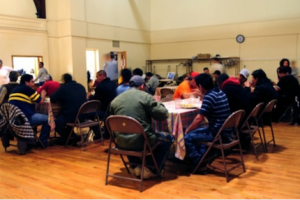 Soup Angels will provide a turkey dinner with all the trimmings for anyone in the Nyack area who would like a Thanksgiving meal in a welcoming, festive atmosphere (no questions asked) on Wed, Nov 27 from 4 to 7p in the First Reformed Church. The entrance is on Burd St between Cedar and S Broadway, and is accessible to the disabled. Read more about the annual Soup Angels Thanksgiving feast in Bill Batson's Nyack Sketch Log: Soup Angels Serve Three Thousand for Thanksgiving.
Living Christ Church, at 151 S Broadway, invites everyone to a Thanksgiving meal that can't be beat on Thurs, Nov 28 and Fri, Nov 29 from 12 to 2p. Come to McKaig Hall (side entrance on Voorhis Ave) for a warm meal and good company. If you would like to volunteer at this event email info@lccnyack.org. Read more about Living Christ Church in Bill Batson's Nyack Sketch Log: Living Christ Church.
Village of South Nyack
Update on Safety Concerns at the new Franklin St Extension (Road F) Bus Stops
Look for three changes at the Hudson Link bus stop on S Franklin St by the NYS Thruway (Road F) to improve safety for commuters and pedestrians.
A "Yield to Pedestrians" sign has been installed at the southeast corner of Clinton Ave and South Franklin St.
A "Merging Traffic" sign has been installed on Route 9W north (approaching Interchange 10).
The center line on Franklin Street Extension (Road F) has been re-striped to give buses more room to turn.
Crosswalk signs and lighting for bus shelters will soon be installed. A layout for a bench to be installed in the one shelter is being worked on. Flashing crosswalk beacons will be designed and installed on Road F.
Planting along the Esposito Trail/Shared Use Path has begun and the Thruway Authority has agreed to further enhance the landscaping by adding more trees near the trailhead. The final noise barrier will be installed by the end of the year near South Nyack Village Hall,
Hudson Link Bus Stop Moves South at the Tarrytown Metro North station
As of Nov 22, the Hudson Link bus stop at the Metro North station in Tarrytown has returned to its original location to the south of the train station building.
Thanksgiving Holiday Bus, Train Schedules
Hudson Link will run their weekend schedule on Thanksgiving Day, Thurs Nov 28.
Wed Nov 27: there will be 18 early getaway trains, departing Grand Central Terminal at around 1p. Some evening trains may be cancelled or combined because of reduced ridership.
Thanksgiving Day Nov 28, the MTA will operate an enhanced Sunday schedule with additional inbound trains and cars for riders who are heading to the 9a Macy's Thanksgiving Day Parade. There will also be additional outbound service to get you home to the dinner table. If you're leaving New York after the parade, you must have your ticket before boarding your train at Grand Central or Harlem-125th Street Station because Thanksgiving is one of the busiest travel days of the year.
Fri Nov 29, an enhanced Saturday schedule will be in effect with additional AM inbound and PM outbound trains, so you can take advantage of all those Black Friday sales or simply enjoy the special retail window decorations.
Off-peak fares are in effect for the entire four-day holiday period, Thursday through Sunday. For more info on tweaks to the Metro North train schedule, visit web.mta.info. For daily info on which trains meet up with H07 line Hudson Link buses from the Palisades Center to Tarrytown, visit HudsonLinkNyack.com.
Rockland County
Thanksgiving Holiday Transportation Changes
A list of all the public transportation changes for the Thanksgiving Holiday may be found at RocklandGov.com.
Forum on Vaping
As the number of vaping-related illnesses and deaths in the U.S. continues to rise, there will be a public information session on vaping on Tue, Nov 26 from 6-8p in Good Samaritan Hospital Auditorium, 255 Lafayette Ave, Suffern. Medical experts from Good Samaritan Hospital, along with Senator David Carlucci, will establish the health risks of vaping and its clinical effects on the body while leading an interactive discussion and answering questions. The event is free and open to the public. For more information, call (845) 368-5272.
3rd Annual Department of Social Services (DSS) Toy and Clothing Drive
The DSS announced that the county will be accepting new, unwrapped toys, gifts, and clothing during its 3rd Annual Toy and Clothing Drive to begin Mon, Nov 25. The drive takes place each year to ensure that every child in Rockland County has a gift to open for the holidays. Toys and gifts are requested for children 18 or younger. The drive will run through Fri, Dec 20. A list of drop off locations may be found at www.rocklandgov.com.
---
Here are the municipal events in South Nyack, and the Village of Nyack for the week of 11/25. There are no meetings scheduled in Upper Nyack this week.
Village of Nyack
Tue 11/26, 5p: Justice Court
7p: Nyack NAACP Meeting (Nyack Center)
7p: Parks Commission Meeting
Nyack Village Hall is located at 9 N. Broadway.
Village of South Nyack
Tue 11/26
6:30p: Police Board Meeting
7:30p: Board of Trustees Regular Meeting
South Nyack Village Hall is located at 282 S Broadway.