by Amy Alinkofsky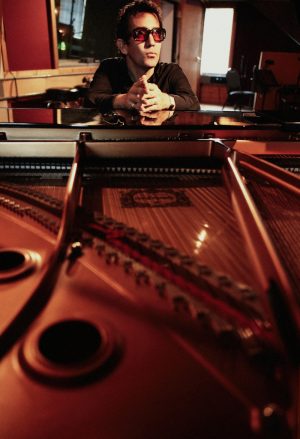 On Sat Nov 16 at 7:30p, the Music Sessions at Rockland Center for the Arts (RoCA) continue with an intimate concert with legendary pianist/singer/songwriter A.J. Croce.
Listen to A.J. Croce's albums, and it's clear that he holds an abiding love for all kinds of music–blues, soul, pop, jazz, and rock n' roll. It is readily apparent too that people love Croce's diverse approach to music. A.J. Croce's 25-year touring and recording career has produced nine studio albums that have been released via both major and independent labels.
A virtuoso piano player, Croce toured with B.B. King and Ray Charles before reaching the age of 21, and, over his career, he has performed with a wide range of musicians, from Willie Nelson to the Neville Brothers; Bela Fleck to Ry Cooder. A.J. has also co-written songs with such formidable tunesmiths as Leon Russell, Dan Penn, Robert Earl Keen, and multi-Grammy winner Gary Nicholson.
Croce's deep love for music is understandable considering that his mother, Ingrid, was a singer/songwriter, as was his father, the late Jim Croce. He never knew his father, who died in a tragic plane crash just before his son's second birthday. Around the age of four, he went blind due to horrific physical abuse from his mother's then-boyfriend. A.J. was hospitalized for half a year and was totally blind in both eyes for six years. It was during this time that he started playing piano, inspired by blind pianists like Ray Charles and Stevie Wonder. Croce, who regained sight in his left eye when he was ten, went on to spend his early teen years performing, including at his mother's establishment, Croce's Jazz Bar.
A.J. started playing piano at a young age, and purposely avoided his father's music in order to establish his own identity as a musician. While admitting he probably could have fared quite well simply covering his father's songs, A.J. is very glad he didn't. "It was more important becoming great at what I did than having immediate success, and I was lucky that people dug what I was doing."
But A.J.'s relationship with his father's music began changing around a dozen years ago, as he started to digitize his father's tapes. One old cassette contained a bar performance of Jim Croce playing blues tunes that had influenced him. These were deep-cuts by folks like Mississippi John Hurt, Blind Blake, Brownie McGhee & Sonny Terry, and A.J. was amazed since these songs were the ones that he had been playing since he was 12. "It gave me chills," he admits, hearing his dad play Fats Waller's "You're Not The Only Oyster In The Stew," because A.J. had played that obscure Waller gem at his first audition.
Discovering that "he was playing stuff I played myself" helped A.J. to connect more deeply with his father's music. A talented multi-instrumentalist, A.J. learned his father's songs by playing them on the guitar. He did this the old-fashion way by listening to the recordings because there were no Jim Croce chord books. He came away a bit surprised and quite impressed with just how sophisticated the guitar parts were to these songs.
To purchase tickets for this very special concert, visit www.rocklandartcenter.org or call 845-358-0877. The cost is $25 in advance or $30 at the door. RoCA is located at 27 South Greenbush Rd, West Nyack. Regular hours are: Mon-Fri 10a-4p; Sat and Sun 1-4p.