by Bill Batson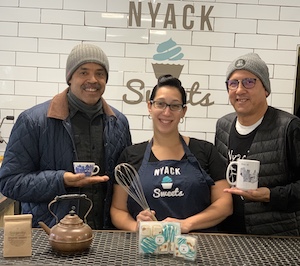 Three local artisans have continued their seasonal collaboration to create another nyackgift.com set. The gift box includes a new mug inspired by my Nyack Sketch Log, cookies from Lisa Chang of Nyack Sweets and tea from Preston Powell's Teagevity. The project celebrates a community where art and small businesses thrive and the spirit of collaboration that makes Nyack a great place to live and work.
The project is the brainchild of Josh Wolfe, the founder and owner of Skypunch Creative, a promotional product company that opened an office in Nyack in 2017. "I knew Lisa from a party that my son attended, and knew Preston and Bill from my weekly sojourn to the farmer's market. This gift box is like a day in the life of the village, with some of our favorite things to take home."
Pre-orders on nyackgift.com will allow us to better estimate how many gift sets to assemble. There is a $10 discount for pre-orders before mid-nite December 2nd.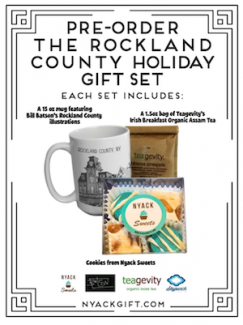 Here's what is in the Nyack Gift Set 2019
A NEW Bill Batson 15 oz. mug celebrating Rockland County,
1.5 oz bag of loose Organic Assam tea from Preston Powell's Teagevity
two mini chocolate covered Oreos and two mini almond and orange cookies from Nyack Sweets by Lisa Chang
Pre-order price: $25
Regular price: $35
Deluxe Nyack Gift Set 2019
The NEW Bill Batson 15 oz. mug celebrating Rockland County AND the Classic 15 oz. Nyack Mug
Organic Assam tea AND a steep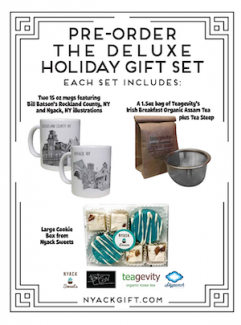 two FULL size chocolate covered Oreos AND 4 pieces of almond and orange nougat!
Pre-order price: $40
Regular price: $50
As the owner of a small business myself, I am inspired by Lisa and Preston's hard work and self-confidence. Two of my all time favorite sketch logs tell the story of how they transformed their dreams and talents into a livelihood. By learning more about them, your own entrepreneurial vision may come into focus
Nyack Sketch Log: Nyack Sweets
Our gift sets sold out last year, so order your's today. There will be a $10 discount for orders placed before mid-nite December 2.

Deliveries start on or about Thursday, December 12th via mail and at the Nyack Farmers Market.
We hope to continue these collaborations, putting the small town touch to holidays like Valentines Day and Halloween. When you bring several small brands from a village together in one product, you're capturing the charm of spending a day in a small town or a farmer's market, where your discover quality, handmade crafts and foods and the people who made them. We've put that experience in a box.
Learn more about the team:
Nyack Sketch Log: Nyack Sweets
Nyack Sketch Log: Bruce Lee of Loose Tea
Nyack People & Places: Bill Batson, Artist & Columnist
Photo by Ray Wright