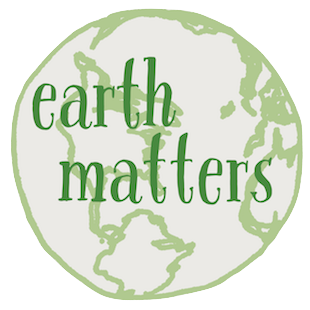 Earth Matters focuses on conservation, sustainability, recycling and healthy living. This weekly series is brought to you by Maria Luisa Boutique and Strawtown Studio.
If Earth Matters to you, sign up for our mailing list and get the next installment delivered bright to your inbox.
by Kathy Schwarz
The transportation sector accounts for more than half of Rockland County's greenhouse gas (GHG) emissions. The 201,000+ cars registered in the county spew  52% of the Rockland's GHG contribution. Statewide, transportation creates 37% of New York's greenhouse gases; cars account for 80% of that total.
This is a serious environmental issue. But it also represents an opportunity to reboot our approach to mass transit and to encourage more people to take buses and trains as an alternative to driving.
Consider this:
The average diesel-fueled city bus gets about 6 miles per gallon of gasoline. The average non-SUV car gets about 25-30 miles per gallon.
Yet buses are more efficient than cars because they can transport more people. Instead of thinking about miles per gallon, let's reframe this as miles/gallon/person (mgp):

A bus with 30 people achieves .2 miles/gallon/person.
A car with four people gets 7.5 miles/gallon/person.

When there is only one person per car, the 30-person bus can be as much as 150 times more efficient than a single passenger vehicle (30 mgp versus .2 mgp).
Improving mass transit–and reducing its cost to make it more attractive to commuters–can go a long way to reducing greenhouse gas emissions in the Lower Hudson Valley.
Last July, New York State committed to a 40% reduction of carbon emissions by 2030 when Governor Cuomo signed the Climate Leadership and Community Protection Act (CLCPA). That funding represents an opportunity to electrify Rockland's commuter and school buses and move away from fossil fuels. Greater efficiency is good, but better still would be a complementary effort to  promote mass transit and provide more subsidies to users of our inter and intra county buses to encourage to people to change their commuting behaviors.
With the passing of the CLCPA, decisions are being made as to how to reach the ambitious goals that have been set. New York State will receive $127.7 million from the EPA's settlement with Volkswagen, whose diesel cars violated the nitrogen oxides emission standards of the Clean Air Act. Rockland and 29 other NYS counties will divide up $18.4 million from the VW settlement ($8.4 million) and the federal Congestion Mitigation and Air Quality Improvement Program ($10 million). A spokesperson for Rockland's Department of Transportation says the county doesn't have any immediate plans to buy electric buses because 50% of the current fleet is hybrid/electric and the other half is "clean" diesel.
There seems to be little push from the state in suburban areas like Rockland County to improve the bus service with better routes, on-time service, and a marketing effort to encourage more people to choose buses over driving their car. The Rockland County Transportation Department is analyzing TOR routes looking or places where improvements can be made to on-time performance and routing efficiency. A spokesperson said "while operating funds currently available to TOR will not likely enable any expansion of the existing service, we anticipate that the increased efficiency that will result from these analysis efforts should significantly improve the TOR service." Diverting some of the monies available into marketing to promote improved bus service may encourage residents to use TOR as an alternative to driving across the county.
About 20% of surface transportation funds in the U.S are allocated to public transportation. In Rockland County and other suburban areas of New York State, we should be considering a higher percentage going to improving public transportation, and then marketing that improved service.
Renewable energy is coming to the Nyacks! The villages of Nyack, South Nyack, and Upper Nyack are joining other Rockland communities in a Community Choice Aggregation (CCA) buying group to provide access to low-cost, renewable electricity. Come to a public Open House Q&A meeting to hear about how CCA is becoming a reality in the Nyacks on Sat, Nov 23 from 9-10:30a at the South Nyack Village Hall, 282 S Broadway, South Nyack or on Thurs, Dec 5 from 7-8:30p at the South Nyack Firehouse, 90 Depot Pl, South Nyack.
Earth Matters, a weekly feature that focuses on conservation, sustainability, recycling and healthy living, is sponsored by Maria Luisa Boutique, and Strawtown Studio. Read Earth Matters every Wednesday on Nyack News And Views, or sign up for the Earth Matters mailing list.