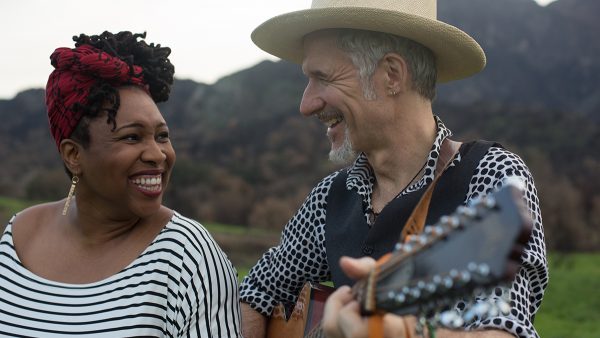 by Melanie Rock
If you missed Dan Zanes' amazing family show in Nyack last February, now is your second chance to catch it! Zanes and his partner in life and music, Claudia Eliaza, are returning to the Old Nyack High School Auditorium (BOCES Ritterhausen Theater) with their infectious, dance-party vibes on Sunday, Nov. 17 at 2p.
Back in the mid-2000s, when my daughters were toddlers, we became fast fans of Zanes' House Party series on Playhouse Disney: those playful jamborees, staged in a Brooklyn brownstone, looked a lot like the life we'd known as city dwellers. And the songs, drawn from folk, world music, and children's classics, were tunes my husband and I could easily enjoy with our little ones.
Fast-forward 11 years and Dan Zanes is still performing that same indelible repertoire in his signature, joyful style. His live show is all about family entertainment, offering up a sing-along set list appropriate for music fans of all ages. And these days, his concerts are produced as Sensory Friendly events–which means that accommodations are made inside the venue to promote audience inclusivity. Sound levels are moderate; the house remains lit; and a quiet zone can be accessed as needed. Movement and audience participation are welcomed and encouraged, making the Sensory Friendly model a relaxed and playful atmosphere, ideal for any family concert.
So as the winter chill settles in and the tides of indoor restlessness begin to rise, come join the dance party! It's not every day that a world-class family concert lands in our neck of the woods.
This show is presented by ArtsRock as part of the Milk And Cookies Playhouse series. Tickets and information are available at ArtsRock.org.