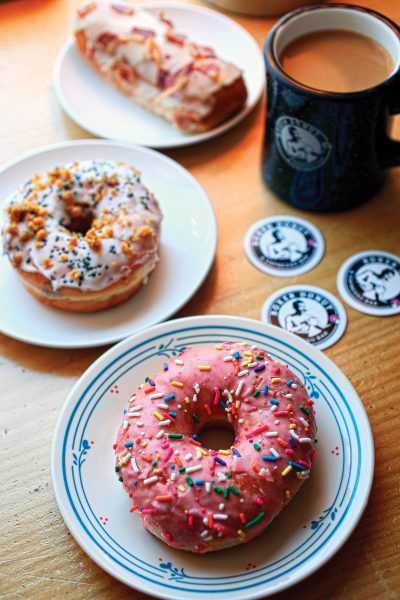 It's a truth that residents of Nyack know well: this little village on the Hudson is a bona fide destination–with vibrant art, neat shops, and plenty of delicious places to eat. The folks across the bridge at Westchester Magazine, though, seem to have caught on. The magazine recently ran an article detailing how they'd spend a day in Nyack. For the full run-down, you can find the article here. But if you have too many browser tabs open as it is, here are a few of the recommendations:
Breakfast and coffee at Boxer Donut: "Grab a cup of the house Stumptown Coffee and pair it with a cold-proofed, yeasted or cake doughnut, whether it's glazed and sprinkled or one of the creative rotating selections, like mango-chili-lime or the popular maple-bacon."
Shopping on Broadway: "Hit the shops, starting at stylish Saffron Trading Company (14 S Broadway), for home-décor items, like wood accent stools and woven baskets, that are natural, sustainable, and handmade by artisans under fair-working conditions. One block away is Hudson River Mercantile (6 N Broadway), which curates an eclectic mix of vintage, Mid-Century-design pottery and tableware in brightly colored, retro-chic patterns. Or, browse cushy armchairs, scented candles, gifts, and pretty printed dresses at [the editor] (15 N Broadway), housed in a 19th-century rowhouse."
Dinner at DPNB Pasta & Provisions or Karenderya: "Don't go home before dinner. At DPNB Pasta & Provisions (21 N Broadway), Chef Tony Scotto, whose résumé includes a Michelin-starred stint at NYC's Del Posto, crafts near-perfect plates of fresh pasta. And family-run Filipino joint Karenderya (248 Main St) was named among the 'Best New Restaurants in America' by Esquire in 2019, thanks to dishes like meltingly tender adobo pork belly."
As Others See Us is an occasional feature that publishes what media outside of Nyack say about the people and places in the Lower Hudson Valley.