There's early voting this weekend from 9a-2p  for Election Day on Tuesday, Nov 5. Visit the Rockland County Board of Elections to learn where and when to vote.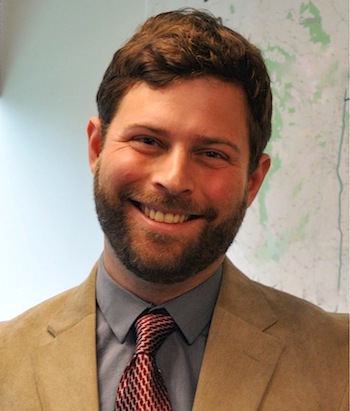 by Elijah Reichlin-Melnick
In January 2018, after a spirited primary and general election, I was sworn in for the start of my first full term as one of your village trustees. Village trustees play a key role in Nyack's government. Along with the Mayor, we are charged with passing local laws and ordinances, managing village property such as Memorial Park, hiring the employees who deliver village services such as the DPW, and approving the annual village budget. Working with my colleagues on the Village Board, we've made progress on many issues over the past two years—from infrastructure, to affordable housing, to parking—but I believe there is still much more work to be done. That's why I'm asking you for your support on November 5 to continue my work as one of your village trustees for two more years.
I grew up in Nyack, graduated from Nyack High School and Cornell University, and received a masters degree in city and regional planning from Rutgers University. Over the past decade, I held several roles in local government offices, including for Congresswoman Nita Lowey, our former Congressman Eliot Engel, and our former Town Supervisor Andy Stewart. I spent three years working as a senior research planner at Hudson Valley Pattern for Progress, a non-profit regional planning and policy organization dedicated to improving communities throughout the Hudson Valley. In January of this year I began working as the Legislative Director for State Senator James Skoufis, who represents north Rockland and much of Orange County.
Prior to joining the Village Board I served on the Nyack Planning Board from 2015-2017. I've been a member of the Nyack NAACP for years, a member of the Historical Society of the Nyacks, and I was a founding member of the Nyack Tree Committee, which has planted nearly a hundred trees on streets in the village over the past five years.
Two years ago, I ran for the Village Board because I was determined to use my experience and skills to protect and preserve the community I grew up in from threats to our quality of life and was committed to working tirelessly to make our wonderful village an even better place to live. Since taking office I have worked to deliver on that promise. Among the issues I've focused on are:
Development – It's critical that Nyack vigorously enforces our zoning and building codes to ensure we don't face the type of overdevelopment that has engulfed other parts of Rockland. Since joining the Village Board, I have been proud to vote for a reduction in allowed density on several properties along Route 9W and upper Main Street, a reduction in allowed density for sustainability bonuses, and against the removal of parking spaces on Depew Avenue requested by a developer. Change is inevitable, but the Village Board's role is to shape and guide that change in a way that is beneficial for the community at large.

Affordable housing – Nyack, like most of Rockland and the New York metro area, has an affordability crisis, with housing costs rising faster than incomes. I worked with Trustee Donna Lightfoot-Cooper and village staff to develop recommendations for improving our affordable housing laws. Earlier in 2019, the Village Board passed changes to our affordable housing law, requiring developers of new multifamily housing to provide housing units that are affordable to residents with lower incomes, and raising the cost to opt-out of the program by 25%. I am committed to continuing to do everything possible to increase housing affordability in Nyack—and that includes holding the line on taxes. Our village budgets have stayed under the state tax cap each year I've been on the board, and I intend to continue that streak.

Parking – I conducted a study of existing overnight parking regulations and made recommendations to the Village Board which led to the adoption of new parking regulations allowing overnight parking on more streets, making it easier for residents or their guests to find a place to park. I am continuing to push for commonsense changes to Nyack's parking regulations to reduce the burden on residents.
There are so many other critical issues, from infrastructure to sustainability, from recreation and improvements in Memorial Park, to increased transparency and better communication with residents. All of these, and more, are areas I will continue focusing on if I have the honor of being elected to a second full term. You can learn more about my priorities at my website: www.elijahnyacktrustee.com
I'm honored and grateful to have been endorsed by a number of current and former elected officials who represent Nyack, including Mayor Don Hammond, former Mayor Jen White, Assemblywoman Ellen Jaffee, former Town Supervisor Andy Stewart, County Legislator Harriet Cornell, Trustees Donna Lightfoot-Cooper, Marie Lorenzini, and Louise Parker, and former Village Trustee Emily Feiner. I'm also honored to have received the endorsement of the Working Families Party and the Nyack Neighbors Together group, representing residents in the Depew Avenue neighborhood.
With your support, I want to continue this record of progress and keep Nyack a vibrant, thriving, and affordable place to live, and a welcoming place for the small businesses that fill our downtown.