This week in the villages: In this week's sexy infrastructure news, the new on-ramp to the NYS Thruway at Interchange 10 is scheduled to open on Thursday. Sexier still: There will be a public hearing at the Nyack Village Board meeting about revisions to permit requirements for large groups seeking to use park facilities. Also, the tentative 2020 Rockland County budget has been released.
New Thruway On-Ramp Coming to Interchange 10 in South Nyack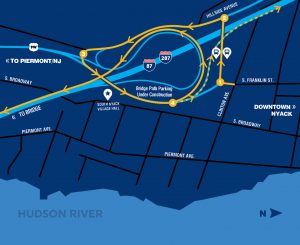 Motorists will soon have a new way to access the New York State Thruway (I-87/I-287) in South Nyack. The revised configuration of Interchange 10 is scheduled to open on Thurs, October 10, weather permitting, with northbound and southbound vehicles accessing the Thruway from a new signalized intersection at Route 9W and Hillside Avenue. When the new intersection is opened to the public, the current southbound on-ramp from South Broadway will be permanently closed.
With this new traffic pattern, riders of the HudsonLink bus service will use two new stops on South Franklin Street Extension. They will replace the current stops at Clinton Avenue and South Broadway.
The transformation of Interchange 10 is an important step in connecting the Governor Mario M. Cuomo Bridge's 3.6-mile shared use path with its Rockland landing on Thruway property. Closing the South Broadway on-ramp was a critical aspect of the plan endorsed by South Nyack officials and residents in 2016. A side path for cyclists will run alongside part of the Esposito Trail, ending at the corner of Clinton Avenue and South Franklin Street. Improvements have been made at several intersections in the area. Printable versions of the Interchange 10 maps may be found at www.newnybridge.com.
Village of Nyack
Proposed Change to Local Law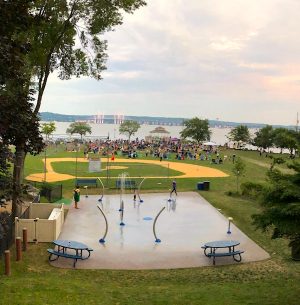 A Public Hearing will be held at the next Village Board meeting on Thurs, October 10 at 8p for revisions to the Village of Nyack code, entitled "Parks and Recreation." The hearing will be about adding a new subdivision (G) regulating permit requirements for large groups seeking to utilize park facilities. More details on the local law for groups of 10 or more in the parks may be found at nyack-ny.gov.
Cleaner and Greener Electricity
In 2020, Nyack residents and small business owners will have cleaner and greener electricity choices. Nyack is one of several communities in Rockland County leading the way to adopt a renewable electricity bulk purchasing policy called Community Choice Aggregation (CCA). By working together, municipalities can access renewable electricity with confidence, at a discounted cost. In the next few months, Joule Community Power, the administrator for the Rockland County CCA, will select electricity suppliers from which residents and small business owners can choose or opt out of. Details will be outlined in an official letter scheduled to go out in January, 2020. To learn more, see the FAQs at Hudson Valley Community Power and for further questions about Nyack's involvement contact Sustainability Coordinator Marcy Denker at mbdenker@gmail.com.
Halloween Week Festivities
In a few weeks, the Village of Nyack will become Halloween City with the 32nd Annual Nyack Chamber of Commerce Halloween Parade set to kick off on Sat, October 26 at 5:30p. Join in the festivities and register now for the BestDecorated House & Lawn contest, the Best Costume contest, and the Best Float contest.
Rockland County
New York Prepares for Climate Change Talk
On Mon, October 7 at 7p in the Lower Level Community Room of the Sufffern Free Library, Mark Lowery, Assistant Director of the NY State DEC Office of Climate Change, will review recent climate reports, introduce attendees to New York's new climate legislation known as the Climate Leadership and Community Protection Act, and talk about how New York is helping communities rise to meet the challenge of the current climate crisis. He will also take questions about NY State climate programs and regarding your concerns about climate, community resiliency, adaptation, and sustainability. Mr. Lowery developed the Climate Smart Communities program.
The room opens at 6p so you can view the Climate March photo exhibit, which will be on view from October 1-31; it includes photos and participant statements from Climate Marches and Climate Strikes in multiple locations from 2014 to 2019. Please register for the program by emailing RocklandGoesGreen@aol.com so that the room may be set up appropriately.
2020 Proposed County Budget Unveiled
Recently, County Executive Ed Day unveiled the proposed 2020 budget which stays under the New York State property tax cap while investing in critical infrastructure improvements, funding new state mandates, and providing for the future of Rockland County's animals. The proposed $729.9 million budget is under the state property tax cap and calls for a 2.789% property tax increase. On average, this increase is approximately $3 per month for a property tax owner. A copy of the 2020 proposed budget may be found at budget.rocklandgov.com.
News from Congresswoman Nita Lowey's Office
Last week, Congresswoman Nita Lowey announced that Rockland Community College (RCC) will receive $3 million in Title V Developing Hispanic-Serving Institutions (DHSI) program federal funding over the next five years to improve student services to increase participation and retention. This award is the largest from any source that RCC has received in its 60-year history.
RCC is one of 40 institutions across the county to receive the Title V DHSI grant provided by the U.S. Department of Education. These grants assist Hispanic Serving Institutions (HSI), or schools in which a minimum of 25 percent of the total enrollment is Hispanic, to enhance their program offerings and quality, strengthen their institutional stability, and expand educational opportunities.
"RCC's demonstrated commitment to the success of Hispanic students will be bolstered by this historic investment in the redesign of the College, which stands to benefit the greater RCC community," said Congresswoman Lowey. "By taking a holistic approach to instruction and providing wraparound services that address barriers to graduation rates, this funding will make good on our promise to equip students with the skills, knowledge, and resources they need to thrive in tomorrow's economy."
Mario Cuomo Bridge News
Overnight Lane Closures
Tappan Zee Constructors, LLC (TZC) is scheduled to continue realigning lane control signage on the Governor Mario M. Cuomo Bridge. The work requires overnight closures of northbound New York State Thruway (I-87/I-287) traffic lanes.
Lane Closures Near the Bridge
DATE:
CLOSURES BEGIN:
CLOSURES END:
LOCATION:
Mon 10/7
8p – Two left lanes
11 p.m. – Three left lanes
6a, Tue 10/8
Northbound (I-87/I-287)
from the bridge to exit 10
Tue 10/8
9p – Two left lanes
11p – Three left lanes
5a, Wed 10/9
Southbound
Across the bridge
Wed 10/9
9p – Two left lanes
11p – Three left lanes
5a, Thurs 10/10
Southbound
Across the bridge
Thurs 10/10
8p – Two left lanes
11p – Three left lanes
5a, Fri 10/11
Southbound
Across the bridge
---
Here are the municipal events in South Nyack and the Village of Nyack for the week of 10/7. There are no meetings scheduled in Upper Nyack this week.
Village of Nyack
Mon 10/7, 7p: Planning Board Meeting
Tue 10/8, 5p: Justice Court
9:30a: Justice Court
4:30p: Board of Water Commissioners Meeting
6:30p: Village Board Pre-Meeting Workshop
7:30p: Village Board Meeting
Sat 10/12, 10a: Mayor Hammond's Saturday Morning Meeting
Nyack Village Hall is located at 9 N. Broadway.
Village of South Nyack
Mon 10/7, 3p: Justice Court
Tue 10/8, 7:30p: Board of Trustees Regular Meeting
South Nyack Village Hall is located at 282 S Broadway.