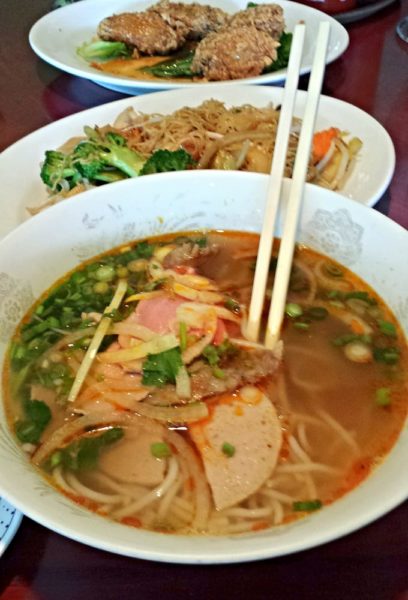 by Nate McCarthy
Arriving in Vietnam for the first time on a grant from Hunter College, I remember stepping out into the streets of Saigon and being overwhelmed by the smells: fragrant pots of soup, fish sauce, shrimp paste, durian, star anise, the smoke from pig parts grilled over hot coals.
The experience of stepping into the Viet Nam Grill in Spring Valley, NY is similar. The aromas that waft from the kitchen into the small dining room are the first signs of something good to come.
Situated in a strip mall just off of North Main Street, from the outside, the Viet Nam Grill would be easy to miss.
Inside, the restaurant is sparsely decorated: a few rice paddy hats adorn the walls and paper lanterns hang from the ceiling. Due in part to its quaint size, the atmosphere gives off a feeling of comfort, of being a guest in someone else's home.
Vietnamese food has gained popularity in the United States in recent years, thanks to dishes like pho, a comforting rice noodle soup, and banh mi, a sandwich consisting of meat, pate, pickled carrot and daikon radish, cucumber and cilantro.
Both of these items are on offer at the Viet Nam Grill. However, the real stars here are lesser known dishes like banh xeo, a Vietnamese crepe, and canh chua, a hot and sour soup from the country's Mekong Delta region. Banh xeo is a dish that perfectly embodies Vietnamese cuisine; it utilizes a variety of different flavors and textures, and is served with a plate of fresh herbs. Banh xeo is evidence of the influence of French colonialism on Vietnamese food. The crepe's outside, yellowed from turmeric, owes its wonderful crispiness to rice flour. Inside, bean sprouts, onion, shrimp and pork await. The crepe arrives at your table warm from the pan. After breaking off a piece, it's your job to wrap it in lettuce leaf and fresh mint, before dipping it into nuoc cham, a condiment made from fish sauce, garlic, chilies, sugar, and lime juice.
The canh chua, a hot and sour soup made from tamarind pulp, is perfectly tart, not overly salty or sweet, with hints of heat and funk. The broth is absorbed nicely by soft yet crispy pillows of fried tofu, okra, taro stem, tomato, pineapple, and bean sprouts.
Given the lengthy menu at the Viet Nam Grill, it is impressive how many of the dishes on offer are excellent. When it comes to ordering, it's difficult to go wrong. Still, I'll help you out. For a shared, family style meal I would recommend summer rolls, pho tai, bun bo hue, papaya salad w/ shrimp or crispy anchovies, panfried chowfun (hu tieu ap chao chien hap), banh xeo (vietnamese crepe), vegetable hot and sour soup, vietnamese iced coffee, three color bean (dessert).
Finish your meal with ca phe sua da: strong, smoky Vietnamese coffee which drips slowly into a cup of sweetened condensed milk. Stir, pour over ice, and enjoy.
Price: $ (inexpensive).
To drink: The Viet Nam is BYOB. Your favorite beer makes for a perfect pairing. Or opt for one of their refreshing salty lemonades (da chanh muoi).
304 A North Main Street
Spring Valley, NY 10977
Open seven days a week, 10:30AM-9:30PM (10PM on Fridays/Saturdays).