by Lin Goetz and Robin Russell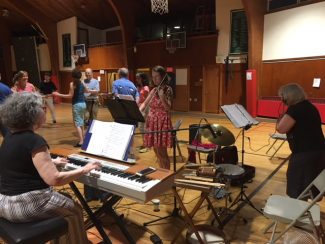 What's all the excitement? You'll hear bewitching fiddle tunes, upbeat banjo chords, and enthusiastic shouts pouring from the building, when Rockland Contra Dances take over the Green Meadow Waldorf School gym in Spring Valley on the evening of October 18, and you're invited to join the fun. One special Friday each month, irresistible live traditional music by Rhythmic Heart & Friends will get your feet moving, as you follow the caller's instructions and discover the joys of contra dance. Dances are also scheduled for November 15 and December 20, each from 8 to 10:30p, with a beginner session at 7:30p. Newcomers and experienced dancers are always welcome. Regular admission is $12, and students pay $8.
What's contra dance? Combine English country dances that you've seen in Jane Austen movies, add square dance moves you learned in junior high, set it all to the driving beat of "Riverdance," and drop it in the middle of Woodstock! Smiles, laughter, and new friendships are part of the dancing too.
Contra dance, a traditional form of community dance for singles and couples alike, has been in the US since the 18th century, and is enjoyed around the world. Contra dances use the same figures (swing, promenade, etc) as square dance, but you dance with more people, no lessons are needed, and you don't need to bring a partner. Many people who thought they "can't dance" discover they love to contra dance anyway. If you can walk, you can contra.
At Rockland Contra Dances, a short beginner's workshop, at 7:30p, before the dance at 8p, gives you the basics to get started; the rest you learn by doing. Each dance begins with a walk-through so you can see all the moves before the music starts. It's considered polite for dancers to change partners with each change of music. So, you don't need to bring a partner to have someone to dance with. This gives beginners an opportunity to dance with experienced dancers, making contra easy to learn. There is also a snack break halfway through the evening, so you can relax, rest your toes, nibble fruit or cookies, and get to know the other dance enthusiasts.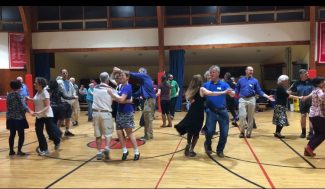 Contra dancing is lively, a great form of exercise, so dress to move. Soft-soled shoes, like sneakers or Skechers, and comfortable lightweight clothing will feel best as you swing and turn. Some people dance barefoot or in soft sandals, that's ok too. But this is not Western dancing, so please leave spiky heels or cowboy boots at home. It's a good idea to bring your own water bottle.
The music is always live, and lively. There is always an experienced caller. And there are always terrific people to meet, who love dancing. You can find out more about Rockland Contra Dances at our website, rocklandcontradances.weebly.com, or on Facebook at Rockland Contra Dances.
The dance is minutes from the intersection of Rte 287 and the Garden State Parkway in NY state. The entrance to the Green Meadow Waldorf School gym parking lot is between Hungry Hollow Road and Joyce Drive on the southbound side of Chestnut Ridge Road (aka Rte 45) in Spring Valley, NY. The gym driveway entrance is marked by a roadside sign welcoming you to the dance.