by Amy Alinkofsky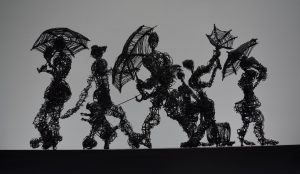 Rockland Center for the Arts (RoCA) presents Visions of Awareness, an exhibit exploring vision and seeing creatively. Vision does not solely rely on the function of our eyes: sight starts in the brain as an idea or thought. The exhibit is presented during Vision Awareness Month in partnership with The Association for the Visually Impaired in Rockland, along with Crystal Run Healthcare and Quiet Events. 
The exhibit explores the human need for imagery through art by legally blind and low vision artists as well as tactile sighted artists. The human brain is wired for optical input, for visualization. Even when the optic nerve is not getting input, the brain would continue creating images.
In Busser Howell's Sidewalk Sagas, wire sculptures composed of mild steel wire are three-dimensional narratives revealing the influence of modern technology on metropolitan life, the anxieties of today's city dweller, and the mania associated with cellphones which leads to a dangerous "cyber-oblivion." Howell claims the result is a potent mixture of aggression, sidewalk rage, amnesia, and a sense of entitlement that too many pedestrians seem to embrace.
Artist Kenn Kotara uses Braille in his paintings. Through these works, he explores the anthropologic quality of Braille. Other artwork in the exhibit features three-dimensional pieces to touch: Simone Kestelman's textural landmark buildings created as glass sculptures; and Alice Mizrachi's rendering of one of the exhibit photographs from The Seeing with Photography Collective.
In conjunction with this exhibit, there is free community programming related to vision awareness:
On Mon, October 21 and Mon, Nov 4, from 12-4p, Crystal Run will hold a free Vision Lab at RoCA to test your eyes as a preservation for your vision. To schedule a 15 minute appointment call (845) 358-0877. Drop-ins are welcome.
On Thurs, November 14 at 7p, RoCA will present an Artists Talk with Mark Andres of The Seeing with Photography Collective and Busser Howell. The artists will talk about how their vision impairment has brought a deeper mental imagery of their work, their inspiration, and their pieces in the exhibit.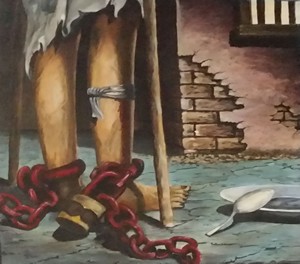 In addition to Visions of Awareness, RoCA presents Chanthou Oeur's Endless Journey, an exhibit of one man's journey to inform the world of Cambodia's experiences through art and to heal his heart. Oeur, through public speaking and diverse forms of artistic expression, shares his experiences and enduring spirit with those who are willing to see and hear. He was born on a small island about 20 miles from Phnom Penh, and during the reign of the Khmer Rouge communists he survived by working as a peasant in a prison camp. During his encampment, he would find pieces of paper to draw and write. He would hide these because it was forbidden of the prisoners. Ouer's "Snarm" sculpture represents the rough and beaten parts of humans and the scars they leave. His sculptures represent life, resilience, and light carved of stone to show a seed plowing through the earth and concrete, swirling toward the light to become an open pod and then a leaf. They show the darkness and light within each of us.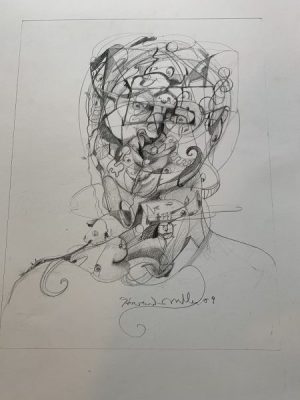 It's a busy time for RoCA. They'll also present Howard Miller's The Body Reconfigured, an exhibit of one Vietnam veteran's journey creating art to navigate PTSD. Miller's beautiful compositions resemble parts of the body in layered abstract compositions. His drawings are in pure pencil and charcoal in the cubist style. He feels that the drawings are created from old memories in this life and perhaps even past lives. He draws with hyper-focus, because of his need to lose himself in the process.
Howard Miller followed in the family footsteps and joined the Navy. As a result of two disasters, Miller started to suffer from anxiety and depression. When he left the Navy in 1965, he turned to art to help him learn to cope with PTSD. Miller was awarded scholarships to attend the Arts Students League in 1974 and found that creating artwork eased his mind. 
RoCA encourages visitors to think of art as a form of healing for the mind, body, and spirit in this fast-paced, technology-driven world. These three exhibitions feature artists who have overcome challenges in their own lives, and they'll provide inspiration for others. 
There will be an artists' Opening Reception on Sun, October 20 from 2-5p for all three exhibits. The exhibits will be on view from October 13 through November 24 and are free to the general public. For more information contact Rockland Center for the Arts, 845-358-0877, info@rocklandartcenter.org or visit www.rocklandartcenter.org. 
Rockland Center for the Arts is located at 27 S Greenbush Rd, West Nyack, NY.  Regular hours are:  Mon-Fri 10a-4p; Sat and Sun 1-4p.