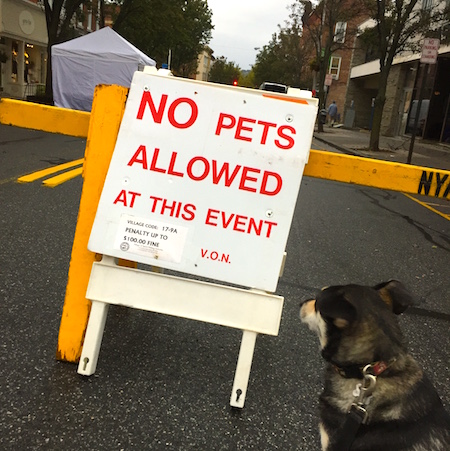 This Sunday, it's all sunny autumn skies for the final outdoor Nyack Street Fair of the season.
At this month's fair, sponsored by ACADA, there will be the customary live music and 300+ vendors selling fine crafts, jewelry, and art on Broadway and Main St. in Nyack. The fair takes place from 10a-5p.
Nyack's street fairs are known for their combination of merchandise for all tastes and pocketbooks, arts, crafts, food, entertainment, located along Main Street and Broadway in the Village of Nyack, on the west bank of the Hudson River just north of the Mario Cuomo Tappan Zee Bridge.
Parents, there is a large children's area with lots of games.
Dog owners, you'll have to leave Rufus and Max at home; there are no dogs allowed at the fair.
Been Too Long At The Fair?
Here are a few other things going on this Sunday in Nyack, courtesy of the Nyack Weekender.
In her Family Open House workshop, Suzette Marie Martin shares some easy artist tricks for creating the illusion of space and depth using simple lines and shapes, and warm and cool colors. 12-1p, Edward Hopper House, 82 N Broadway, Nyack.
Train Station Sundays are back at the newly restored Piermont Train Station. Tour the museum for free, and learn a bit of Piermont's history. 12-3p, 50 Ash St, Piermont.
Join the Nyack Pop-Up Chorus for their monthly sing, and celebrate 50 years of Woodstock. 6p, Casa del Sol, 104 Main St, Nyack.
Want to know what to do and where to do it in and near Nyack? Sign up for the Nyack Weekender mailing list and get some news you can use each Friday morning in your inbox. Follow this link to also get summaries of our weekly deep dive into the big blue marble where we live in Earth Matters.
Downtown Nyack is transformed into a car-free pedestrian mall for up to 25,000 people during street fairs when Main Street and Broadway are closed to traffic. Or take a break from the fair and see the river at nearby Memorial Park, visit Nyack Beach State Park, or hike Hook Mountain.
<!– BEGIN IFRAME TAG – LocalYokel_300x250px