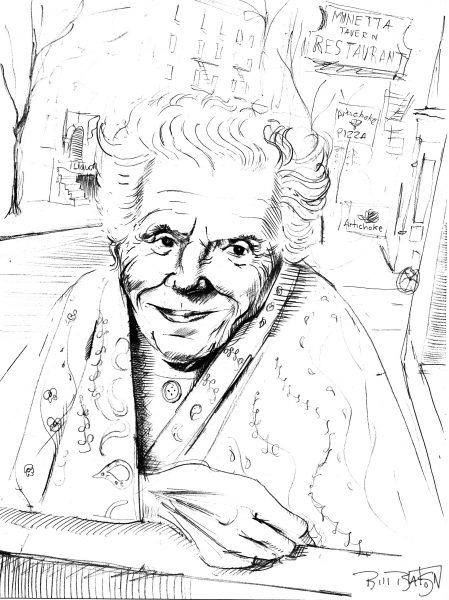 by Bill Batson
Evalyn Taucher was born to Slovenian immigrant parents in Chicago, Illinois in 1919, a year before women won the right to vote. In 2014, at the age of 93, Evie joined the Nyack Art Collective. As one of the more prolific creatives, Evie can be found most First Fridays at the Collective's monthly openings, proudly seated next to her most recent piece. Her loyal escort each month is her son, the production designer, Dean Taucher.
Nyack Sketch Log sat down with Evie in her Airmont home/studio, where she is working on her next abstract mixed-media creation and a red velvet dress that she will wear when the Collective celebrates her 100th birthday on Friday, November 1 at 7:30pm at Casa del Sol. Stop by and see a retrospective of the work of this rare centenarian and witness a women blessed with longevity, stamina, curiosity and a contagious smile. Everyone will be inspired by her words, except Tom Cruise… Read, and find out why.
Where were you born?
Chicago. But I was raised and lived for most of my life in Cicero, Illinois.
Were you in Cicero when Dr. Martin Luther King Jr. marched there in 1967?
He didn't march in Cicero. He had plans to. He marched up to the border, but there was too much opposition. He was stopped on 12th Street.
Were people upset about his march?
There might have been a faction that was.
Have you any interest in politics?
I stay away from politics.
I worked at the polls and I try to vote in every election
I listen to Daily Beast every morning. It's where I get my news and gossip.
What do you think about the world we live in today?
With the computer, everything happens very quickly. Knowledge passes instantly.
Is that a good thing?
Yes. I think so.
When did you discover your love of the arts?
Probably an evening course.
I don't know that I always loved the arts. There was this funding available, state wide, so I latched on to it. At Morton College. I set up art programs.Visual arts. I arranged the show.
I loved modern dance and I love painting. Painting flowers.
Was this the Cicero and Berwyn Fine Arts Council?
Yes.
What was the Council's greatest achievement?
Our greatest achievement was a dance program.
I saw a picture of you during World War II promoting paper conservation?
That must have been at Western Electric.
What was your favorite job?
As jobs go, I liked being an assistant credit manager. I helped people find money for things that they needed. Sometime, I had to turn them down.
Tell me about your parents?
My father was a machinist. A tool and die maker. He worked in Cicero. He retired from there, from an arm of General Electric. They made something to do with stoves.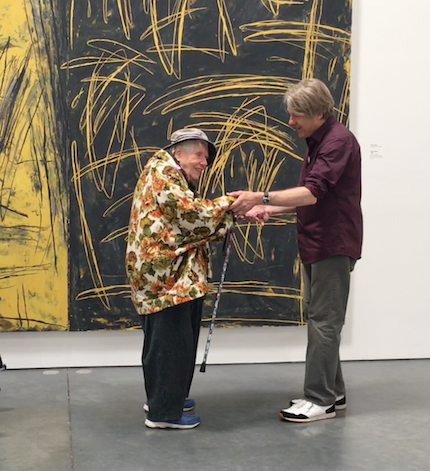 My mother made straw hats. This was a job that many Slovenian women did. She used to bring home straw and we'd make what she called beginnings. That was the inner circle. They would the beginnings to the rest of the straw. Since it was piece work, having these things made at home helped.
It's called piece work because you get paid per piece?
Yes
Lot of Slovenian women did that work.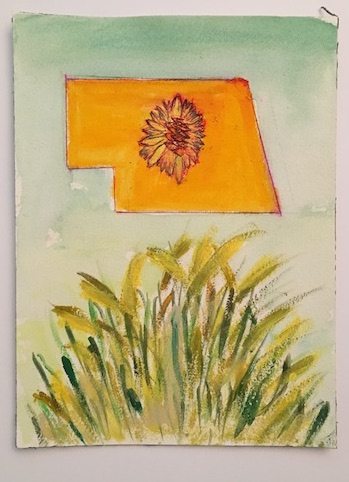 I don't know if that's something they did in Slovenia and then brought that talent here.
I had a sister. She was 11 years older. She worked in a computing office, adding, subtracting and multiplying.
My sister and I worked at General Electric. I became a secretary. That evolved into approving orders for war work. All the orders would clear through me.
My sister Bernice was married to George. I met his brother Henry through her and we married.
Henry would haul meat from Chicago to New York every week.
What was your favorite place to live?
I guess here in at least twenty years.
How did you come to Rockland County?
I followed my children.
Dean had a job in Chicago, where he was a set designer. The deal with the union was, if he stayed there a year, then he could transfer his membership to New York, without having to take the test. When that was possible he moved to New York. I followed.
Dean Taucher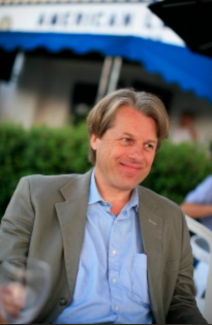 For over 30 years, Evalyn's son, Dean Taucher has worked professionally as a production designer, set designer, and scenic artist in television, film, theater, dance and opera. After graduating from the Goodman School of Drama in scenic design he became an active member of the burgeoning Chicago off-loop theater scene.
During his time on "Miami Vice" Dean worked with then head writer Dick Wolf, who went on to write and produce many hit television shows based in New York City. Since moving to NYC in 1980, Dean has worked extensively with Wolf Films as the Production Designer for H.E.L.P", "New York Undercover", "The Wright Verdicts", and currently continues with his 12th season of " Law & Order: SVU."
Wendy Taucher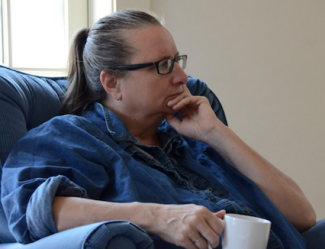 Dance Opera Theater is a New York City production company presenting original works by Wendy Taucher and other artists.
Building on Wendy's life-long eclectic professional career as a choreographer, director and author, WT DOT is a multi-faceted company that produces dance, opera and theater in the artistic and entertainment sectors.
WT DOT performs regularly in NYC, on tour and is in residence summers on Martha's Vineyard.
Wendy works of Martha's Vineyard.
Every year she puts on operas that she condenses. They are very popular
When did you join the Nyack Art Collective
Someone from the Collective saw my paintings at an outdoor art show & invited me
Do you show every month?
I like to. The club has a theme, and I just follow the theme. Every other month, you do your own thing. So I will just do something abstract.
What do you prefer theme, or do your own thing?
I prefer the themes I think, It gives you a focus
What's your medium?
Mostly acrylic paint. Crayon, colored pencil
What do you think about when you are making?
What colors I should use, what shape it should take. That's what I think about.
I have one design in mind that I am going to do
Do you draw first?
No I just go ahead with it,
What inspires you?
I look at the elements, I get ideas from there
When you say elements, do yo mean the period table of element?
yes.
I also look though magazine, I'll see something that I can use as a design. It might be a part of something, I'll take the part of something and use it.
Do you sell any of your work?
I wish. One.  That was exciting I wish I could sell more
I sometimes wonder if I could place things on Instagram, that would attract and audience and sell. But I don't know how to do that. My knowledge of the computer is limited.
Every time I've seen you, you've been with your son, how did you raise such a fine your man?
I don't know. Dean is his own man.
Is that the secret? You let him be his own man.
Maybe.
What some favorite things to do?
I've always enjoyed swimming.
I like to read. (she's currently reading Tami Hoag's, The Boy)
The local college has a pool.  I had been going once a week.  I've kind of dropped off lately
I always read mystery stories.
Any interest in writing one?
No talent in that regard,
Not yet.
Smile
Do you like movies?
With movies I am more flexible, except anything with that short actor with the weird religion in it
… you mean Tom Cruise?
If he's in it I just avoid
Are you working on anything special?
I'm making a dress for you party in November. It's red velvet.
I sew all my cloth. The only thing I dont sew is slacks.  It's just a habit.  Just for myself. When Wendy was younger, I made things for her. When Dean was five, I made him and outfit.
But mostly I bought the boys clothes.
Do you think that being creative has helped with your longevity?
No it's luck of the draw
My mother lived to 93, maybe its in gene
Do look forward to the monthly shows?
It's a social thing to no t only the showing of the pictures, everybody gathers together. Its' a nice event.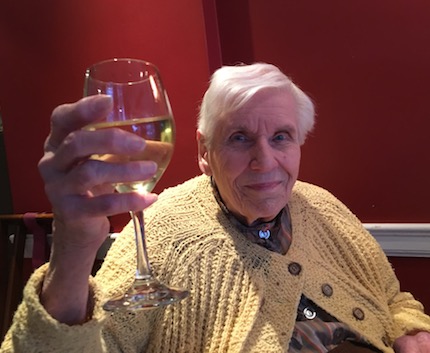 So after the velvet dress and after retrospective, what's next?
Keep doing the same thing, over and over again. I have no particular plans. What ever comes along!
If I could get that Instagram going, that would be next. If I could find somebody to figure it our for me.
How do you feel about turning 100?
Amazed, that I'm still here.
Any advice?
Age doesn't make you wise.
On Friday, November 1 at 7:30pm, the Nyack Art Collective is celebrating the birthday of their member at Evie Taucher.
NAC is a not-for-profit, member-managed, art association founded on the belief that as a group, it is in their interests to share and support the artistic process. 
On the First Friday of each month, NAC holds an exhibition at Casa del Sol at 8pm.
Bill Batson is an activist, artist and writer who lives and sketches in Nyack, NY. "Evalyn Taucher Turns 100" © 2019 Bill Batson.