by Marie Lorenzini
My name is Marie Lorenzini, and I am seeking re-election to the Nyack Village Board. Moving here nearly 40 years ago I felt how special Nyack was. My deep belief in the good people of our community and my desire to "give back" led me to municipal public service on the Nyack Planning and Zoning Boards before my tenure as a Nyack Village Trustee.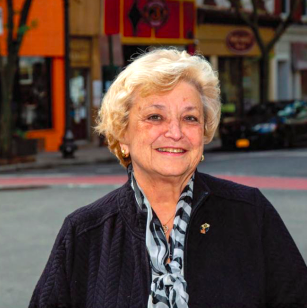 I am also deeply involved with the community outside of village government as a stirring committee member of Soup Angels, President of the Rockland Riverfront Communities Council and Vice President of the Rockland Municipal Planning Federation.
Now, 40 years after I first felt Nyack's love, I am still so enamored with our community, and so proud of the work we have done together.
That is why I would like to continue to serve our village and why I'm asking for your vote on November 5.
Standing up for fiscally responsible endeavors while supporting all members of Nyack's diverse community have resulted in a string of accomplishments, all of which are public record. Some of these accomplishments are:
Kept village budgets under the state's 2% budget tax cap.
Prevented overdevelopment in the Waldron Avenue neighborhood by voting against a zoning change that would have green-lighted an inappropriately large multifamily housing development there.
I am dedicated to the expansion of affordable housing stock in the Village of Nyack. According to our Building Department, since 2016 48 units of affordable housing have been built and are currently occupied with another 7 units in the planning stage. From 2000 to 2015 there were no affordable housing units built.
I have strongly supported the village's Infrastructure initiatives, including:

Completed Midland Avenue drainage and paving project—end to end;
Completed Nyack Senior Center renovation and new emergency shelter;
Completed renovation of Nyack Village Hall;
Bike/Pedestrian Safety Plan, for which the village was granted an award;
Street paving and sidewalk improvements on DePew Avenue, First Avenue, Third Avenue, Burd Street, Piermont Avenue and East Catherine Street;

Helped obtain $4.3 million grant for "Safe Routes To School" to the Nyack Middle School to help make our students safer as they travel to school and home.
I am dedicated to ensuring Nyack continues to thrive as a community.
I humbly ask you to support my re-election as Nyack Village Trustee and to vote on Tuesday, November 5.
NYS Early Voting Opens This Weekend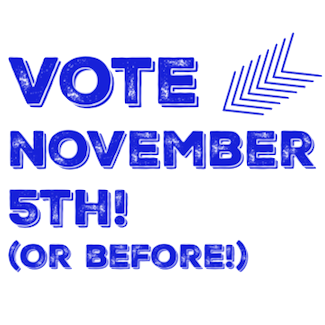 Here is when and where you can get ahead of the voting curve in Rockland County. Vote any at any of the following four Town Halls in Rockland County beginning on Oct 26: Clarkstown Town Hall (10 Maple Avenue, New City), Haverstraw Town Hall (1 Rosman Road, Garnerville), Orangetown Town Hall (26 West Orangeburg Road, Orangeburg), Ramapo Town Hall (237 Route 59, Suffern)
Sat & Sun, Oct 26-27, 9a-2p
Mon Oct 28, 12n-8p
Tues Oct 29, 9a-5p
Wed Oct 30, 12n-8p
Thu Oct 31, 9a-5p
Fri, Nov 1, 9a-5p,
Sat & Sun, Nov 2-3, 9a-2p