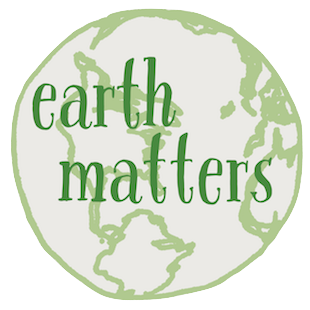 Earth Matters focuses on conservation, sustainability, recycling and healthy living. This weekly series is brought to you by Maria Luisa Boutique and Strawtown Studio.
If Earth Matters to you, sign up for our mailing list and get the next installment delivered bright to your inbox.
by Susan Hellauer
The rainclouds obligingly cleared for a festive gathering of scientists, educators, and community boosters on September 26, as the Lamont-Doherty Earth Observatory in Palisades and the Village of Piermont officially cut the ribbon on the new Hudson River Field Station at the tip of the Piermont Pier.
Once a supply station for Lamont's research vessel, the original building for decades also housed instruments for monitoring local river chemistry and water quality. But the structure was heavily damaged in Superstorm Sandy in 2012, and the monitoring lab was completely destroyed.
Now, a newly-renovated space surrounded by the Hudson River will once again host Lamont's world-class research, and will also welcome the community, offering opportunities for students, educators, and all science-curious residents.
For an inside look at what this sparkling new science center on the river means for Lamont-Doherty, our community, and our students, we spoke with Margie Turrin, Senior Staff Associate and Director of Educational Field Programs at Lamont.
How did you find your way to science education? And what is your role at Lamont-Doherty?
I was trained as an ecologist, but I've always loved being an "explainer," connecting people to ideas and experiences, and seeing them light up with understanding. It's a passion that I brought with me to Lamont 22 years ago.
My role here is to take the science that we do and get that out to the public, whether through citizen science, or community outreach, or more formal K-12 education. A lot of that is done through field-based learning. That's why I think the Field Station is a fantastic place for us to explain to people what it's like to collect data in the field and explore outside.
Was the space ever used for teaching or outreach before Sandy?
The building had a combined use. It was the original supply and support warehouse for our research ship, which has been gone from the pier since the 1980s. After that, the Village of Piermont started to share space in there, and Lamont did use it to run some science experiments. If I wanted to use it for a program, I would have to bring a broom to sweep it out, and set up a table with a microscope and a few supplies. It was not a field station, but just a space.
As awful as it was, Sandy's destruction was also an opportunity for us to rethink that space. The building was not solid when the storm hit: The water crashed in through the rusted old doors and destroyed everything. We were starting over with essentially a cement shell. If there's another Sandy, we won't be in the same situation, because we've reinforced the facility.
How long did it all take?
It took a couple of years to get going at all after Sandy. There were insurance claims to submit for equipment that was destroyed and a lease with the Village to negotiate.
In terms of revisioning the building, former Piermont Mayor Chris Sanders was eager to see something change after Sandy, and reached out to put together a committee from both Lamont and Piermont. That's when Maureen Raymo, Director of the renowned Lamont-Doherty Core Repository (and now Director of the Field Station), took on the project with a passion to make something happen there.
How much did the restoration cost, and who paid for it?
All together, the price tag was about $100,000.
There was fundraising done in the Village of Piermont, some funding from Lamont inside grants, and some from the N.Y. State Department of Environmental Conservation (DEC). However, the bulk of the funding for the renovation came from personal donations by individuals, including some Lamont scientists, who had a long history with Lamont and the local community, and wanted to see this project succeed.
Have any groups already begun using the station?
Several summer school classes have already used the Field Station—undergraduate programs from St. Thomas Aquinas, Barnard College, Mercy College, among others who don't have their own waterfront space. And we have several school groups coming here in the next couple of weeks.
Is this primarily a science center for the public to visit, or a working Field Station for Lamont scientists?
It's a combination. Some of the tools we use in real-time monitoring of the Hudson also have a public face. The data we are interested in at Lamont also has interest for the public. The Field Station gives us a chance to bring school groups in for formal and informal education during the week, but it also allows us to open on the weekends, and have the public share in our Lamont science.
Our goal is to get graduate students and scientists down there to talk to people and share our science. For example, we ran "Seining Saturdays" for the public all last summer, letting people get into the river with waders and pull a net through the water, to see and talk about what's there. And people also just want to know what Lamont does. So we can talk about our science, and about the river, and build an engagement with Lamont and with the outdoors.
What science is Lamont working on at the Field Station?
The Field Station is part of the Hudson River Environmental Conditions Observing System (HRECOS). The DEC is the "backbone" of the network, and the system is managed by a number of institutions on the river, like the Cary Institute, the U.S. Geological Survey (USGS), Lamont-Doherty Earth Observatory, The Center for the Urban River at Sarah Lawrence College, and a variety of others, each of which runs a station. Together, the real-time data helps us better understand the full stretch of our estuary, as well as ocean processes.
There's also a weather station, which is part of HRECOS, as well as carbon-dioxide monitoring, and water sampling for Riverkeeper. So, there are multiple opportunities for us to do science there.
When's the best time to visit the Field Station with kids?
To bring school groups, or for teacher workshops, contact the Education and Outreach Coordinator.
The Field Station will be open to the public seasonally, from April through October, starting spring, 2020. Keep an eye on the website for open hours. Our Science Saturdays will feature family-friendly organized programs designed to engage and educate. Activities include seining and fish identification, rod and reel fishing clinics, water quality testing, plankton and microbiology identification, and more. It's drop-in, and it's all free.
But you don't have to wait for spring. This fall, we're open for three more Saturdays, October 12, 19, and 26, from 10a to 4p. Just show up, bring the kids, meet a scientist in person, and do some hands-on investigations. It's all state-of the-art, at an incredible spot on the Hudson River.
The Hudson River Field Station is located at 200 Ferry Rd, Piermont NY, at the eastern end of the Piermont Pier, Rockland County N.Y. Find out more or contact the Field Station through their website. Follow them on Instagram.
Earth Matters, a weekly feature that focuses on conservation, sustainability, recycling and healthy living, is sponsored by Maria Luisa Boutique, and Strawtown Studio. Read Earth Matters every Wednesday on Nyack News And Views, or sign up for the Earth Matters mailing list.