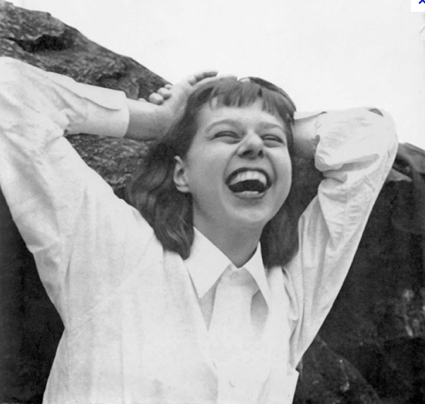 by Melanie Rock
When Grammy Award-winning songstress Suzanne Vega hits the stage of Nyack's Rittenhouse Theater on October 5th, her show will pay tribute to the work of another great female artist. One with deep, lasting roots in the Nyack community and whose legacy bears immense relevance to our current cultural climate, even fifty years after her death: Carson McCullers.
Vega has been a McCullers devotee since reading her short story Sucker as a teen. Initially drawn to the authentic characterizations of adolescent cruelty, insecurity, isolation, vengeance, and love, she grew to admire McCullers's powerfully relatable "androgynous persona and non-girlie tone."  A close comparison of both women's repertoires draws clear thematic connections. In a 2001 profile for The New Yorker, Hilton Als succinctly wrote that McCullers "defines the status quo by living outside it." Vega's music similarly reflects the "othered" experience, most evident in her hit song Luka, which depicts the quiet trauma of child abuse through the voice of a boy victim.
In 2011, Suzanne Vega premiered a project unlike any of her previous ones. With music co-written by Duncan Sheik, whose libretto credits include Spring Awakening and American Psycho, she launched a one-woman show titled Carson McCullers Talks About Love, casting herself in the title role.
"It's a thrill to take liberties in Carson McCullers's persona," Vega says. "I am dressed as Carson McCullers, in a variation of what she might wear. It's my interpretation. It's a platform for her spirit to be revealed."
Her 2016 CD, Lover, Beloved: An Evening With Carson McCullers, is a collection of music from the show, relying on rich layers of ukulele, upright bass, trombone, banjo, and piano, infused with a playful, jaunty flair. "I wanted an old-fashioned Rodgers and Hammerstein quality," Vega says, perhaps as a nod to McCullers's early ambitions as a classically trained pianist.  Jerry Portwood of Rolling Stone described the album as a "witty, bluesy passageway into a previous era."
Carson McCullers lived much of her adult life in Nyack, at 131 South Broadway. Listed on the US National Register of Historic Places, the Carson McCullers House is our own permanent bricks-and-clapboard reminder of that "previous era." The house is owned and managed by the Carson McCullers Center, at Columbus State University, in McCullers's childhood hometown of Columbus, Georgia.  It currently serves as a salon-style literary hub, hosting teen and adult writing workshops in partnership with River River Writers Circle, Writopia Lab, and a Poetry Out Loud series, as well as reading series with local and nationally known authors. Rental apartments on the upper floor offset the costs of maintaining the property, but the Center's director, Nick Norwood, has a long-term vision in mind. A widely published poet and creative writing teacher at CSU, Norwood splits his time between Columbus and Nyack, in service to his organization's stated mission: Preserving the legacy of Carson McCullers; nurturing writers and musicians; educating young people; and fostering literary, musical, artistic, and intellectual culture in the US and abroad.
"I am working to build an endowment for the Carson McCullers House that will allow us to have full run of it, all five apartments; to use those apartments for artist/writer/musician/scholar residency spaces during the fall and spring seasons, and to use the house for study away programs for CSU students and faculty during the summer months." He goes on to describe the culture of CSU as a social justice institution with a remarkably diverse population. He makes Columbus, Georgia sound a lot like Nyack–which may explain McCullers's decision to have her earthly remains buried here, in Oak Hill Cemetery.
October 5th marks a rare opportunity to experience the spirit of Carson McCullers embodied by one of our great American women of song. And yes, she promises to include some of her giant hits in the set list, along with some chitchat and audience Q&A. Proceeds from this performance will support the ongoing efforts of ArtsRock and the Carson McCullers Center. For tickets and more info, click here.