This is a weekend for art and music lovers. Mingle and buy art at the Rockland Arts Festival. See art installations and a burlesque show at the Brick Alley Block Party. Enjoy a night out at RoCA. Don't miss the opening concert of the Carnegie Concert Series. As autumn is slowly arriving, spend some time outside and celebrate the beauty of the Hudson Valley. Take a guided walking tour and explore neighboring towns.
This Fri-Sun list of what to do and where to do it is brought to you by Rockland Center for the Arts. Bid on a piece of art at the Paddle8 Fundraiser Auction on Fri, and hear Samuel L. Waymon and Jeff Doctorow in concert on Sat. Take a stroll through the Catherine Konner Sculpture Park to view the Natural Progressions and RoCA Nest 2019 exhibits. And stop by Gallery One, Two, and the Emerson Gallery for the newest fall exhibits.
Friday
Sip a glass of champagne and bid on your favorite piece of art. The Paddle8 Fundraiser Auction has works by Bridget Riley, Sana Musasama, Charles White, Paul Strand, and more. All proceeds benefit RoCA's broad range of exhibition, studio, and outreach programs for both artists and the community. 7-9p, Rockland Center for the Arts, 27 S Greenbush Rd, West Nyack.
The Carnegie Concert series presents the Diálogos Duo, a clarinet-guitar duo featuring contemporary Brazilian music. 7:30-9p, Nyack Library, 59 S Broadway, Nyack.
Mike Epps, known for his role in Next Friday and Resident Evil, will make you laugh tears with his comedy show. Fri 7:30p, Sat 7, 9:30, and 11:45p, Sun 7p. Levity Live, 4210 Palisades Center Dr. A-401, West Nyack.
Saturday
Join Strawtown artists and naturalists for a creative outdoor experience. Celebrate the history, culture, and beauty of the Hudson Valley at the Hudson Valley Ramble 2019. Learn about the special features of the river and the diverse wildlife it supports, then create a related work of art to take home. 11a-1p, Marydell Faith and Life Center, 640 N Midland Ave, Upper Nyack.
Stop by for the Made In New York Jazz Showcase featuring talented jazz musicians from all around the world, including legends John Lee and Bobby Sanabria. Enjoy an afternoon of jazz music with different influences and styles of jazz, funk,  and fusion integrated in one show. 1-3p, Palisades Center (near H&M, level 1), 1000 Palisades Center Dr, West Nyack.
Learn Beginner Embroidery Essentials in a workshop that teaches you how to prepare your embroidery hoop, how to create a variety of stitches, and more. 3-5p, Shelly Luan Art Gallery, 161 Main St, Nyack.
Music Sessions at RoCA are back. Experience award winning composer, singer, and pianist Samuel L. Waymon and eclectic electric guitarist Jeff Doctorow in concert. 7:30p, Rockland Center for the Arts, 27 S Greenbush Rd, West Nyack.
Have a good laugh at this stand-up event, Can I Tell U Something?! with local performer Alyssa Sequoia and Matthew Broderick. 7:30p, followed by an after show party. Nyack Village Theatre, 142 Main St, Suite 110, Nyack.
Sunday
Join the Rockland Bicycling Club for their 2nd annual Ride 'Round Rockland Century. Select from three fall-flavored routes: the Light Roast (37 miles, 2,311 ft elevation); the Half Caff (66 miles, 4,574 ft of climbing); or 103 miles at Full Perk (8,574 feet elevation). There is no charge for this ride, but registration is required at Eventbrite.com. All routes start 8a, Rockland Lake State Park (Parking Lot #1), Congers, NY.
Take a Walking Tour of Piermont's Historic District. Enjoy the scenic Sparkill Creek while stopping at several sites on the National Register of Historic Places, including the Drawbridge and Haddock's Hall. On the way back to Flywheel Park you'll learn about the impact of the NY & Erie Railway. 10a-12:30p, 200 Ash St (meet in parking lot behind Confetti), Piermont.
Tarryhollow: Heroes and Villains of the Hollow – Learn about the three local militiamen who captured British spy Major John André, triggering the discovery of Benedict Arnold's treason. Hear about the men and women of the Philipse family, some of the largest landholders in colonial New York, who lost everything by backing the wrong side in the American Revolution. 10a, Patriots Park, 121 N Broadway, Tarrytown.
Enjoy hors d'oeuvres and wine and the relaxing music of a string trio at a Fall Garden Party at Grace Episcopal Church. All proceeds will benefit the Columbarium Trust Fund. 4-6p, Memorial Garden and Columbarium, 130 First Ave, Nyack.
Bring your picnic blankets, chairs, and some snacks, and enjoy a great night of live music under the stars. The South Nyack Concert Series presents The Old No. 7 Band. Listen to a mix of blues, R&B, and funk. 6:30-8:30p, Gazebo at Franklin St Park (between Cedar Hill Ave & Depot Place), South Nyack.
Next Week
Wednesday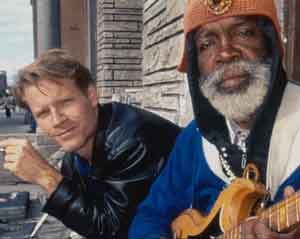 Rivertown Film presents Satan & Adam, a lovely documentary that follows the unlikely musical partnership between Sterling "Mr. Satan" Magee, a black studio and backup musician and Adam Gussow, a white Princeton graduate who grew up in Rockland County. Magee and Gussow came together on the streets of Harlem in the 1980s, a time when race relations in New York City were at an all-time low. From completely different worlds, these two musicians forged a lifelong relationship that showcases the unifying power of music. 8p, Nyack Center, 58 Depew Ave, Nyack.
Thursday
Learn about and enjoy cacao as a superfood and sacred plant, and use its heart-opening energy at the Cacao Circle with Mikki Baloy. Try an heirloom, fair-trade cacao from Guatemala with no added dairy, flavorings, or refined sugar. Registration is required because the cacao is mindfully made just prior to the event. 6:45-8:30p, Maria Luisa Boutique, 77 S Broadway, Nyack.