This week in the villages: The Village of Nyack unveiled its newly revamped website this week. Rockland County has announced a schedule of flu vaccination clinics. Congresswoman Nita Lowey is advocating for the need to fund the Environmental Protection Agency and the Land and Water Conservation Fund.
Village of Nyack
New and Improved Website
This past week, the Village of Nyack launched a new and improved website, with a clean appearance and simple navigation and functionality. Changes include a calendar with meetings and agendas, "frequently asked questions" and "I want to" tabs, information on capital projects, and a portal for bids and requests for proposals. All departments have a dedicated page which is easily accessible from the home page.
The website also features a new Citizen Portal that will allow people to report concerns, such as potholes, street light outages, etc. This portal will allow residents to track the request from start to finish via email notifications.
The village welcomes any suggestions you may have. Feel free to contact them using the links at the bottom of the homepage.
Village of Upper Nyack
September 2019 Green Committee Newsletter
The September 2019 Upper Nyack Green Committee Newsletter features 16-year-old climate activist, Greta Thunberg, who arrived in New York last month after sailing across the Atlantic. To get more earth friendly news, sign up to receive Nyack News and Views' Earth Matters newsletter delivered to your mailbox every Thursday.
Town of Orangetown
Tentative Town Budget
A copy of Supervisor Chris Day's proposed 2020 budget is available at Orangetown.com.
Rockland County
Flu Vaccine Clinics
Flu season is upon us, and the Rockland County Health Department has scheduled flu vaccine clinics for the 2019 – 2020 flu season at the following times and locations:
Fri 9/27 from 2-4p, Robert Yeager Health Center, Building A, second floor clinic area, 50 Sanatorium Rd, Pomona.
Fri 10/11 from 9-11a, Robert Yeager Health Center, Building A, second floor clinic area, 50 Sanatorium Rd, Pomona.
Fri 10/11 from 1-4p, Allison-Parris County Office Building, Legislative Chambers, 11 New Hempstead Rd, New City.
Fri 10/18 from 9a-12p, Student Union Building, Room #3217, Rockland Community College, 145 College Rd, Suffern.
Thurs 10/24 from 2-4p, Rockland County Department of Health Family Planning office, 14 S Main Street, 2nd floor, Spring Valley.
The vaccine will be give to anyone six months and older. The vaccine is free of charge if you are 65 years and older (please bring identification with proof of age), have Medicare or Medicaid (please bring your card), or are uninsured or underinsured.
No appointments are needed. There is a $20 fee for those six months through 64 years old. Cash or checks will be accepted. Those with private health insurance will be provided with a receipt to submit to your health insurance for possible reimbursement.
The Health Department is giving the quadrivalent flu vaccine, which does not contain preservatives, including thimerosal. The vaccine is called quadrivalent because it offers protection against four different flu virus strains that research shows will be most common during this flu season: two influenza (flu) A virus strains and two influenza B virus strains. It is recommended that you wait for 15 minutes after being vaccinated, so you can be observed for any reaction. For more information about the flu and the flu vaccine clinics, please visit rocklandgov.com.
News from Congresswoman Nita Lowey's Office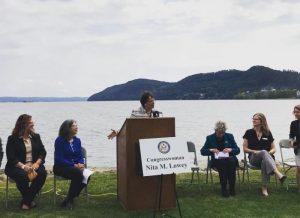 Last week, Nita Lowey was at Bowline Point Park in Haverstraw with Rockland Legislator Harriet Cornell and representatives from Environmental Advocates of NY, Riverkeeper, Save the Sound, Sierra Club, Scenic Hudson, and Oceana highlighting the need to robustly fund the Environmental Protection Agency (EPA) and the Land and Water Conservation Fund (LWCF).
LWCF has supported more than 90 projects across the district and has provided more than $4 billion to states to protect historic grounds, preserve wild habitats, and create recreational spaces. To protect communities across Rockland and Westchester Counties, our nation's endangered wildlife, the safety of our precious natural resources, and the future of our environment and public health, they're calling on the Senate to ignore President Trump's fiscal year 2020 budget request, as the House Appropriations Committee has, and adequately fund EPA and LWCF.
Mario Cuomo Bridge News
Overnight Lane Closures
Tappan Zee Constructors, LLC (TZC) is scheduled to continue realigning lane control signage on the Governor Mario M. Cuomo Bridge this week, requiring overnight lane closures on and near the bridge. Specific lane closure times are listed in the chart below.
Lane Closures Near the Bridge
DATE:
CLOSURES BEGIN:
CLOSURES END:
LOCATION:
Mon 9/23
8p – Two left lanes
11p – Three left lanes
6a, Tue 9/24
Northbound
from the bridge to exit 10
Tue 9/24
9p – Two left lanes
11p – Three left lanes
6a, Wed 9/25
Northbound
near exit 10
Wed 9/25
9p – Two left lanes
11p – Three left lanes
6a, Thurs 9/26
Northbound
near exit 10
Thurs 9/26
9p – Two left lanes
11p – Three left lanes
6a, Fri 9/27
Northbound
from the bridge to exit 10
Fri 9/27
10p – Two left lanes
11:59p – Three left lanes
6a, Sat 9/28
Northbound
from the bridge to exit 10
Bicycle/Pedestrian Path
Construction of the shared bicycle and pedestrian path continues. At the Rockland Landing, construction of a new intersection at Hillside Avenue and Route 9W—which will provide access to the Thruway in both directions—continues. Two new traffic signals in South Nyack are expected to be activated as early as this week: the first at the intersection of Clinton Avenue and South Franklin Street followed by one at South Franklin Street Extension and Hillside Avenue.
---
Here are the municipal events in South Nyack and the Village of Nyack for the week of 9/23. There are no meetings scheduled in Upper Nyack this week.
Village of Nyack
5p: Justice Court
6:30p: Nyack Housing Authority (Waldron Terrace)
7p: Nyack NAACP Meeting (Nyack Center)
7p: Parks Commission Meeting
9:30a: Justice Court
7:30p: Village Board Meeting
Nyack Village Hall is located at 9 N. Broadway.
Village of South Nyack
Tue 9/24
6:30p: Police Board Meeting
7:30p: Board of Trustees Regular Meeting
South Nyack Village Hall is located at 282 S Broadway.