This week in the villages: Labor Day is the unofficial end of summer, and it's also a federal holiday, meaning government offices, banks, and post offices will be closed. HudsonLink buses will run on a weekend schedule on Monday, and there are other transportation schedule changes due to the holiday. It will be a quiet week at village and town halls near Nyack as schools begin the new year.  It's also time to sign up for fall recreation programs.
Labor Day Closures
In addition to the Village Hall office, Nyack's Department of Public Works will be closed on Monday. Trash will be picked up on Tuesday, September 3. In Upper Nyack, Village Hall and the DPW will be closed on Monday. Trash will be picked up until the trucks are packed out, and the remainder will be picked up Tuesday, September 3. Recycling will NOT be picked up.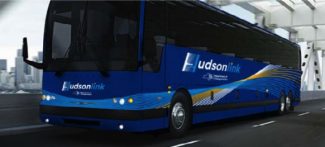 As for transport options: HudsonLink buses will operate on a weekend schedule; Transport of Rockland (TOR) buses 59, 91, 92, 93, 94, and Loop 3 will operate on a Saturday schedule; Loop 1 and Loop 2 will operate on a weekday schedule; there will be no service on TOR 95 and 97; and Metro-North will operate on a  Sunday schedule.
Village of Nyack
Fall 2019 Recreation Programs
Registration is now open for the Fall 2019 Recreation Programs, including Paper Cutting, Introduction to Piano, T(w)een Yoga and Floating Meditation, Skateboarding, Kickball League, Kids Wrestling Club, and Fundamentals of Fitness for Adults.
Town of Clarkstown
Community Tag Sale and Touch a Truck
On Saturday, September 7 come to Germonds Park for the Community Tag Sale, from 9a-2p, to sell or shop. If you've thought of having a yard sale, this is a great place to sell your items. From 10a-1p, children will have a hands-on opportunity to explore police, fire, emergency, and highway department vehicles and heavy machinery. Children can also make a card for their grandparents for Grandparents Day under the picnic pavilion from 10a-1p. Raindate: Sunday, September 8.
Mario Cuomo Bridge News
Overnight Lane Closures
Beginning on the night of Tue, September 3, TZC is scheduled to resume lane control signage realignment on northbound New York State Thruway (I-87/I-287) traffic lanes on the Governor Mario M. Cuomo Bridge, requiring multiple overnight lane closures.
Specific lane closure times are listed in the chart below.
Lane Closures Near the Bridge
DATE:
CLOSURES BEGIN:
CLOSURES END:
LOCATION:
Tue 9/3
9p – Two left lanes
11p – Three left lanes
6a, Wed 9/4
Northbound (I-87/I-287)
across the bridge
Wed 9/4
9p – Two left lanes
11:59p – Three left lanes
6a, Thurs 9/5
Northbound
across the bridge
Thurs 9/5
10p – Two left lanes
11:59p – Three left lanes
6a, Fri 9/6
Northbound
across the bridge
Fri 9/6
10p – Two left lanes
11:59p – Three left lanes
6a, Sat 9/7
Northbound
across the bridge
Bicycle/Pedestrian Path
Construction of the shared bicycle and pedestrian path continues. At the Rockland Landing, construction of a new intersection at Hillside Avenue and Route 9W—which will provide access to the Thruway in both directions—continues. The temporary traffic pattern is scheduled to be adjusted late in the week. Motorists exiting the northbound Thruway at exit 10 (South Nyack) and heading south towards Piermont and New Jersey will be able to continue straight to Route 9W. Motorists heading to the Nyacks will continue to bear right at the ramp onto Hillside Avenue.
---
Here are the municipal events in South Nyack and the Village of Nyack for the week of 9/2. There are no meetings scheduled in Upper Nyack this week.
Village of Nyack
9a: Mayor Hammond's Monthly Meeting
5p: Justice Court
Thurs 9/5, 9:30a: Justice Court
Nyack Village Hall is located at 9 N. Broadway.
Village of South Nyack
Tue 9/3, 7:30p: Zoning Board of Appeals
South Nyack Village Hall is located at 282 S Broadway.