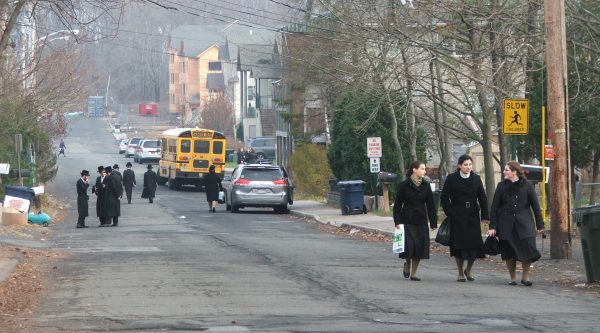 by Ken Sharp
Ed Day recently penned an essay entitled, We Are Fed Up!, in which he seems to suggest that one community's overdevelopment and unsustainable growth is apparently the biggest, and only, problem in Rockland County.
Nancy Low-Hogan is promoting a "Rockland's Future Summit," which seems to revolve around racial and religious relations in our county.
Two political leaders, from two political parties–both right, and both wrong.
Okay, maybe not wrong, but their thinking is too limited. Day deflects all of Rockland's problems, saying Ramapo is the cause of all Rockland's woes. While Ramapo is a convenient scapegoat, it is not the be-all-end-all of all Rockland's problems. Nancy Low-Hogan appears to be interested in peace talks between Ramapo and, well, anyone who sees Ramapo and its residents as a threat. This is a great idea, but also falls short of what we really need.
Honestly, it would be so much easier if the only problem with Rockland was finding peace between the Orthodox Jews in the county and those that vilify them, but that is too simplistic an answer for all the problems that Rockland is saddled with. You want summits? Awesome! Here are six to start with:
Rockland County needs a Building Summit. Overdevelopment is countywide, and it must stop. Not just in Ramapo, but throughout the county. We need a moratorium on new developments. We need a period of time to breathe, to see what's happening, and to regroup. We also need all of our building departments countywide to enforce current building and fire codes.
Rockland County needs an Educational Summit. My school tax bill is over $9,000. How about yours? While many of our schools are performing well, others are not, and our ratings and college-bound grad numbers should be higher. What are we doing to increase our ratings nation-wide? What are we doing to ensure that our school tax dollars are being well spent?
Rockland County needs an Environmental Summit. Climate Change is real. Climate Change is serious. Our natural resources are finite and precious. Yet, Suez campaigns to build facilities practically on top of our water supply.  We have one solar field in Rockland, at the Rockland County Solid Waste Facility in West Nyack, which is on track to save taxpayers as much as $4 million over 30 years by reducing the amount of the town's annual electric bill (which is about $2 million). Why aren't there more? Why aren't there solar panels on every county, state, and federal building in Rockland? The current solar field in West Nyack only takes up 30% of the former landfill upon which it stands; why not more?
Rockland County needs an Economic Summit. Every day, we read about more and more brick and mortar retailers closing up shop in Rockland County. The Lord & Taylors are leaving town, only to be replaced by the likes of Ocean City Job Lots. Our county will not survive on Dollar Stores and cut rate retailers. There's a reason we can't get a Trader Joe's here, and it's largely due to the economic health of our county and its residents. We need to drive commerce to our region. We need to drive jobs and opportunity to our region. We need to lift our county's residents–all of them–to a better standard of living.
Rockland County needs a Non-profit Summit. There are 32,000 Rocklanders who live in households that can't afford enough food. One-fifth of our children need help with food, and more than half of our senior citizens are having to choose whether to buy food or medical care. This is the second highest taxed county in the greatest country in the land; those numbers are simply unacceptable. We need to take a long, hard look at our safety net. Rockland County residents (again, countywide, not just in one municipality) rely more on food pantries, soup kitchens, shelters, and other social service programs than ever before in our county's history. Yet, instead of adding more funding to the programs that come to the aid of our least fortunate, our county perennially threatens to slash their funding–despite the fact that the need for their services is undeniably growing. How do we fully fund our safety net? How do we lessen the number of Rockland County residents in need of their services?
Rockland County needs an Infrastructure Summit. There are modern advances that can help our highway and maintenance departments do everything they do better and more effectively, yet we cling to outdated technologies. There is an incredible amount of litter scattered throughout our streets and highways, despite the fact that Rockland County's Sheriff-led work crews are available to clean up this refuse. There are ways to dispose of our trash better, to illuminate our streets more efficiently, to increase the safety and quality of life for cyclists and pedestrians who travel our roadways, yet we do not take the initiatives and do the work to improve these situations. Why?
Yes, we desperately, desperately need a "Rockland's Future Summit," but please don't let it simply be a pissing contest between the Rockland County GOP and the citizenry of Monsey. While the strained relations between the Orthodox Jews of our county and those that see them as a threat is an important issue, Rockland County's future is about so much more than that, and it's all interconnected. Our elected leaders need to see and understand that, and they need to act accordingly–not like schoolyard bullies, but like the best of us, the most intelligent of us, the most compassionate, caring and understanding of us.
Finding a lasting peace in Rockland County–finding solutions that are beneficial to all–won't be easy. Important change never is. If it's too hard for you, if it seems too daunting a prospect, then get out of the way. But, if you're ready to see all Rocklanders equally, to treat all Rocklanders with respect and to look out for all Rocklanders' best interests, then let's have a real summit.