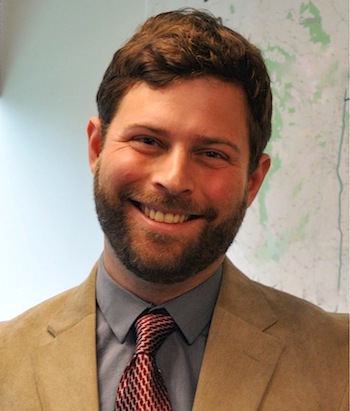 by Elijah Reichlin-Melnick
Hello! Since my last update in July (sorry for missing August!), there have been a number of important developments in the village which I wanted to share with you.
New Website
The village finally has a new website! I hope you'll agree it is a big improvement over the old one, with a more user-friendly design and easier access to information. Part of the reason I ran for Trustee was to increase government transparency and make it easier for residents to find out what's going on in village government, and I think this new website is an important sign of progress.
Please check out the new site, and share any feedback if you catch mistakes or have ideas to improve it. It remains a work in progress. Thank you to everyone in village government–especially Jane Cowles and Ann Marie Tlsty–who worked on this project!
Parking Update
The village has continued to make refinements to the new parking meters and has been working with Flowbird to improve performance of the mobile app. Mayor Hammond has done an outstanding job meeting with merchants in the downtown to get feedback and following up constantly with Flowbird to get improvements. A few of the changes that have been made in the past two months: street parking rates have now been standardized throughout the downtown at $1 per hour. The rate to park in parking lots is $0.75 an hour. Likewise, there is now a four hour time limit (up from a three hour limit) in any 24 hour period for on-street parking. Parking lots do not have this limit. The idea is to encourage people who plan to leave their car all day to not take up prime street parking in the downtown, but instead to use the larger lots or move their car a few blocks away to a street with no meters.
Infrastructure Work
The sidewalk replacement work on Depew Avenue between Midland and 9W is now complete, and the contractor will shortly begin repairing/replacing sidewalks along 1st Avenue between Broadway and N. Franklin. The long-awaited (and much delayed) pedestrian bridge connecting Memorial Park to the marina parking lot is moving forward, with the anticipated awarding of a contract to construct the bridge expected soon. The project should be complete by the end of the year. There are many other upcoming infrastructure projects in the village, nearly all of which are funded in large part (or entirely) by grant funding from state or federal sources. In fact, the village administrator recently calculated that we have nearly $20 million worth of grant-funded projects that will be constructed within the next five years or so. You can review a detailed list of upcoming and ongoing projects here.
A Parking Lot on the Little League Field?
It recently came to my attention that the Nyack School District is actively considering a proposal from Montefiore Nyack Hospital to build a paved parking lot on the little league field at the corner of Haven Ct. and North Midland Ave. The proposal is for only a temporary use of the site as a parking lot (around 18 months) while the hospital plans to build a larger parking structure on its own property across the street and the school district will apparently be well compensated for the lease of space. The hospital has also promised to restore the property to use as a ballfield afterwards.
Nevertheless, I have major concerns with this proposal. Seeing this treasured community recreation space turned into a parking lot would be a huge loss for the children and families of our community–not to mention the drastic impact on quality of life for people in the neighborhood. I urge the school board to tell the hospital, "No deal."
I recognize the parking challenges this neighborhood faces, and I applaud the hospital for seeking to address these issues by constructing additional parking on their property. But we don't have enough green space in Nyack. Paving it over for parking sets a troubling precedent. I encourage the hospital to evaluate other options, such as staging construction activity to minimize disruptions to the existing lot.
Anti-Semitism
The recent discovery of a swastika carved into the bathroom door at Nyack's Starbucks is abhorrent. Whether carved by an immature, attention-seeking teenager or a dangerous bigot, the fear and discomfort it has caused to many in the Jewish community in Nyack is the same. I hope the Orangetown Police Department is able to identify a perpetrator so they can be held accountable for their actions. This incident also comes a few weeks after the Rockland County Republican Committee faced national condemnation for posting an anti-Semitic campaign video, accusing Legislator Aron Wieder and other Jews of a sinister plan to take over Rockland.
As I said at the time the video aired, although Wieder calls himself a Democrat, I agree with him on nothing. Not his efforts to cut funds from public education in the East Ramapo School District nor his opposition to state oversight of private schools; not his indifference toward lax code enforcement in Ramapo, his support of high density construction, or his willingness to shout "anti-Semite!" at anyone who opposes his agenda. But just because not everything is anti-Semitic to Wieder doesn't mean nothing is. And the ludicrously over the top campaign video that the Rockland Republican Committee produced to try and scare Rockland voters into voting Republican is textbook anti-Semitism. For hundreds of years, people have been accusing Jews of having a sinister plan to take over (the world, Germany, Rockland County, etc.) and urging people to fight back against the supposed Jewish plot. This GOP video pulls from that same script and suggests that the only way to "save Rockland" is to vote Republican. I was glad to see widespread bipartisan condemnation of this video and I hope it will serve as a lesson that you can strongly oppose Aron Wieder's actions or priorities (as I and every Democrat I know does) but stoking bigotry against Jews to score political points is unacceptable.
Meet Your Trustee
If you want to discuss these or any other issues with me, my next "Meet Your Trustee" will be at 7-8p on Wednesday, October 2 at Didier Dumas. Hope to see you there.
Elijah Reichlin-Melnick is a Trustee for the Village of Nyack. 
See also: