by Rich Henry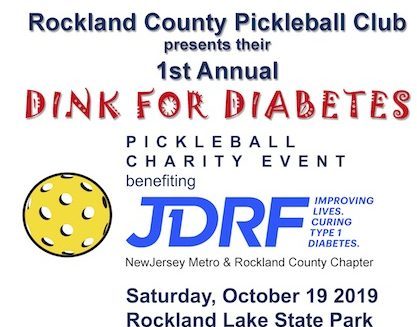 When my father and my brother were diagnosed with Type 1 Diabetes (T1D) 50 years ago, their lives changed forever. The daily life of someone with T1D has many challenges, including insulin injections that need to be carefully balanced with eating and activity, disruptive glucose monitoring, and sleepless nights—and wishes for a better tomorrow.
Living with T1D means there are no days off and there is no cure. But with your help, there is hope.
Dink For Diabetes, a charity Pickleball event at Rockland Lake State Park Tennis Courts on Sat Oct 19 at 12n, which will raise funds to support the research efforts of the Juvenile Diabetes Foundation so in the future, children and adults with Type 1 Diabetes can live normal lives without having to monitor their blood-sugar levels.
100% of the $35 entrance fee for this event will go to the Juvenile Diabetes Foundation of Bergen and Rockland Counties.
Please join us, for an afternoon of competition, fun events and prizes. Register at https://bit.ly/2kqtT0V
See also: A Pickleball Primer For The Nyacks