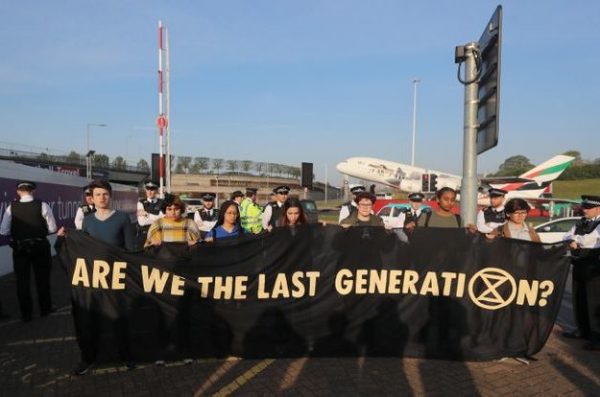 Two Extinction Rebellion Youth (XRY) local groups, XR Youth NYC and XR Youth Rockland, will be participating in an internationally-coordinated non-violent direct action against climate crisis inaction, organized by XR Youth.
Taking place in New York City on Saturday, September 21st, the XRY groups will meet at Bryant Park at 11:30a, near the fountain.
The youth rebels will start their march to the action location from Bryant Park at 12:30p. All over the globe, XR Youth groups will be taking part in the same baseline non-violent direct action, at 1p in each respective time zone. Hundreds of youth rebels around the world will be taking part in this action to intensify the pressure on our governments to take immediate action on the climate crisis and to demand that they listen to the youth voice and ACT NOW.
Here is a letter from XRY to the UN:
Dear Secretary-General Guterres and Ambassadors Cohen, Chalet, and Craft,
As we all know, the climate crisis is the single-largest, all-encompassing problem that humanity has faced. We thank you for acknowledging the climate crisis and prompting a response from the global community and we applaud your efforts to reduce CO2 emissions to net zero by 2050, as well as your goal to limit the global temperature rise to 1.5 degrees Celsius this century. We also appreciate the thorough report released by the IPCC which has laid the groundwork for policy-makers to improve the state of this planet. You are already making great strides in our global efforts to a sustainable earth, but you must continue to lead our planet forward. Unfortunately, the work you have done already will not be enough to save us from complete ecological collapse. The goals you have set are far too moderate and hopeful to stop the climate crisis quickly enough to prevent an utter collapse of the planet's life-supporting systems. It is not enough to prevent a sixth mass extinction. We, the youth, demand more. 
We are from Extinction Rebellion Youth, the young voice of the worldwide movement to halt the sixth mass extinction our planet has seen. We have grown up in an era of fear, and it is us who will feel the effects of this crisis if immediate governmental action does not take place. We urge you to think about your childhoods- maybe you spent your free time riding your bike, playing a sport, learning an instrument, or reading a book. Our generation has not had that luxury. Instead of dreaming of our futures on this planet, we have been forced to grow up all too fast in order to stop the apathetic, power-hungry politicians who are fueling this disaster. The youth feel the fear of our futures being ripped from us and we feel the urgency of the climate crisis in every part of our daily lives, so we have risen to the occasion. We know that we are on the brink of an irreversible breakdown, and young people are doing everything in our power to prevent total catastrophe. We are the ones who will soon inherit this broken planet, so it is time that we amplify the youth voice and work to preserve the future of humanity. But we can't stop the climate emergency alone. We shouldn't be the ones explaining to you how dire the climate crisis is. We should be too young to worry about such colossal problems. Yet, the negligence and complacency of past generations and greedy corporations have forced us to step up and take action- for our futures and the fate of all life on Earth as we know it.
About a quarter of a billion years ago, the Permian Extinction wiped out nearly all life on Earth. 97% of all life. Gone. And, just like now, this mass extinction event was brought about by a significant and rapid rise in global CO2 emissions. The climate crisis is a global humanitarian crisis that threatens every living thing on Earth. It has devastated our planet's life-supporting systems and set off feedback loops that will ultimately lead to a mass extinction if we don't take immediate action. It is naïve to think that we have plenty of time to "solve" the climate crisis. The environmental breakdown is taking place this very moment and impacting billions of lives around the globe. Communities are suffering from intense droughts that are leaving millions to struggle for survival as crops and livestock die. On the other end of the spectrum, severe flooding is also destroying communities, depleting food sources, and forcing people to leave their homes. Wildfires are currently raging through Russia, Indonesia, and Brazil, scorching the "lungs of the earth" in the Amazon Rainforest and Congo Rainforest, and burning through towns, forests, and subsistence crops. In early August, 197 billion tons of ice in Greenland melted and permafrost thawed in the Arctic, releasing diseases that mankind has never seen before. This past July has been the hottest month on record. And this is just the beginning. The climate crisis is also driving millions of people from their homes, only multiplying the refugee crisis many parts of the world are already facing as a result of various other factors. Millions of people will be left homeless, starving and waterless and with nowhere to go as more and more of the earth quickly becomes uninhabitable and unable to support life.
On October 24th, 1945, the United Nations was established on the basis of peace and international freedom. If the UN chooses to ignore our demands for improvement and allows the climate crisis to devastate our planet, you will have broken your promise of protection and safety. More specifically, you will have ignored your moral duty to act on behalf of the people and you will have blatantly disrespected the youth of the world and their pleas for a livable future on this planet. The Charter of the UN declares that the United Nations will protect the freedoms of marginalized people worldwide. It would be flawed to claim that you lack racial prejudice and are completely unbiased in your work if you are not acknowledging environmental racism and actively working to fix it. Although the climate crisis affects people of all races, history has proven that it specifically targets underprivileged groups. The recent fires in the Amazon Rainforest have had huge negative effects on the Indigenous communities of the area, causing many to lose their lives, homes, and families. Additionally, those who live in communities of color are often disproportionately affected by climate change through systemic racism and marginalization; for example, living in areas with lower air quality than other neighborhoods due to large industrial areas or toxic waste facilities. The hazardous pollution released from these sites cause major public health concerns and contribute to climate injustice. Contaminated water has plagued communities with large minority populations for decades, including cities like Flint, Michigan, St. Joseph, Louisiana, and villages within the Navajo Nation. In addition to this, recent hurricanes caused by the climate crisis have unfairly affected native island communities both during and after the disasters took place. Clearly, each example of environmental racism does not comply with your promise to protect public health without racial bias, and this must not continue. We are extraordinarily grateful for all you have done to combat climate injustice already, but if the climate crisis continues to spiral into the catastrophe we are so clearly headed for, the United Nations will be, in part, at fault for allowing the toxic and unjust system to hurt marginalized communities even more.
We are insisting that you take the necessary and appropriate measures to curb the climate crisis and prevent a total ecological collapse. We demand that you act now to reduce greenhouse gas emissions to net zero by 2025, rather than 2050. We urge you to guide the world through a just and equitable transition from a fossil fuel-focused economy into one that prioritizes those who are disadvantaged and unequally affected by climate change. This means prioritizing the needs of communities of color and low-income communities, Indigenous people, those with disabilities, the elderly, the sick, and the young. We must work to repair climate and ecological injustice and we demand that the government makes decisions through a Citizen's Assembly so that everybody's voice is heard. The choices you will make and the policies you will decide to uphold at the UN Climate Summit on Monday, September 23rd, will impact us all, especially the youth of our planet. This letter is not intended to insult, offend, or attack you, but to hold you to a higher standard and remind you that we are in a crisis. This is an international emergency, challenging the existence of humanity and every living thing on this planet. Moderate, optimistic policies will no longer be enough to make a real impact. The youth are here, we are educated, we are motivated, and we are watching. Please make the right choice.
Sincerely,
Extinction Rebellion Youth Rockland
Extinction Rebellion Youth New York City