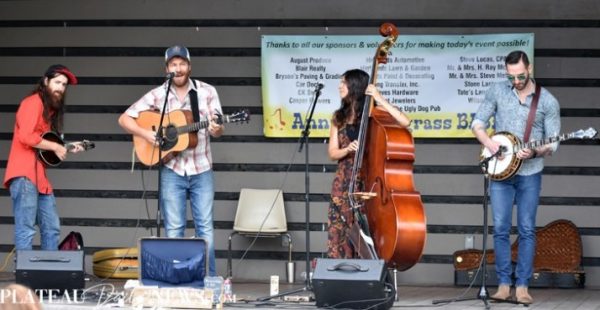 by Steve Kelman
On September 8th, the Highlands Bluegrass Festival, held at Sloatsburg's Jacob Sloat House (also known as Harmony Hall), will celebrate its 10th anniversary with music, food, and local crafts. The natural setting, with its large lawn trees, offers an intimate outdoor space to see live music.
The grounds are a historic structure listed on the National Register of Historic Sites. "I figured that bluegrass would be the right kind of music to present outside on the lawn at Harmony Hall," Festival Director and founder Geoff Welch said, reflecting on the festival's decade-long stretch.
Highlands was named in honor of "the federally designated Highlands region that consists of the states of Pennsylvania, New York, New Jersey, and Connecticut," according to Welch.
Three groups will perform at this year's festival. They are The Eugene Tyler Band, Blue Plate Special, and Moonshine Falls.
"We will also be honoring the 100th birthday of Pete Seeger by playing his music [over the PA] between the bands' sets, and having the groups perform some of his music too," Welch said.
Defiant Brewery will be cooking up BBQ and serving beer. Baked goods will be offered by Auntie El's Farm Stand. Ice cream will also be available. There will be an area where local craft vendors will sell their creations.
The Friends of Harmony Hall manage the Jacob Sloat House and offer various programs there throughout the year. The Jacob Sloat House was built in 1848 and was home of Jacob Sloat, a businessman who owned a twine factory in the region.
Harmony Hall is located at 15 Liberty Rock Road in Sloatsburg, NY.  The festival is scheduled to take place Sunday, September 8 from 1p to 6p. There is a $10 suggested donation for admission to the event. For more information log on to www.fohh.org.