It's going to be another hot summer weekend. But Nyack has you covered with cool things to do. Sail through Art History on an authentic historic sailboat. Face your fears at the West Point Spartan Sprint. Watch Mambo Italiano at the Westchester Broadway Theatre. And there's lots of great live music.
This Fri-Sun list of what to do and where to do it is brought to you by Rockland Center for the Arts. This weekend, get ready to Sail Through Art History on Fri and Sat on the Hudson River Clearwater Sloop. You can take a stroll through the Catherine Konner Sculpture Park to view the Natural Progressions and RoCA Nest 2019 exhibits.
Friday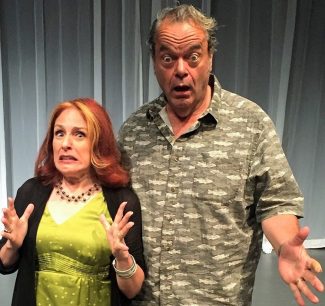 Westchester Broadway Theatre presents Mambo Italiano, the family friendly and laugh-out-loud funny story of domineering but lovable matriarch, Maria Barbieri, and her devoted husband, Gino. Watch them struggle to keep the family restaurant afloat while adjusting to the newly found independence of their New Jersey-born adult grandchildren who they've raised since birth. Tickets are available online. Based on the play and screenplay by Steve Galluccio & Emile Gaudreault, this musical adaptation features a book by Jean Cheever and Tom Polum, lyrics by Omri Schein, and music by James Olmstead. Show runs through Sept 29. Fri 6:15p, Sun 11:45a and 5:15p, and Thurs 11:15a and 6:15p, 1 Broadway Plaza, Elmsford.
RoCA and the Edward Hopper House take you on a Sail through Art History. Ride aboard the Clearwater, an authentic working historic sailboat. Enjoy a three hour sunset sail on the Hudson, participate in raising the sails, and learn from the crew what it's like to live on board. If you're an artist, feel free to bring your own art supplies, such as sketch books and cameras. Fri and Sat 5:30-8:30p, casts off from Piermont (boarding directions will be emailed to attendees the week of the trip).
Carried Away is promising a stellar night of cover music with Dana Mancuson, Albert Ahlfs, and Michael Torres, along with special guest Lee Reiser. 9:30p-1a, Casa del Sol, 104 Main St, Nyack.
Grab your dancing shoes and head to Maura's Kitchen to check out the Swing Combo. 9:30p, 81 S Broadway, Nyack.
Saturday
Face your fears, show your sporting spirit, and participate in the West Point Spartan Sprint. Delivering 20 obstacles over three miles, you'll never run the same race twice. Sat and Sun 7:30a-4p, Lake Frederick Recreation Area, 54 Lake Frederick Rd, Highland Mills.
Understand the strengths, weaknesses, and capabilities of available online sites, and learn what family history databases exist and how to use them: At Growing your Family Tree, a genealogical researcher will show you how and where to begin your family research. This lecture presents helpful suggestions to beginners. 10:30a-12p, Valley Cottage Library, 110 NY-303, Valley Cottage.
Experience the vibrational tones of tuning forks, gongs, and singing bowls at the Sound Bath with Aromatherapy. These beautiful vibrational sounds produce a relaxing, hypnotic effect on the brain, slowing down brain waves and inducing a deep meditative state. 11a, The Open Spirit Nyack, 55 Burd St, Nyack.
MEGA Fusion Festival is a music, dance, and art festival infused with all style dance battles, live music performances, art exhibits, and more. 4-10:30p, Nyack Center, 58 Depew Ave, Nyack.
Circus TA-DA! is an experience for all ages. Circus-goers become part of the performance from the moment they step foot on The Midway. Watch aerialists, acrobats, jugglers, and more. Enter the world of magic and delight that can only be found under the Big Top. 4-5:30p, Marydell Faith & Life Center, 640 N Midland Ave, Nyack.
Enjoy an evening of jazz, R&B, and Latin favorites played by Jazz Spirit featuring Albert Ahlf, Peter Bouteneff, Marc Ostrega, Colin Pohl, Odalys Vasquez, and Rhea Vogel. 7-10p, The Old '76 House, 110 Main St, Tappan.
Maureen's Jazz Cellar presents the Kate McGarry Trio featuring Keith Ganz & Gary Versace. 8p, 2 N Broadway, Nyack.
Sunday
Start your day early with yoga. Join the Early Risers Community Class and set the tone for a peaceful day ahead. 7:30-8:45a, Birchwood Center for Yoga & Massage, 85 S Broadway, Nyack.
Bring your picnic blankets, chairs, and some snacks, and enjoy a great night of live music under the stars. The South Nyack Concert Series presents Blarney Stew. Listen to traditional Celtic tunes spiced by modern hits of the Pogues and Waterboys, along with some classic rock and country covers. 6:30-8:30p, Gazebo at Franklin St Park (between Cedar Hill Ave & Depot Place), South Nyack.
Meet the queen of comedy, Sommore. Come out for some controversial laughs with wit, intelligence, and style. 7p, Levity Live, 4210 Palisades Center Dr A – 401, West Nyack.
Looking Ahead … Friday, August 30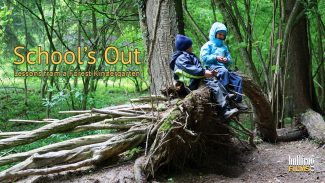 The Green Meadow Waldorf School invites you to a special film screening: School's Out: Lessons from a Forest Kindergarten. A documentary about a kindergarden in the woods in a Switzerland suburb. The film looks into the important question of what children need from age four to seven. The screening is free for adults and there will be childcare for kids ages three and up. Please RSVP with preschool teacher Jessica Oswald at joswald@gmws.org. 10a-12p, 307 Hungry Hollow Rd, Chestnut Ridge.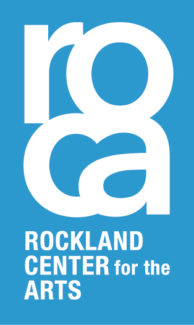 The Nyack Weekender is your Fri-Sun list of what to do and where to do it. This weekly series is brought to you by Rockland Center for the Arts.
To get the Nyack Weekender delivered to your mailbox auto-magically every Friday morning, add your name to our mail list. Visit our
online sign-up sheet
to subscribe.