This weekend, shop at the Summer Sidewalk sale, watch as many movies as you can in three days at the Nyack Film Festival, or give a fluffy friend a home. If you'd rather catch a play or listen to some music, there's plenty to check out, too. And the perfect way to prepare for your next trip to Italy is to join the Italian Language Group at the Nyack library.
This Fri-Sun list of what to do and where to do it is brought to you by Rockland Center for the Arts. Get ready to Sail Through Art History on August 23 or 24 on the Hudson River Clearwater Sloop, or on September 15 on The Pioneer. You can take a stroll through the Catherine Konner Sculpture Park to view the Natural Progressions and RoCA Nest 2019 exhibits.
Friday
Penguin Rep Theatre presents the world premier of Cary Gitter's The Sabbath Girl, a contemporary romantic comedy with heart about the loneliness of big city life and the possibility of finding love next door. Angie Mastrantoni works in a hip art gallery and moves to a new apartment on the Upper West Side. Unfortunately, she doesn't have much time for relationships. Well, that might change when her neighbor Seth, a divorced Orthodox Jew with a knish store on the Lower East Side, knocks on her door. Tickets are $48 and available online. Fri 8p, Sat 4p and 8p, Sun 2p and 7p, and Thurs 7:30p, 7 Crickettown Rd, Stony Point. Show runs through August 25.
How many films can you watch in four days? Try 30. The eighth annual Nyack Film Festival is full of great productions. Check out Where Love Leads and Her Magnum Opus on Friday, from Upper Nyack's Marta Renzi. Fri and Sat from 7:30-11p, Sun 1-6p, Nyack Village Theatre, 142 Main St, Suite 110, Nyack.
Enjoy a blend of pop music, Brazilian blues, and jazz styles with the Judith Tulloch Band. Listen to favorites by Santana, Stevie Wonder, and many more. 8-11p, UP Lounge, 91 Main St, Nyack.
Saturday
It's opening weekend for the 42nd annual New York Renaissance Fair. Travel back in time to an age of adventure. Join Her Majesty, Queen Elizabeth I, on a grand visit to a beautiful 16th century English village, cheer your favorite knight at the Joust Tournament, or meet Robin Hood. Feast on savory sweets and tempting treats. Sat & Sun 10a-7p, 600 Rt 17A, Tuxedo.
It's the annual Clear the Shelters day and Hi Tor Animal Care Center wants to help its cats and dogs find loving fur-ever homes. 12-5p, 65 Firemen's Memorial Dr, Pomona.
Love pasta and pizza, and want to order your next dish in Italian? Join the Italian Language Practice & Culture Group. Italian students and language lovers practice conversation, read short stories, and play games. Beginners through adv. intermediate level are welcome. Please register in advance. 2:30-4:30p, Nyack Library, 59 S Broadway, Nyack.
You know Jay Mohr from movies like Jerry Maguire and Picture Perfect. He's coming to town and will be performing live stand-up comedy. 7 and 9:30p, Levity Live, 4210 Palisades Center Dr A – 401, West Nyack.
Sunday
Give your old engagement ring a fresh new look. At Remount your own Gemstone, the design team from the Michael Bondanza collection will show you new looks, or you can design your own. 11a-7p, Metal and Stone Jewelers, 12 S Broadway, Nyack.
The Nyack Chamber of Commerce is hosting Nyack's annual Summer Sidewalk Sale. Visit all of your favorite stores and restaurants and see what great deals they have waiting for you. 12-7p, village-wide, rain or shine.
Join Moms Demand Action for a Rally to End Gun Violence. All are welcome to this rally to honor the lives cut short by gun violence and demand common-sense gun reform. 4-5p, Veterans' Park, 15 Cedar St at Main St, Nyack.
Westchester Broadway Theatre presents Mambo Italiano, the family friendly and laugh-out-loud funny story of the domineering but lovable matriarch, Maria Barbieri, and her devoted husband Gino. Watch them struggle to keep the family restaurant afloat while adjusting to the newly found independence of their New Jersey-born adult grandchildren who they've raised since birth. Based on the play and screenplay by Steve Galluccio & Emile Gaudreault, this musical adaptation features a book by Jean Cheever and Tom Polum, lyrics by Omri Schein, and music by James Olmstead. Sun 11:45a and 5:15p, Thurs 11:15a and 6:15p, 1 Broadway Plaza, Elmsford.
Next Week
Monday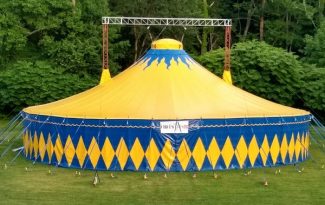 Amazing Grace Circus presents its 16th annual UNDER THE BIG TOP Summer Camp. Let your kids enjoy a great real circus experience in a real circus tent. They'll spend time with kids from many different places, races, and cultures. All kids will star in their own performance, complete with costumes, choreography, makeup, and music. Sign up for one week or two. 9a-4p, Marydell Faith and Life Center, 640 N Midland Ave, Upper Nyack.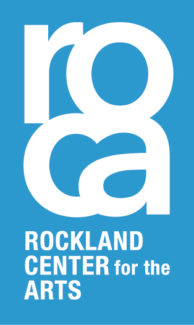 The Nyack Weekender is your Fri-Sun list of what to do and where to do it. This weekly series is brought to you by Rockland Center for the Arts.
To get the Nyack Weekender delivered to your mailbox auto-magically every Friday morning, add your name to our mail list. Visit our
online sign-up sheet
to subscribe.