This week in the villages: It's a quiet week in Nyack and the surrounding villages as summer is slowly coming to a close.  The Town of Clarkstown is looking to hire more lifeguards for the remainder of the summer season. It's also screening Beauty and the Beast at the local courthouse. And on Friday, August 9, there will be a mandatory pre-proposal conference for anyone bidding on the Tree Maintenance contract for the Village of Nyack.
Village of Nyack
Request for Proposal for Tree Maintenance/Arborist Services due August 30, 2019
The Village of Nyack is seeking an arborist, certified by the International Society of Arboriculture, to provide tree maintenance on its trees in the public parks and right of way. The project will require tree pruning, tree removal, and stump removal in the public right of way in the Village of Nyack. The village engaged Davey Resource group to conduct an inventory and produce a map of public trees within Nyack in 2015 to develop a list of trees to be addressed in this project. The contractor will have access to the searchable inventory map in pdf format. For this proposal, applicants will evaluate the list of trees to develop a prioritized list and bid. The project proposal should include the following work to be addressed within the project budget of $48,500: pruning or removal of a final prioritized list of trees, and removal and grinding of all existing stumps and stumps of trees removed as part of the project.
There will be a mandatory pre-proposal conference on August 9, 2019 at Village Hall to ensure project understanding and to gain familiarity prior to providing the proposal. Additional information on the Request for Proposal may be found at nyack-ny.gov. All questions relating to this RFP should be addressed to James Politi at jamespoliti@nyack-ny.gov.
Volunteers Needed to Help Young Trees
Do you have a young street tree in front of your house? You can help it grow strong and stay healthy by watering it regularly during the summer and keeping it mulched. Just two to three inches of mulch suppresses weeds and keeps moisture in. (Keep the mulch away from the trunk.) If you do help your tree, Nyack Tree Project would love to hear from you. All are welcome to join the volunteers with the Nyack Tree Project. Contact Marcy Denker at nyacktreeproject@gmail.com.
Summer Food Program
Reminder: Nyack's Summer Food Program offers FREE breakfast and lunch to ANY child under 18 each weekday through August 30. There are two locations: Waldron Terrace and The Nyack Center. There is no sign-up, no application, no income requirement, and no identification needed. For hours, text "summer meals" to 97779. Visit www.fns.usda.gov/summerfoodrocks or call 845-358-0548.
Town of Clarkstown
Summer Concert Series
The Town of Clarkstown Summer Concert Series continues on Tue, August 6 at 7:30p at Germonds Park, 185 Germonds Rd, West Nyack with The Nerds, playing rock, R&B, and funk. Bring the family out for a fun night of music in the park. If it rains, the concert will be moved indoors to Felix Festa Middle School.
Zumba Fun
On Wed, August 7 at 7p at Germonds Park, 185 Germonds Rd, West Nyack, bring your friends and family and get fit without even knowing you are exercising. It's more of a party than a workout. Free and open to all ages. If it rains, Zumba will be moved to the Congers Community Center.
New City Chamber of Commerce Family Movie Night
On Wed, August 7 at 8p, bring the whole family to watch Beauty and the Beast outdoors on the New City Courthouse lawn. Free to all.
Lifeguards Needed
The Town of Clarkstown is looking to hire lifeguards for the remaining 2019 summer season. Must be at least 16 years old and have current lifeguarding and CPR/AED certifications. Great for anyone working summer camp who wants to get more hours. For more information, visit https://town.clarkstown.ny.us or call 639-6200. Pay rate: $12/hour or $14 with Water Safety Instruction (WSI).
Mario Cuomo Bridge News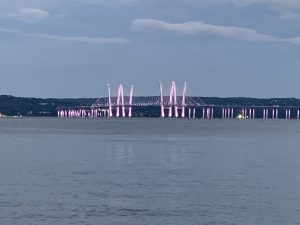 Overnight Lane Closures
Tappan Zee Constructors, LLC (TZC) is scheduled to continue realigning lane control signage on New York State Thruway (I-87/I-287) traffic lanes on the Governor Mario M. Cuomo Bridge this week. The work requires multiple overnight lane closures on the bridge.
Specific lane closure times are listed in the chart below.
Lane Closures Near the Bridge
DATE:
CLOSURES BEGIN:
CLOSURES END:
LOCATION:
Mon 8/5
8p – Two left lanes
11p – Three left lanes
5a, Tue 8/6
Southbound
from the bridge to exit 9
Tue 8/6
8p – Two left lanes
11p – Three left lanes
5a, Wed 8/7
Southbound
from the bridge to exit 9
Wed 8/7
8p – Two left lanes
11p – Three left lanes
5a, Thurs 8/8
Southbound
from the bridge to exit 9
Thurs 8/8
9p – Two left lanes
11p – Three left lanes
5a, Fri 8/9
Southbound
from the bridge to exit 9
Fri 8/9
10p – Two right lanes
8a, Sat 8/10
Northbound
from exit 9 to exit 10
Bicycle/Pedestrian Path
Construction of the shared bicycle and pedestrian path continues. At the Rockland Landing, work to install a traffic signal at the intersection of Clinton Avenue and South Franklin Street is underway and is scheduled to continue in the area for several weeks.
---
Here are the municipal events in South Nyack and the Village of Nyack for the week of 8/5. There are no meetings scheduled in Upper Nyack this week.
Village of Nyack
Mon 8/5, 7p: Planning Board Meeting
9a: Mayor Hammond's Monthly Meeting
5p: Justice Court
9:30a: Justice Court
4:30p: Board of Water Commissioners Meeting
6:30p: Village Board Pre-meeting Workshop
7:30p: Village Board Meeting
Nyack Village Hall is located at 9 N. Broadway.
Village of South Nyack
Mon 8/5, 5:30p: Justice Court
South Nyack Village Hall is located at 282 S Broadway.