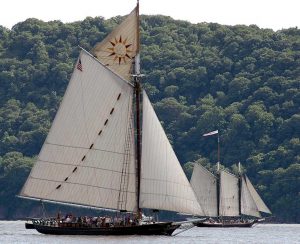 Take a three hour sunset sail on the Clearwater, a wide-decked authentic working historic sailboat. Get a different view of the river, and while you're at it make some art!
These cruises will soon be available! The Hudson River Clearwater Sloop, c. 1969, will leave from Piermont on either August 23 or 24th, 5:30-8:30p, for a sunset trip by the Tappan Zee and Mario M. Cuomo Bridge. The rides will each feature a different expert speaking about topics like the Hudson River School paintings, local bridges, Edward Hopper's love for boats, and the ecology of the Hudson River.
Participate in raising the sails, and learn from the crew what it's like to live on board. Anyone age 14 and older can participate. Sailing is rain or shine, barring thunderstorms.
Clearwater began in 1966, a time when, the group says, "the Hudson was rank with raw sewage, toxic chemicals, and oil pollution." Musician and activist Pete Seeger and several friends envisioned a majestic replica of the sloops that sailed the Hudson in the 18th and 19th centuries; they wanted them to bring people to the Hudson River, where they could experience its beauty and be moved to preserve it.
Inspired by that vision, the organization launched the sloop Clearwater in 1969. It was a majestic 106-foot long replica vessel that is recognized today as America's Environmental Flagship.
Currently, Clearwater is carrying forward Pete Seeger's legacy. It is partnering with schools and community leaders to raise the bar of environmental education. The organization believes that "this time the health of the Hudson River must go hand in hand with creating a sustainable world of green jobs in a green economy."
Participants are encouraged to bring art supplies; small materials like sketch books and cameras are encouraged. There is no access to running water on board.
Proceeds from the event will benefit both Rockland Center for the Arts and Edward Hopper House Museum & Study Center and their educational outreach programs. Tickets are $70 (for Hopper House or RoCA members), $85 for non-members, and can be purchased by calling Edward Hopper Museum at 845-358-0774, or visiting www.edwardhopperhouse.org.
Rockland Center for the Arts is located at 27 S Greenbush Rd., West Nyack, NY 10994.  Business hours are:  Mon-Fri 10-4; Sat and Sun 1-4p (closed holidays). RoCA's programs are made possible in part with funds from the New York State Council on the Arts, with the support of Governor Andrew M. Cuomo and the New York State Legislature.