by Mike Hays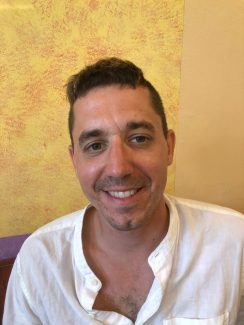 Fender to fender cars rocket along Route 59 from Central Nyack to West Nyack, much to the alarm of the few walkers who dare to navigate broken, small, or nonexistent sidewalks and crosswalks along the way. Michael Delaney, a young Nyack artist, has made the long walk along the old Nyack Turnpike many times, creating not only a site map of "sacred" places he discovered along the way, but also a painting, Between the River and the Mall.
Delaney's "trash art" painting style is still evolving, but many works mash up Jean-Michel Basquiat, Dada, and cubism with a bold 21st century caffeine graffiti rush. "I never thought I would show my work," Delaney says. He's only shown work for one year, but already it's been featured in the poster for the 2019 Nyack ArtWalk. Delaney is quickly proving to be a unique Nyack talent.
Finding Nyack
Delaney grew up in the Bronx, near the Whitestone Bridge, and later moved to Brooklyn. He spent his teenage years in New York City's Lower East Side. But when his mother moved to Suffern, he jumped at the chance to leave the city, and Rockland County became a refuge for Delaney. It wasn't long before he found Nyack, and in 2012 he moved here.
Portrait of a trash artist
In Nyack, Delaney began to forge a new identity. He was interested in songwriting and the guitar but the spark for visual arts had never caught on. His only formal training was a single sculpture class at age 14 and a connection with a cousin who was a trained artist. As he says, "I felt nothing when I tried to paint on canvas." His cousin suggested trying materials other than canvas. He started working with found pieces of wood (frequently with wood from discarded Elmwood Theater sets) and large pieces of cardboard from the local bike shops. Wooden mounts are often cut or drilled in his work. He discovered "oops" paint at the hardware store. The combination was electric and liberating, and he found his unique expression.
Words and images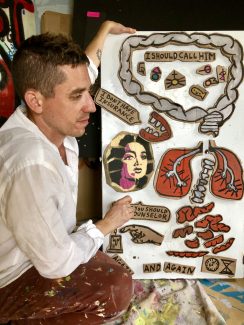 Delaney uses words and phrases in many of his works, partly derived from his love of songwriting, but also to highlight that his art is a dialogue and communication with the viewer. In I promise, three written phrases punctuate an implied dialogue between two boldly outlined figures. In newer works, phrases and words (and images) on magnetized cardboard can be rearranged by the viewer on an old refrigerator door painted black. In Construction Zone, words become the art, crowding the frame and hemmed in by chicken wire. A Modern Sacrifice tells a verbal story. Delaney also uses iconographic language that adds mystery and depth. Pyramids, graffiti Xs, birds, and horseshoe crabs fill odd spaces in the frame.
Sacred places on Route 59
A collision in early 2019 totaled Delaney's car. He began walking twice a week to physical therapy, from Nyack to West Nyack along Route 59, the old Nyack Turnpike. He uncovered a number of interesting places that he calls "sacred places," unseen or unnoticed by most of us. He marked each of the 10 places with a special stone, beginning at the Thruway underpass near the West Gate Inn, once the southern side of the
Nyack skating pond
, and continuing to the crossings over the railroad and Hackensack River, once the site of Native American villages. He notes two cemeteries,
Mount Moor
and the Rural Nyack Cemetery, now mostly hidden by overgrowth south of the lumber yard.
Route 59 Map,
which he painted on wood, was the result.  In it, and all of his work, Delaney invites us to take a journey with him to find sacred objects all around us.
What's next?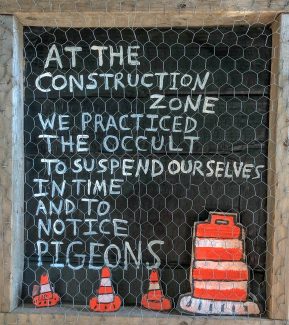 Delaney has recently completed an exhibit, "We know which way is up by the Direction of the Bubbles," at Nyack Library, along with a found objects workshop for grades 6-12, showing how one doesn't need money or art school to have fun with art. Next up is a three-month show at Industrial Arts Brewing Company in Garnerville, which he'll start in October; it's his first showing in a social space. Delaney is thinking about ways to incorporate sound into painting and is busy with a three-dimensional wood structure that will incorporate painting. Delaney's energy and enthusiasm mark him as an artist to watch in the future.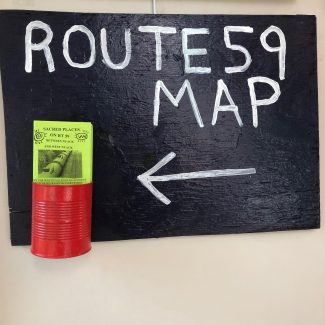 Delaney's map of Sacred Places on Rt. 59
Available at Boxer Doughnuts
Photo credits:  Mike Hays
See also
Michael Hays is a 30-year resident of the Nyacks. Hays grew up the son of a professor and nurse in Champaign, Illinois. He has recently retired from a long career in educational publishing with Prentice-Hall and McGraw-Hill. Hays is an avid cyclist, amateur historian and photographer, gardener, and dog walker. He has enjoyed more years than he cares to count with his beautiful companion, Bernie Richey. You can follow him on Instagram as UpperNyackMike.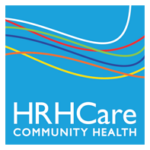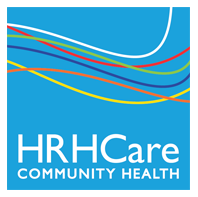 Nyack People & Places, a weekly series that features photos and profiles of citizens and scenes near Nyack, NY, is brought to you by
HRHCare
and 
Weld Realty
.