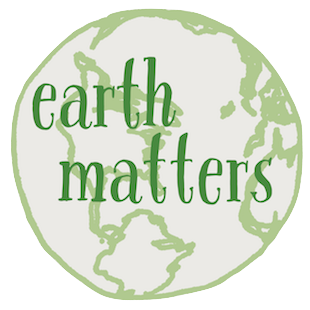 Earth Matters focuses on conservation, sustainability, recycling and healthy living. This weekly series is brought to you by Maria Luisa Boutique and Strawtown Studio.
If Earth Matters to you, sign up for our mailing list and get the next installment delivered bright to your inbox.
by Susan Hellauer
If you've ever enjoyed watching your pooch(es) frolic in a cool lake or stream on a hot day, then a recent story about three dogs who died after playing in a North Carolina pond probably struck a pretty harsh note.
There were no signs or warnings about the deadly danger lurking in that pond. What was the poison? How did it get there? And how can we protect ourselves, our families, and our pets from this hidden menace?
A toxic brew
The danger in that pond came in the form of algae. There's nothing unusual about algae in ponds, or in any body of water. But conditions can conspire to turn the green gunk into poison. Runoff from nitrogen-rich farm and garden fertilizers (natural or synthetic), faulty septic systems, poorly managed storm water, all cooked by our warming climate, can turn everyday algae into cyanobacteria (sometimes called blue-green algae) or other toxic compounds. They can cause severe gastrointestinal symptoms, allergic reactions, or worse.
Whatever the actual organism causing the trouble, the presence of toxic algae in a waterbody is commonly called a harmful algal bloom (HAB).
The New York State Department of Environmental Conservation (DEC) closely tracks this growing problem, and educates New Yorkers about how to keep safe and keep waterbodies clean and healthy.
Old or new?
Is this a new concern? According to the DEC, cyanobacteria have been present in waterbodies for thousands of years. The question scientists are struggling with is what's changing in our lake ecosystems that now promotes these organisms to grow to these problematic "bloom" proportions.
We reached out to the DEC for some basic information and resources on the growing problem of freshwater HABs: how they happen, how to recognize them, how to report them, and how to keep tabs on your local lakes, ponds, rivers, streams, and reservoirs.
The DEC on HABs
When it comes to HABs, DEC encourages New Yorkers to "KNOW IT, AVOID IT, REPORT IT."
KNOW IT – HABs vary in appearance from scattered green dots in the water to long, linear green streaks, pea soup or spilled green paint, to blue-green or white coloration.
AVOID IT – People, pets, and livestock should avoid contact with water that is discolored or has algal scums on the surface.
REPORT IT – If members of the public suspect a HAB, report it through the NYHABs online reporting form available on DEC's website.
HABs can cause adverse health effects in people and animals when water with blooms is touched, swallowed, or when airborne droplets are inhaled. Exposure to high levels of HABs and their toxins can cause diarrhea, nausea, or vomiting; skin, eye, or throat irritation; and allergic reactions or breathing difficulties. For more information, please visit NYS Department of Health's (DOH) HAB page. Symptoms or health concerns related to HABs should be reported to DOH at harmfulalgae@health.ny.gov.
New York Sea Grant's Dogs and Harmful Algal Blooms (HABs) brochure has information about common dog symptoms, how dogs can be exposed to toxins, and how to reduce your dog's risk of exposure. If you see or suspect any of these symptoms with your dog, particularly within 30 minutes to a few hours after exposure to an algae bloom, seek immediate veterinary care.
HABs are likely triggered by a combination of water and environmental conditions that may include: excess nutrients (phosphorus and nitrogen), lots of sunlight, low-water or low-flow conditions, calm water, and warm temperatures. Depending on the weather and the characteristics of the lake, HABs may be short-lived (appearing and disappearing in hours) or long-lived (persisting for several weeks or more).
While the exact cause of HABs is not fully understood, HABs usually occur in waters high in phosphorus or nitrogen. New York State has many programs and activities to reduce phosphorus and nitrogen from entering the water from surrounding lands, including stormwater permitting programs, funding for water quality improvement projects, and a nutrient law that restricts the use of phosphorus lawn fertilizer. 
Eradicating HABs is a long-term effort that will require active collaboration at all levels of government and citizen engagement. The state has prioritized funding for many of the projects identified in the state's Harmful Algal Bloom Action Plans.
Learn more about HABs at the DEC's website:
HABs around here?
According to a spokesman for the NY State Office of Parks, Recreation and Historic Preservation (NYS Parks), Rockland Lake has a long history of experiencing HAB. (Swimming is not permitted in the lake.)
Elsewhere, there's been an upward trend in occurrences at state parks. Swimming has been the main recreational use impacted, with beaches closed for varying durations. Boating, fishing, and camping are also affected. NYS Parks has adopted an agency protocol based on DEC and DOH guidance, and also partners with federal agencies, universities and labs, as well as DEC and DOH, to identify triggers and possible actions to respond to HABs at State Park waterbodies.  
Be part of the solution
There are many ways that you can help address the problem of HAB-inducing nutrient pollution in our waterways. Start right at home: avoid use of fertilizers, pick up after your pet, direct stormwater on your property into the soil, and avoid putting food scraps into the kitchen sink garbage disposal. In your community, support efforts to protect and improve water quality, which can include conservation and minimizing use of road salt and chemicals. The Rockland County Task Force on Water Resources Management is leading the charge here.
The US EPA has more information and actions to take.
Nutrient pollution is a widespread problem. Besides affecting recreational use of waterways, it can threaten drinking water quality, making treatment more costly. Video: US EPA