It's getting hot in this village–and elsewhere–so grab your swimsuit and sunscreen and spend the day on the water. Sailing Sundays at Nyack Boat Club are back. If you would rather lounge around the pool, have fun at Tallman Beach and Pool Club. And if you're looking for a cool indoor environment, meditate during a Sound Bath with Aromatherapy or escape into a dream world with the Rockland Shakespeare Company's A Midsummer Night's Dream.
This Fri-Sun list of what to do and where to do it is brought to you by Rockland Center for the Arts. Summer Camp RoCA 2019 is now open with two week sessions throughout the summer. You can take a stroll through the Catherine Konner Sculpture Park to view the Natural Progressions and RoCA Nest 2019 exhibits.
Friday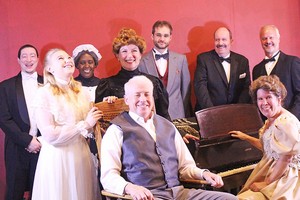 Elmwood Playhouse presents The Little Foxes, a story of three greedy, wealthy siblings who form a partnership with a Chicago capitalist to build a cotton mill in the South, where costs are cheap and profits are high. The conspiracy touches off a vicious circle of avarice, lying, scheming, and cruelty that sweeps them inexorably to a shocking finale. Tickets are available online. Show runs through through Aug 3, Fri and Sat 8p and Sun 2p. 10 Park St, Nyack.
Escape into a dream world with the Rockland Shakespeare Company's A Midsummer Night's Dream. Enjoy the story of four young Athenian lovers who find themselves bewitched by fairies. Performances are Fri and Sun at 7p, doors open at 6:30p. Rockland Community College, Cultural Arts Theater, 145 College Rd, Suffern.
Saturday
Get your running shoes out for the 9th annual 5K Run/Walk for Children Rockland. This event for the whole family is supporting safe and happy childhoods for Rockland County's children. Every step you take and every dollar you raise helps to fund programs supporting families and children. 9-11a, Cherry Lane Elementary School, 1 Heather Drive, Airmont.
Let the vibrational tones of Angel and Solfeggio tuning forks, gong, and singing bowls wash over your entire being during a Sound Bath Meditation with Aromatherapy. Explore essential oils that increase the hypnotic effect and enhance the body energetically, spiritually, and physically. Afterwards, there will be a discussion. It's open to all, no meditation experience necessary. 11a-12p, The Open Spirit, 55 Burd St, Nyack.
Celebrate Edward Hopper's 137th birthday with Hop Into Art: Weekend Family Workshop, exploring shadows and light in Wayne Thiebaud's birthday cakes. 1-3p, Edward Hopper House, 82 N Broadway, Nyack.
Sunday
The Bluefield Artists present Live the Moment!, an art exhibit featuring the works of Michael Craft, Lisa D'Amico, and Rob Kovacs. Exhibit runs through July 31. 7a-10p, Art Cafe, 65 S Broadway, Nyack.
It is time again for Sailing Sundays with the Nyack Boat Club. Get matched with a boat, and tour the Hudson. No experience is necessary, as the boats are fully crewed. Just bring shorts and sneakers and have fun. As openings are limited, please make a reservation. 10:30a-noon, 59 Gedney St, Nyack.
Cool off at the pool or beach at the Tallman Beach and Pool Club. Enjoy food and drinks on the beach overlooking the Hudson. 11a-7p daily, 2 Tallman Mountain Rd, Sparkill.
Next Week
Tuesday
Music on the Hudson presents Mr. Breakdown. Bring a chair or blanket, a picnic dinner, and enjoy some good music, sponsored by the Nyack Park Conservancy. 7-9p, Memorial Park, Nyack.
Wednesday
Join Artist of the Month, Jane CoCo Cowles, for illustrations and a special surprise by Live Vessel at an Art Reception featuring her new exhibit Fine Lines. 6:30-8:30p, The Corner Frame Shop, 40 S Franklin St, Nyack. The exhibit runs through July 31
Rivertown Film presents Birds of Passage, a film about how the world changes, how individual actions and the forces of fate together bring glory and ruin to a hero and his family. Watch how the Colombian drug trade from the '60s to the '80s becomes a domestic tragedy and a cultural apocalypse. 8p, Nyack Center, 58 Depew Ave, Nyack.
Thursday
Head on over to the Edward Hopper House for Jazz in the Garden. Bring your lawn chair or a blanket and listen to the Don Falzone Quartet. 7:30-9:30p, 82 N Broadway, Nyack.
The Nyack Weekender is your Fri-Sun list of what to do and where to do it. This weekly series is brought to you by Rockland Center for the Arts.
To get the Nyack Weekender delivered to your mailbox auto-magically every Friday morning, add your name to our mail list. Visit our
online sign-up sheet
to subscribe.