This week in the villages: A much needed makeover is planned for three holey streets in Nyack. Three elected officials have something to say about future Mario Cuomo Tappan Zee Bridge tolls (hint: they're not too happy). There's free music in the parks Tuesday-Thursday and Sunday.
Village of Nyack
Milling and Paving Schedule for the Week of July 22, 2019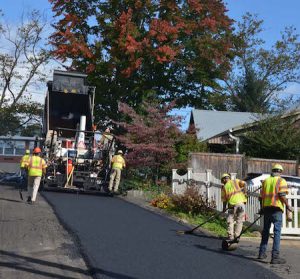 This week, the Village of Nyack will mill and pave:
East Catherine Street, from Midland Avenue to Main Street
3rd Avenue, from North Franklin Street to Broadway
Burd Street, south of Piermont Avenue
Residents in the construction zones will be notified in advance of the exact dates, and arrangements for access and parking during the construction work will be made. The schedule is subject to change due to weather and contractor obligations. If you have any questions, please call the Department of Public Works at 845-358-3552
Music on the Hudson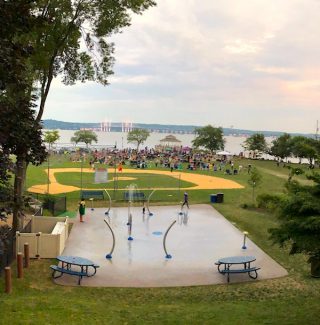 Nyack Park Conservancy's Music on the Hudson series continues on Tue, July 23 at 7p in Memorial Park with Mr. Breakdown. Bring your blankets, chairs, and a picnic dinner, and come out to enjoy the music with your friends, family, and neighbors. The series continues every Tuesday through July 30.
Volunteers Needed to Help Young Trees
Do you have a young street tree in front of your house? You can help it grow strong and stay healthy by watering it regularly during the summer and keeping it mulched. Just 2-3 inches of mulch suppresses weeds and keeps moisture in. (Keep the mulch away from the trunk.) If you do help your tree, Nyack Tree Project would love to hear from you. All are welcome to join the volunteers with the Nyack Tree Project. Contact Marcy Denker at nyacktreeproject@gmail.com.
Summer Food Program
Reminder: Nyack's Summer Food Program offers FREE breakfast and lunch to ANY child under 18 each weekday through August 30. There are two locations: Waldron Terrace and The Nyack Center. There is no sign-up, no application, no income requirement, and no identification needed. For hours, text "summer meals" to 97779. Visit www.fns.usda.gov/summerfoodrocks or call 845-358-0548.
Summer Skateboarding Classes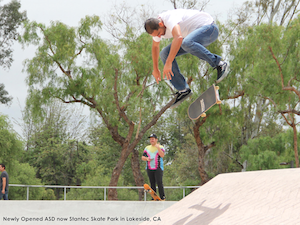 Registration is now open for Summer Skateboarding Classes with Shred Co. for kids age 6 – 14 for both beginner and intermediate levels. The classes will be held on Tuesdays from July 23 through August 13, from 5 to 6p, and are $80 for residents and $100 for non-residents. Protective gear is required and you may register at Nyack Village Hall or by printing the form at nyack-ny.gov/recreation.
Village of South Nyack
Summer Concert Series
The South Nyack Summer Concert Series in Franklin Street Park features the Catahoula Cajun Band playing the dance music of Southern Louisiana at 6:30p on Sun July 28. Franklin St between Cedar Hill Ave & Depot Pl, South Nyack.
Town of Clarkstown
Summer Concert Series
The Town of Clarkstown Summer Concert Series continues on Wed July 24 at 7:30p at Germonds Park, 185 Germonds Rd, West Nyack with the Amish Outlaws playing your favorite pop, rock, hip-hop, and more.
Mario Cuomo Bridge News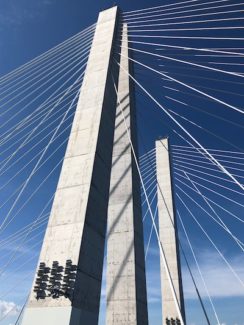 Last week, the New York State Thruway Authority's Toll Advisory Panel was at the Time Hotel in Nyack to get public input on toll rates, potential resident and commuter discount programs, and commercial vehicle rates on the Mario Cuomo Tappan Zee Bridge. Read what NY State Senator David Carlucci, Rockland County Executive Ed Day, and Rockland County Legislator Nancy Low-Hogan had to say about planned toll rates.
Overnight Lane and Ramp Closures
Tappan Zee Constructors (TZC) is scheduled to realign lane control signage on the southbound New York State Thruway (I-87/I-287) traffic lanes on the Governor Mario M. Cuomo Bridge this week. The work requires multiple overnight lane closures beginning near Thruway exit 10 (Nyack – South Nyack – US Route 9W).
Continuing roadway improvements will require overnight lane closures on the southbound Thruway tonight. Specific lane closure times are listed in the chart below.
Lane Closures Near the Bridge
DATE:
CLOSURES BEGIN:
CLOSURES END:
LOCATION:
Mon 7/22
8p – Two left lanes
11p – Three left lanes
5a, Tue 7/23
Southbound
from exit 10 to the bridge
Tue 7/23
8p – Two left lanes
11p – Three left lanes
5a, Wed 7/24
Southbound
from exit 10 to the bridge
Wed 7/24
8p – Two left lanes
11p – Three left lanes
5a, Thurs 7/25
Southbound
from exit 10 to the bridge
Thurs 7/25
9p – Two left lanes
11p – Three left lanes
5a, Fri 7/26
Southbound
from exit 10 to the bridge
Fri 7/26
10p – Two left lanes
8a, Sat 7/27
Northbound
from the bridge to exit 10
Bicycle/Pedestrian Path
Construction of the shared bicycle and pedestrian path continues. At the Rockland Landing, prep work to install a traffic signal at the intersection of Clinton Avenue and South Franklin Street is underway and is scheduled to continue in the area for several weeks.
---
Here are the municipal events in South Nyack and the Village of Nyack for the week of 7/22. There are no meetings scheduled in Upper Nyack this week.
Village of Nyack
5p: Justice Court
6:30p: Nyack Housing Authority (Waldron Terrace Apartments)
7p: Nyack NAACP Meeting (Nyack Center)
7p: Parks Commission Meeting
Thurs 7/25, 9:30a: Justice Court
Nyack Village Hall is located at 9 N. Broadway.
Village of South Nyack
Tue 7/23, 7:30p: Board of Trustees Regular Meeting
Thurs 7/25, 6:30p: Police Board Meeting
South Nyack Village Hall is located at 282 S Broadway.