This week in the villages: Memorial Park is the place to be this week, beginning on Tuesday with the Music on the Hudson 2019 concert series kick-off featuring Grateful Dead tribute band Dead Meat. Then on Friday, the park will host Nyack's annual Independence Day fireworks display. Away from Memorial Park, on Thursday, July 4th, all government offices, banks, and post offices will be closed. And heed these transportation notices: Metro-North will have an extra getaway train leaving Grand Central at 3:11p on Wednesday. On July 4th, Hudson Link buses will operate on a holiday schedule and Metro-North will operate on a Sunday schedule. TOR will operate Sunday service on #59, 91, 92, 93, and Loop 3. There will be no service on #94, 95, and 97, and regular weekday service on Loop 1 and Loop 2. On Friday, July 5, Hudson Link buses will operate regular service and Metro-North will operate a special schedule, using the Saturday schedule as a base, plus extra trains.
Village of Nyack
Music on the Hudson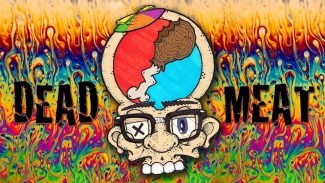 Nyack Park Conservancy's Music on the Hudson series begins on Tue, July 2 at 7p in Memorial Park with Grateful Dead tribute band Dead Meat. Bring your blankets, chairs, and a picnic dinner and come out to enjoy the music with your friends, family, and neighbors. The series continues every Tuesday through July 30.
Independence Day Fireworks
On Fri, July 5, Nyack will celebrate Independence Day with its annual fireworks show. Fireworks will be launched from the lower level of Memorial Park just after dark.
Message from Nyack Mayor Don Hammond
June is Pride month. Many of you may have seen rainbows in the crosswalks throughout the village. These rainbows are the work of volunteers who come together to celebrate a month long celebration of diversity, acceptance, and love. Just this past Sunday, many gathered for Pride Sunday in Haverstraw, a day long festival with music, art, games, and more fun activities for families. Events like these are sponsored by many and organized by the Rockland Pride Center, an organization that offers many services to the community–support groups, senior care, and programs for families. All of these wonderful things are made possible by the board members of the Rockland County Pride Center. We are very fortunate and proud to have this organization as part of our community. For more information please visit rocklandpridecenter.org. — Nyack Mayor Don Hammond
Village of South Nyack
Climate Smart Task Force Volunteers Needed
The Board of Trustees is looking for volunteers to serve on a new Climate Smart Task Force to help guide and implement a long-term sustainability vision for the village. The new task force will be chaired by Trustee Andrew Goodwillie. Anyone may volunteer to be on the task force.
The first goal of the task force will be to update the Village of South Nyack comprehensive plan. To achieve that, the village is in the process of applying for grant money to hire an external consultant who will perform much of the work. The task force will provide steering and oversight functions to the consultant. If the grant application is successful, the comprehensive plan update process is expected to take one or two years.
Closely related, the task force will help to guide and implement additional sustainability actions for the village to become certified as a Climate Smart Community. Current projects towards achieving certification status include the LED street light project and the Community Choice Aggregation electricity supply program. Once certified, the village would join more than twenty other municipalities across the state in being eligible for further grant funding opportunities.
If you are interested in volunteering for the task force or have questions, please email Mayor Bonnie Christian at bonnie.christian@southnyack.ny.gov or Andrew Goodwillie at andrew.goodwillie@southnyack.ny.gov. The village aims to set up the task force by the end of June with two short initial meetings in July. That timeline allows the village to claim points towards the grant application review process.
Town of Clarkstown
Satellite Veterans Center Opens
Recently, a Satellite Veterans Center opened in the Town Hall in Clarkstown. The VA created the Vet Center Program in 1979, in an effort to meet the unique needs of veterans returning home from combat. Today, Vet Centers and Mobile Vet Centers provide community-based counseling for a wide range of social and psychological services, including professional readjustment counseling, outreach, and referral to care. These services are available to eligible veterans, active duty service members, including National Guard and Reserve components and their families. Vet Center services are free and records are kept strictly confidential and separate from the VA and DOD.
"I am so pleased for the official opening of the Rockland County VetCenter CAP (Centralized Access Point) in Clarkstown. This is a much-needed compliment to services provided by the VA medical clinic, also in New City. The VetCenter specializes in treatment of our most vulnerable vets, those that served in combat or have MST (military sexual trauma), allowing those individuals to access mental health counseling free of charge, regardless of character of discharge or enrollment in VA healthcare. There is such a need in Rockland County and it is a great service for our veterans," said Susan Branam, Director of the Rockland County Veterans Service Agency.
Clients are seen by appointment only. Please call the White Plains Vet Center at 914-682-6250 for appointments or for more information.
Independence Day Fireworks
The Town of Clarkstown is holding its Independence Day celebration on Tue, July 2 at 6p at Nanuet High School. There will be inflatable bouncers, a flying demonstration by the Rockland County Radio Control Club, a concert by FDR Drive, featuring Motown, R&B, and pop hits, and fireworks. Refreshments will be available for purchase. Raindate: Wed, July 3.

Other Area Independence Day Fireworks
Here are a few more options for viewing pyrotechnics in the area:
Village of Ossining
The Village of Ossining will hold its Independence Day celebration on Wed, July 3 in Louis Engel Waterfront Park with a concert starting at 7p and fireworks starting at approximately 9:15p.
Pomona
Join the Rockland Boulders at Palisades Credit Union Park for two nights of post-game fireworks on Wed, July 3 and Thurs, July 4 with the games beginning at 6:30p both days. On July 4, the Ramsey Wind Symphony will accompany the fireworks.
Pearl River
On Thurs, July 4, there will be fireworks at the Central Avenue field around 9:30p.
Tarrytown
Tarrytown will hold its Independence Day celebration on Thurs, July 4 in Pierson Park with a Kick Start Charlie concert starting at 7p and fireworks starting at approximately 9p.
---
Here are the municipal events in South Nyack and the Village of Nyack for the week of 7/1. There are no meetings scheduled in Upper Nyack this week. 
Village of Nyack
7p: Planning Board Meeting
7p: Parks Commission Meeting
9a: Mayor Hammond's Monthly Meeting
5p: Justice Court
Nyack Village Hall is located at 9 N. Broadway.
Village of South Nyack
Mon 7/1, 5:30p: Justice Court
Tue 7/2, 7:30p: Zoning Board of Appeals
South Nyack Village Hall is located at 282 S Broadway.