This week in the villages: Mayor Don Hammond thanks firefighters and first responders for their service to the community. Summer concerts are on tap for Nyack and the Town of Clarkstown. And if you're passionate about the environment, volunteer for the Climate Smart Task Force, and help guide and implement a long-term sustainability vision for the village.  After a break for the holiday week, roadwork on the bridge this week means overnight lane and ramp closures for commuters.
Village of Nyack
Music on the Hudson
Nyack Park Conservancy's Music on the Hudson series continues on Tue, July 9 at 7p in Memorial Park with the UpSouth Twisters. Bring your blankets, chairs, and a picnic dinner, and come out to enjoy the music with your friends, family, and neighbors. Prior to the music at 6p, the Remax balloon will be launching, so plan to come out a little early. The series continues every Tuesday through July 30.
Classic Car Night
On Thurs, July 11 from 5p to dusk, take a stroll through downtown and see hundreds of rare, antique, and vintage vehicles.
Message from Nyack Mayor Don Hammond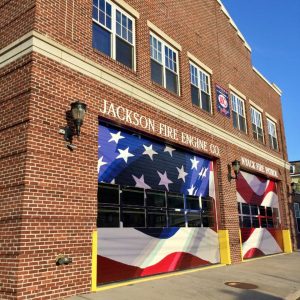 I'd like to take a few minutes to recognize those who serve our community as firefighters and emergency medical technicians. All too often, we take for granted the vital services these people provide us every day. It takes a very special person to provide these services to our community–one that is selfless, compassionate, dedicated, and enthusiastic about improving the safety and well being of the neighborhood. The Fireman's Training Center is an organization committed to training those with a desire to help others. Since 1973, the Fireman's Training Center has trained individuals to become fire service leaders. In just a few days, the Center is offering a Fire and EMS Youth Academy to students between the ages of 12 and 15. Classes begin July 15, and will provide young members of the community with a skill set to prevent fires and preserve and protect our community. For more information and to register, please contact the Rockland County Office of Fire & Emergency Services at (845) 364-8800, or at RCFTC@co.rockland.ny.us. Or visit rocklandgov.com. — Nyack Mayor Don Hammond
Village of South Nyack
Climate Smart Task Force Volunteers Needed
The Board of Trustees is looking for volunteers to serve on a new Climate Smart Task Force to help guide and implement a long-term sustainability vision for the village. The new task force will be chaired by Trustee Andrew Goodwillie. Anyone may volunteer to be on the task force.
The first goal of the task force will be to update the Village of South Nyack comprehensive plan. To achieve that, the village is in the process of applying for grant money to hire an external consultant who will perform much of the work. The task force will provide steering and oversight functions to the consultant. If the grant application is successful, the comprehensive plan update process is expected to take one or two years.
Closely related, the task force will help to guide and implement additional sustainability actions for the village to become certified as a Climate Smart Community. Current projects towards achieving certification status include the LED street light project and the Community Choice Aggregation electricity supply program. Once certified, the village would join more than 20 other municipalities across the state in being eligible for further grant funding opportunities.
If you are interested in volunteering for the task force or have questions, please email Mayor Bonnie Christian at bonnie.christian@southnyack.ny.gov or Andrew Goodwillie at andrew.goodwillie@southnyack.ny.gov. The village aims to set up the task force by the end of June with two short initial meetings in July. That timeline allows the village to claim points towards the grant application review process.
Town of Clarkstown
Summer Concert Series
The Lustre Kings kick off the Town of Clarktown Summer Concert Series on Wed, July 10 at 7:30p at Germonds Park, 185 Germonds Rd, West Nyack.
News from Congresswoman Nita Lowey's Office
Nyack Library Selected to Host Community Conversations
The American Library Association (ALA), supported by the National Endowment for the Humanities (NEH), selected the Nyack Library to host community conversations following screenings of the PBS documentary American Creed.
Earlier this year, the Nyack Library was chosen among 50 libraries nationwide to receive the resources and stipends to host these important conversations.
By passing this legislation, which included $167.5 million in funding for NEH, $12.5 million above the 2019 enacted levels, House Democrats showed their commitment to supporting our libraries and fostering conversations like those to be hosted by Nyack Library.
On Sat, August 18 at 2p, the Nyack Library will host an American Creed Civic Saturday with Felix Endara.
Mario Cuomo Bridge News
Overnight Lane and Ramp Closures
Tappan Zee Constructors, LLC (TZC) is scheduled to continue overhead gantry improvements this week. The work requires overnight lane closures on the southbound New York State Thruway (I-87/I-287). Specific lane closure times are listed in the chart below.
Lane Closures Near the Bridge
DATE:
CLOSURES BEGIN:
CLOSURES END:
LOCATION:
Mon 7/8
8p – Two right lanes
11p – Three right lanes
5a, Tue 7/9
Southbound (I-87/I-287)
from exit 11 on to the bridge
Tue 7/9
8p – Two right lanes
11p – Three right lanes
5a, Wed 7/10
Southbound
from exit 11 on to the bridge
Wed 7/10
8p – Two left lanes
11:59p – Three left lanes
5a, Thurs 7/11
Southbound
from exit 11 to exit 9
Thurs 7/11
9p – Two left lanes
11:59p – Three left lanes
5a, Fri 7/12
Southbound
from exit 11 to exit 9
Fri 7/12
10p – Two right lanes
7a, Sat 7/13
Southbound
from the bridge to exit 9
---
Here are the municipal events in Upper, South, and the Village of Nyack and the Nyack Public Schools meetings for the week of 7/8.
Village of Nyack
Tue 7/9, 5p: Justice Court
9:30a: Justice Court
4:30p: Board of Water Commissioners Meeting
6:30p: Village Board Pre-meeting Workshop
7:30p: Village Board Meeting
Nyack Village Hall is located at 9 N. Broadway.
Village of South Nyack
Mon 7/8, 3p: Justice Court
6:30p: 5-10 Year Budget Workshop
7:30p: Board of Trustees Regular Meeting
Wed 7/10, 7:30p: Planning Board Meeting
South Nyack Village Hall is located at 282 S Broadway.
Village of Upper Nyack
Mon 7/8, 6p: Architectural Review Board
Upper Nyack Village Hall is located at 328 N Broadway.
Nyack Public Schools
Mon 7/8, 6:45p: Board of Education Reorganization and Meeting
The Board of Education Meeting will be held at the Central Administration Building, 13A Dickinson Ave, Nyack.