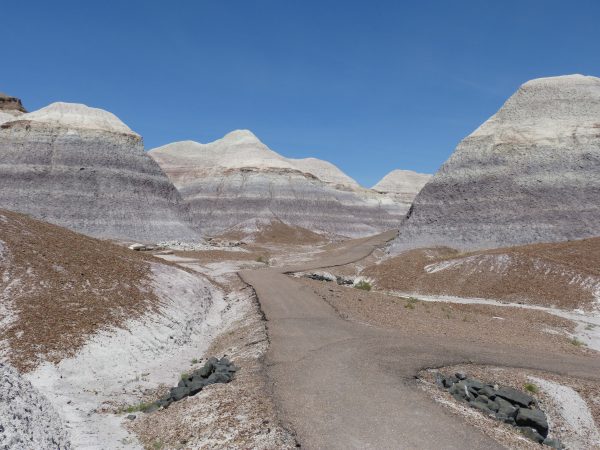 by Steve Kelman
A return visit to Petrified Forest National Park in northeastern Arizona has been on my bucket list for quite some time. As a nine year old youngster in 1969, from the window of a passenger train I viewed a small section of the park sitting alongside my mother en route from California to Kansas City, Missouri.
The train did not make a stop, but the impressions I took in of the Arizona badlands and the Painted Desert stayed with me. During that same summer when Neil Armstrong walked on the moon, our train, the El Capitan on the Santa Fe Railroad, traveled through a moonscape of another kind. I made a vow to myself that someday I would return and venture back into that desert landscape.
That return occurred on a recent trip taken with a friend who had just retired. We entered the park via an 18 mile drive from Holbrook, but not first without visiting a pair of that town's Route 66 (America's Main Street) landmarks, the Wigwam Village Motel and the Navajo County Courthouse with its haunted prison.
Upon entering the over 218,000 acre park, our first stop was at the Rainbow Forest Museum (also one of the park's two visitor centers) where we viewed the park film, purchased items from the gift shop, and started our first outdoor excursions with a walk on the adjacent Giant Logs Trail.
The Giant Logs Trail is all of a quarter mile, but offers the first stunning views of this desert gem. Some of the largest petrified logs in the park are here, including "Old Faithful," where in 1953 Albert Einstein and his wife posed for a very famous photograph.
Hiking and exploring
The park's main road is 28 miles long, and it is safe to say that we stopped at every attraction along the route, as was highlighted in the very helpful park brochure.
Our first hike was on the Long Logs and Agate House trails (combined 2.6 miles) and in so doing we left the familiar world behind. The Long Logs trail is the site of a "Triassic log jam" (referring to the period in geologic time where these logs, which were at one time wood, date back to). Some are over 180 feet long. The logs consist mainly of silica-quartz minerals, remnants of trees that died off 216 million years ago and fell into a now nonexistent river where they were buried under layers of silt, sand, and volcanic ash.
These materials protected the trees from decay. Mineral laden water then filtered through the layers, carrying the silica, ash, and other minerals up to the dead wood resulting in it becoming saturated with these very same minerals. This useful information (for us geology and National Park geeks) was provided in a trail guide available at the visitor center.
"Eventually silica replaced the wood material" the guide goes on to say. And does it ever!
Courtesy of this silica, many of the logs offer up an array of brilliant colors, especially when the sun hits them. Seen throughout the park but especially in the southern section, they could just about drop your jaw. Excellent specimens abound on the Long Logs and Agate House trails.
Along these two trails we walked through an area that is considered desert grassland with a surprising amount of greenery, including lichens, prickly pear cactus, banana yucca, and various grasses that I just couldn't identify. There were also numerous rolling hills known as badlands, providing much of that otherworldly feel. They are given the name badlands (folks badlands are not just located in South Dakota) due to the eroded gullies and irregular shapes one sees as they pass close up by them, which we of course did.
Highlights
The Agate House is a reconstructed seven room pueblo rebuilt in the 1930s using petrified wood. It is somewhat typical of the type of homestead that one might have seen if they were walking in this section back in about 1100 A.D.
On the deep one mile trek into the Blue Mesa we saw "vibrant" badlands, conglomerate rocks, and colorful petrified wood. This to me seemed like a quintessential Martian landscape. There was nowhere else in the park where it seemed like we had actually left the planet.
The ruins and petroglyphs of Puerco Pueblo offered up another of the day's many high points. Here along the park's 0.3 mile loop trail you can see the remains of a 100 room pueblo, the site of a village that was occupied from about 1250 to 1380 A.D. At one point, as many as 200 ancestral pueblo people lived at this site. The trail also brings you to a rock art or petroglyph area where scores of ancient images can be seen.
A solitary raven, looking for handouts, entertained us with his vocalizations in the parking area here.
From several overlooks, we took in the sublime scenery of the Painted Desert, a vast area consisting of eroded badlands. This landscape encompasses over 93,500 acres and stretches for more than 160 miles. The desert gets its name in no small part due to its variety of vibrant rocks of varying colors–reds, pinks, and oranges.
We also crossed the spot (Alignment) where Route 66 once cut through the park. Established in 1926, this roadway once stretched from Chicago to Los Angeles.
As our day winded down, my friend and I enjoyed a late lunch at the café located in the Painted Desert Visitor Center. My meal consisted of a Navajo Taco, which features a heavenly blend of meat, sour cream, onions, lettuce, and cheese all placed on top of traditional Native American fry bread. A wonderful lunch indeed!
The (second!) visitor center was our last stop in the park, capping off a complete day. If we had a second day, we would have spent it hiking into one of the park's wilderness areas, such as at Billings Gap or the Devils Playground. But we only had one, and it was a good one.
Petrified Forest National Park is located off of Interstate I-40 Exit 311 in North Eastern Arizona for more information call the park at 926-524-6228, www.nps.gov/pefo
Steve Kelman is a journalist and musician who lives in northern New Jersey.  He also contributes to a weekly newspaper in Bergen County, performs frequently in Rockland County and is passionate about America's National Parks.