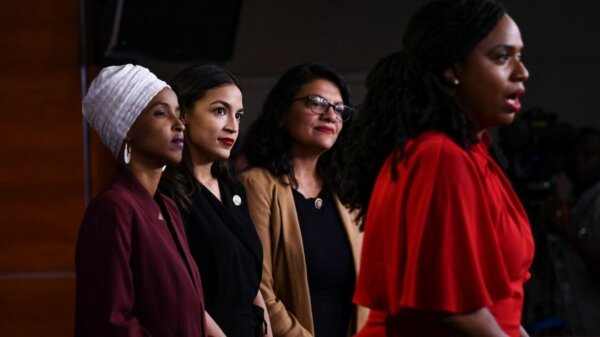 by Maddie McCann
Last week, President Trump took to Twitter to attack "The Squad," four congresswomen of color. He tweeted that instead of "viciously telling the people of the United States, the greatest and most powerful Nation on earth, how our government is to be run," they should "go back and help fix the totally broken and crime infested places from which they came." In a subsequent tweet, he added, "IF YOU ARE NOT HAPPY HERE, YOU CAN LEAVE!" This despite the fact that three of the four congresswomen targeted—Representatives Ilhan Omar of Minnesota, Alexandria Ocasio-Cortez of New York, Rashida Tlaib of Michigan, and Ayanna S. Pressley of Massachusetts—were born in the United States, and all four are American citizens. The tweet's blatantly racist rhetoric, which Trump continues to stand by, has come under fire from both sides of the aisle. In the days following the tweets, the House of Representatives passed a resolution "Condemning President Trump's racist comments directed at Members of Congress."
Closer to home, the tweets have been polarizing. I asked every member of the Clarkstown, Orangeburg, and Nyack Town/Village Boards whether they would have voted for the House resolution, and the responses I received ran the gamut. 
Patrick Carroll, a Democratic Clarkstown Councilman for Ward 4, wasn't happy about Trump's rhetoric. "Yes I would have voted to condemn the attacks on the congresswomen," he said. "The vile attacks on four sitting congresswomen of color by the President of the United States are unAmerican and represent the worst of politics in 2019. We need our elected officials to lead by example and work towards the betterment of all regardless of ethnicity, country of origin, religion, gender, or sexual orientation. Our focus should not be on what makes us different (though frankly our differences are what makes America great) but on how we are alike."
Others declined to weigh in. George Hoehmann, Clarkstown's Republican Supervisor, replied via Erika Moschetti, Supervisor Liaison and Public Information Assistant, that he has no comment.  
On the other end of the spectrum, though, was Peter Bradley, Clarkstown's Reform Party Councilman for Ward 2, who took offense at the very question. "We have an ongoing crisis in Rockland County where women's and children's civil rights are being violated as a matter of routine in Ramapo," he said. "I will never get involved with subterfuge between 'the squad' and President Trump! It's time for the local media of Rockland to wake up and cover the crisis occurring under their watch in Rockland County!"
Bradley subsequently posted his response to our email exchange on his Facebook page, adding: "Can You Just Do Your Damn Job? Yesterday, some catatonic local media outlet emailed me to inquire about my thoughts regarding President Trump and 'the squad' … It really is time for the local media to snap out of their stupor. They've completely lost the ability to mind-control the masses. Get creative…. REPORT THE TRUTH! I've been doing it for seven years and it's done wonders for my reputation and credibility!"
Maddie McCann attended Nyack High School and is a recent graduate of Colorado College.