by Dave Zornow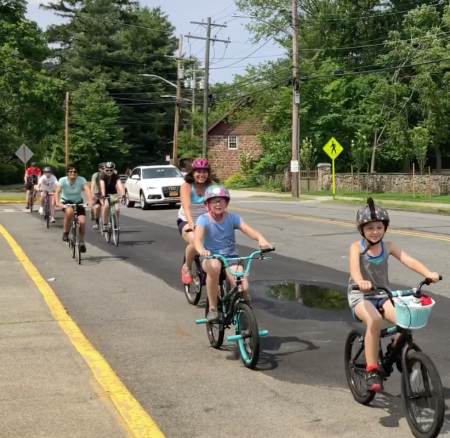 In case you missed it, about 40 neighbors near the Nyacks and Piermont went for a slow & social, bike ride, Rolling By The River, last Sunday. The event was produced by the Rockland Bicycling Club, and promoted by the Village of Nyack Recreation Department, Upper Nyack, Piermont and Nyack News And Views. Special thanks to event sponsors R2M Realty, Hartell's Deli and Velo Bistro & Wine Bar for the "after party" ice cream social at the Edward Hopper House Museum and Study Center.


Special thanks to Upper Nyack Mayor Karen Tarapata, who hosted a brief stop at Riverhook, the former sheep farm near Nyack Beach State Park which the village is turning into a  park, and Village of Nyack Trustee Maria Lorenzini, who helped to check in participants at the start of the ride.
Despite predictions of threatening weather, it was a beautiful day for a bicycle ride. And it's always a great day for ice cream, so it's safe to say a fine time was had by all!
Slow rolls are frequent events across the state and the country in places like Syracuse and Buffalo, Detroit, Chicago, Worcester, Oshkosh…and Piermont, NY on June 23 at 11a. Events like Slow Rolls were one of the many recommendations in the 2018 Greater Nyack Bike Walk Master Plan, a six month project funded by the New NY Bridge Community Benefits Fund, studying bike and pedestrian behavior in the Nyack river villages and hamlets in the Nyack School District.
[URIS id=102774]
The Rockland Bicycling Club offers rides for serious cyclists, casual riders and people of all ages who want to rediscover the childhood joy of riding a bicycle with friends each week.
Each Monday and Thursday after work, the club leads an "all levels ride" for both beginners and more advanced riders around Rockland Lake. The weekly ride
For  cyclists who enjoy the ups and downs that riding in Rockland often requires, there's the Tour de Ramapo on Sat June 8, complete with 2100 feet of climbing over 30 miles. In September the club is planning a Rockland County Century ride, too.
If rail trails are your idea of a good time, join the RBC for a trip across the river on Sat June 15 for a car-free and carfree ride on the North Trailway in Westchester County.
Visit the Rides page at RocklandBicyclingClub.com for more info on these events and future rides.
Dave Zornow is a board member of the Rockland Bicycling Club and publisher of Nyack News And Views.
See also:
Rolling By The River was sponsored by R2M Realty, Hartell's Deli, Velo Bistro & Wine Bar, the Edward Hopper House Museum & Study Center, and Nyack News And Views.