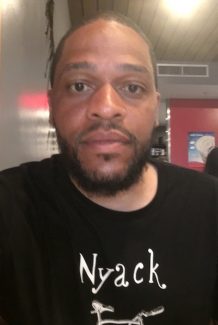 On the auspicious occasion of the 11th Annual African American Day Parade and the triumphant return of the Super Bowl winning McCourty twins, NyackNewsAndViews is proud to publish for the first time, the poetry of Ethiopia P. Santiago.
Ethiopia, a Nyack native is an aspiring writer/poet and proud father who performs spoken word throughout Rockland County. Currently, he is working on the publication of his first book. You can hear his words, spoken today, June 15th in Memorial Park at the festival following the parade, which kicks off at noon.
Bonafides (Birthright) Lost Property!
Collective Hive Minds Think Collectively.. We The People That Sold Our Souls In Uniformity.. And Anything Sold Could Never Be Replaced, Under Moral Fabrics Of Return Policies, The Price (Cost) Often Depreciates.. Birthrights Never Alienate Cause Bastards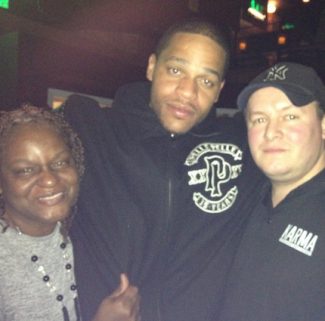 Don't Abdicate, King Me Uniquely Foreign To Any Acceptance Speech.. We Never Accepted Your Authority Gonna Give Me Free 'By Any Means'(Necessary)… Everything Else Is However Party 2 Agency, Cointel-Pro Con Black Man Into His Own $lavery.. Rage Against This  Machine Systematically, Designed From Spiritual Anarchy.. Hail The Lesser 'g' 3rd Eye Seeing No Frequency.. Toil For Toilets, Wasteful Energy, Welfare State Never Working For What's Owed To Me? 20 Years A Slave Ain't No Shackles
Detain Me, Bad Habits Nailed Souls Down Onto Stakes Of Their Own Defeat… (Burn Babies – Baby Burn Me) Buddha Burn Me In Wake Of All These Sinful Inequities.. Born Out Of This Ashen Red Clay A Phoenix In Transparency… We Lit But We Ain't Shyt Really!
11th Annual African American Day Parade in Nyack
Saturday, June 15th at noon
The McCourty twins will serve as Grand Marshalls for the 11th annual African American Day Parade that steps off at noon on Saturday, June 15th
The parade route, which passes through the neighborhood where the McCourty twins lived as children is:
West on Depew Avenue from Memorial Park
north on Franklin Street,
East on Main Street,
south on Broadway,
east on Depew Avenue back to Memorial Park
Excellent viewing opportunities along the route
The twins will march with nearly 100 children who participate in after-school programs at the
Nyack Center, who will be carrying McCourty-inspired posters they created for the event
The procession will include marching bands, classic cars, elected officials, community leaders and village residents.
The parade is followed by a festival in Memorial Park, including food trucks, jewelry and clothing vendors, and African art — along with live music and spoken word throughout the afternoon. Bounce house, face painting and other activities will be available for the children
Bound by bonds broken
New Beginnings Or Old Endings .. Whatever The Case, Never Told Myself That This Is Winning.. Joseph Became Second Only To Pharaoh, In That Land Of His Captivity .. Yet He Never Forgot About Hardships Concerning His (Pride) In Family .. The Root By Which His Fortune Came Was No Luxury, Suffering From His Brothers Treachery .. Betrayal Often Leads Vessels (Chosen) To Paths In Which To Face Destiny .. Material Kingdom Is Built On Gold Standards Of Fantasy, Mining For Elements, Digging Deep Within Your Soul For Identity (Substance) .. Can You Relate? Found One Scripted In Affliction ($lavery), Servants To A Global Conspiracy Or Endings Beginning With Prophecy .. Spellbound Poetry, The Psalms Of Black (Negro) History (@ February) Singing About Your Captivity.. Written Affliction, A Broken Spirit But That Inner Beast Awoken To His Inherent Possibility.. Penned Purpose Spelled In Cursive 'Visionary'!
Little Shepard
An Elder once told me.. ' Son I threw away more information than you could ever pick up in a Lifetime.. I was 22 then.. I Replied in Kind No Sir you confused me with yourself.. See I've spent my leisure Recycling all the garbage you threw away.. Eco-Friendly.. Scrapping base Metals and Coppers others deemed Useless.. In a Ritual called Spiritual Alchemy.. Turning your Wasteful ambition into Obtained Goals (Gold).. See the Treasure in that.. Eat Diet Fast Hunger.. 'Alchemist'.
©warcrynyabhingi33
To learn more, visit his website. God Spoke N Words