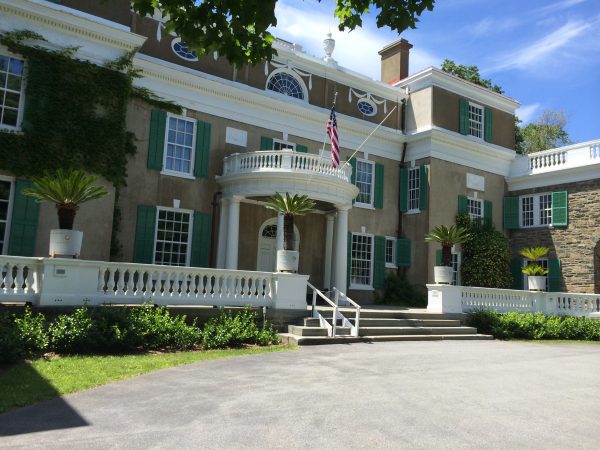 by Steve Kelman
A visit to the Franklin D. Roosevelt National Historical Site in Hyde Park is not only a trip back into twentieth century American History, it is also an opportunity to experience and enjoy a truly scenic part of the Hudson River valley region.
"My heart has always been here, it always will be," FDR told an assemblage of supporters and friends on Election Night of 1940, after winning a third term in office. In 1944, he'd say, "I am pure Hudson River."
The Franklin D. Roosevelt National Historic Site is a unit of the National Park Service. The site encompasses Springwood, his boyhood home, where he was born in 1882 and where he would spend more than 250 days (over 130 visits) running the United States of America as president.
It was also here that Roosevelt met with British Prime Minister Winston Churchill and, in his small study, initiated what became known as the "Hyde Park Aide Memoire." This document outlined possible future uses of the atomic bomb. The tour brings you to the bedroom where FDR was born, the bedroom of his mother Sara, who actually owned the house, and his wife Eleanor's (separate) sleeping quarters. In 1939, President Roosevelt and Eleanor hosted British King George IV and Queen Elizabeth for what was the first state visit by British royalty.
The site also houses the FDR Presidential Library and Museum. Roosevelt was the first president to have a library with his papers and memorabilia opened while he was still in office, in 1941. His library is run by the National Archives.
President Roosevelt is buried on the grounds along with Eleanor and two family dogs. The gravesite is located in a rose garden and is an easy walk from Springwood.
Getting Around
There are a number of walking trails that can be utilized for further exploration of the site at Hyde Park. The Roosevelt Farm and Forest Trail, for instance, is a 3.4 mile, mostly level scenic path that goes between the FDR historic site and Val Kill, the Eleanor Roosevelt National Historic Site.
Any visit to the FDR National Historical Site should begin at the Henry A. Wallace Visitor Center. This is the place to purchase tickets for tours of Springwood and for admittance into the FDR Presidential Library and Museum. There are joint tickets for Springwood and the library/museum for purchase. And there is an orientation film about FDR's life. There are also restrooms, a café, and gift shop at this location.
Highlights
It is indeed a very moving experience, when touring the presidential library and museum, to the see the original inauguration speech—typed and with modifications/corrections written in Roosevelt's handwriting—that was given on March 4th, 1933, when he told a very worried nation still reeling from the stock market crash of 1929 that, "The only thing we have to fear is fear itself."
There is also the letter on display that FDR wrote Congress in 1935 urging the creation of the Federal Social Security Act that he would sign into law on August 14th, 1935.
In the letter, written in January of that year, FDR explained that he wanted a law that would seek the "security of men, women and children of the nation against certain hazards and vicissitudes of life."
Not to be missed is his oval office desk, the specially designed car that FDR drove, a 1936 Ford Phaeton, and his very large collection of more than 400 model ships. Roosevelt had a deep interest in the sea that dated back to his childhood. He was also Assistant Secretary of the Navy under President Woodrow Wilson. His famous cousin, Theodore, previously served in that same capacity under President William McKinley.
A sculpture located right outside the presidential library is also definitely worth checking out. Designed by sculpture artist Edwina Sandys, the work consists of actual cut-outs of the Berlin Wall and centers around FDR's 1941 inauguration address, known as the "Four Freedoms" Speech. In that speech, Roosevelt told the nation that everyone living is entitled to freedom of speech, freedom of worship, freedom from want, and freedom from fear. As I write, chills are going down my spine when I reflect on this very moving piece of artwork.
The Franklin D. Roosevelt National Historic Site is located at 4097 Albany Post Road in Hyde Park, New York. Their telephone number is 845-229-9115, www.nps.gov/hofr. And for information on hours, fees, and tour times call 845-229-5320. The telephone number for the FDR Presidential Library is 845-486-7770, www.fdrlibrary.marist.edu.
Steve Kelman is a journalist and musician who lives in northern New Jersey.  He also contributes to a weekly newspaper in Bergen County, performs frequently in Rockland County and is passionate about America's National Parks.