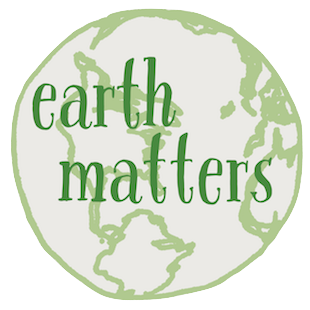 Earth Matters focuses on conservation, sustainability, recycling and healthy living. This weekly series is brought to you by Maria Luisa Boutique and Strawtown Studio and Summer Play Camp at Blue Rock School.
If Earth Matters to you, sign up for our mailing list and get the next installment delivered bright to your inbox.
by Susan Hellauer
If you use water and live in the Nyacks, you probably write a check to "Nyack Water" a few times a year. So, why should the latest kerfuffle over Suez Water NY Inc.'s infrastructure and rates concern you? Because the safety of that glass of Nyack Water you're holding, and the health of Rockland County's environment, are both in Suez's hands.
Most municipalities in the U.S. get their drinking water from not-for-profit public utilities, like Nyack Water. But about 12% of Americans get their supply from for-profit concerns like Suez Water NY's parent company, Suez Environnement, a multinational, publicly-traded company headquartered in Paris, France.
After a byzantine series of acquisitions in the 2000s, Suez Water NY, which serves half a million customers in NY State, has become Rockland County's largest drinking water supplier, and its biggest single landholder as well. It owns all the reservoirs, groundwater wells, water-treatment plant, and transmission pipes and infrastructure as well as the land and the in-ground transmission system in the county not held by the two small remaining public drinking water utilities, Nyack Water and Suffern's Water Department.
Water for sale
Suez Environnement is no stranger to municipal wrath, having been fired as drinking water supplier by its own hometown of Paris in 2008. And a tidal wave of controversy followed Suez into Rockland County when the company proposed a desalination plant on the Hudson River at Haverstraw Bay to make up for a supposed water shortage. Energetic mobilization and dogged work by the citizen-led Rockland Water Coalition helped defeat the ill-conceived plan, convincing the N.Y. State Public Service Commission (PSC), which oversees the state's utilities, to reject costly and environmentally destructive desalination in 2015 in favor of a strong conservation plan.
In an infuriating footnote to its victory, Rockland County was left by the PSC with a big chunk of the bill for Suez's desalination pilot plant, advertising, and expenses. And the conservation plan agreed to between the PSC and Suez in 2017 was, and still is, considered completely inadequate by the Rockland County Task Force on Water Resources Management (which is pursuing its own water conservation plan, pertaining to municipal and county actions) and local environmental watchdogs like the Rockland Sierra Club. 
The struggle continues
The tussle between shareholder profits and the public good recommenced this spring when Suez proposed moving their headquarters from 360 Clarkstown Road, in West Nyack, to a 26-acre site at 162 Old Mill Road, in Valley Cottage, leased from Tilcon. The property is close to the shore of the Suez-owned Lake Deforest reservoir, which spans the Town of Clarkstown from north to south.
Local residents, along with the county's most diligent water-watchers, took note and said no. They were present at three recent meetings of the Clarkstown Planning Board, which needs to review and decide whether to green light Suez's plan. Concerned citizens voiced objections to removal of 270+ mature trees, as well as to asphalt paving of extensive parking areas, increased traffic, a pair of on-site fuel storage tanks, and a diesel generator. All of these parts of the plan could create both everyday pollution in the reservoir from stormwater runoff, and a disaster for the county's drinking water in a superstorm. Suez agreed to nix the above-ground fuel-storage tanks, but public comment at these meetings harped on the same refrain: Find a better place for all this stuff! The process is now stalled in a disagreement over the generator, a traffic study of local roads, and the need—or not—for a State Environmental Site Assessment.
And the potential for pollution threatens not only Suez's own customers. Lake DeForest directly feeds the Hackensack River, Nyack Water's sole drinking water source, which is treated and routed to its customers directly south of the reservoir. The river goes on to provide drinking water for a number of communities in New Jersey, and their representatives are also raising concerns about Suez's plans. What happens in Lake DeForest does NOT stay in Lake DeForest.
Just over the state line in NJ, working in close connection with state regulators and environmental organizations, and after years of meetings, litigation, and new layers of regulation, Suez NJ has become more sensitive to environmental threats to its watershed buffer properties and to minding the interests of the communities surrounding these areas.  We need Suez NY to follow suit.  We confer to our water purveyors, like Suez NY, the usage rights to our public waterways – in return, the rate paying public's concerns for the everyday health and welfare of our environment and our neighborhoods must always be paramount.
Rockland ratepayers: Watch your wallet (again)
Suez Water NY is not looking to move to bigger digs on the reservoir for a nicer view. The company, which has been steadily expanding, is also seeking to take over and upgrade "troubled" water-treatment and wastewater utilities around the state, and carry out strategic mergers. To meet those goals, they need room for more employees and more vehicles), as Suez Water NY VP Chris Graziano made clear on page 14 of  his recent written testimony to the PSC. How to pay for those additional people, that space, and the ill-placed construction? A whopping 18.6% rate hike (about $10.50 more per month on the average bill) jammed into a single year (2020), on top of a 2017 PSC-approved three-year rate hike plan for its Rockland customers that added almost $5.00 to the monthly freight.
At a public hearing on the proposed rate hike held by the PSC last Wednesday afternoon, June 12, at the Rockland County Legislative Chambers, Legislator Harriet Cornell, who acts as Chair of the Rockland Task Force on Water Resources Management and of the Legislature's Environmental Committee, strenuously objected to Suez's plan to underwrite their for-profit water ventures on the backs of Rockland residents:
[Suez Water NY Inc] proposed to spread the cost [of these upgrades] among ratepayers of other territories, including already beleaguered Rockland ratepayers . . .  even though Rockland ratepayers are still paying for a failed desalination plant.

The actual rate hike itself, on the heels of one in 2017 seems excessively burdensome to Rockland ratepayers, especially those with low or fixed income. It seems extreme that the company seeks again to raise its anticipated revenue by almost 20% ($31.5 mill), only two years after a major rate case in which the company did not disclose any such plans. I suspect that very few corporations can boast such leaps in revenue growth over such short periods of time. The question for the Public Service Commission is whether a near 20% increase in revenue is in the public interest.
We expect to pay for the delivery of clean water but we deserve to pay a rate that is fair and justifiable. This increase is neither.
                                    Rockland County Executive Ed Day, PSC hearing, 6/12/2019
The five Rockland towns have reportedly hired attorney Joel Dichter to fight the rate hike. 
Take action now
Water activist Laurie Seeman, who helped spearhead the Suez desalination opposition (and is founder-director of Earth Matters sponsor Strawtown Studio), strongly recommends written comments, by mail or email, to the PSC, and says they will be most effective if received before August 30. Here's how to comment on the Suez Water NY headquarters move, and the current rate case:
By internet: Go to www.dps.ny.gov, click on "Search," search using case number "19-W-0168," and then click the "Post Comments" button at the top of the page.
By email: Email comments to the Secretary for the Commission at 

secretary@dps.ny.gov

. Direct comments to Hon. Kathleen H. Burgess, Secretary, Public Service Commission. Reference "Case 19-W-0168 – SUEZ Water Rates and Merger Petition."

By mail: send to Hon. Kathleen H. Burgess, Secretary, Public Service Commission, Three Empire State Plaza, Albany, New York 12223-1350.
To weigh in on the proposed Suez headquarters move, email Clarkstown officials. Seeman also advises that concerned citizens in Clarkstown are engaging legal help to hold off Suez's expanded headquarters move to the Old Mill Road location. You can contribute to the effort by donating to a legal aid nonprofit, with a check made payable to LEAF of Hudson Valley (Legal Aid Defense Fund), 75 North Middletown Road, Nanuet, NY 10954
Every concerned Rockland resident can and should make his or her voice heard by the Public Service Commission. One need not be an expert to send comments—and express concerns about the plans pursued by SUEZ.  Whether mobilized initially by the idea of gas and petroleum tanks adjacent to the reservoir, or a great increase in vehicle traffic on historic Old Mill Road, or angered by the large rate request, residents need to speak up.
          Rockland County Legislator Harriet Cornell
Learn more: